April 28, 2020
SURPRISE!!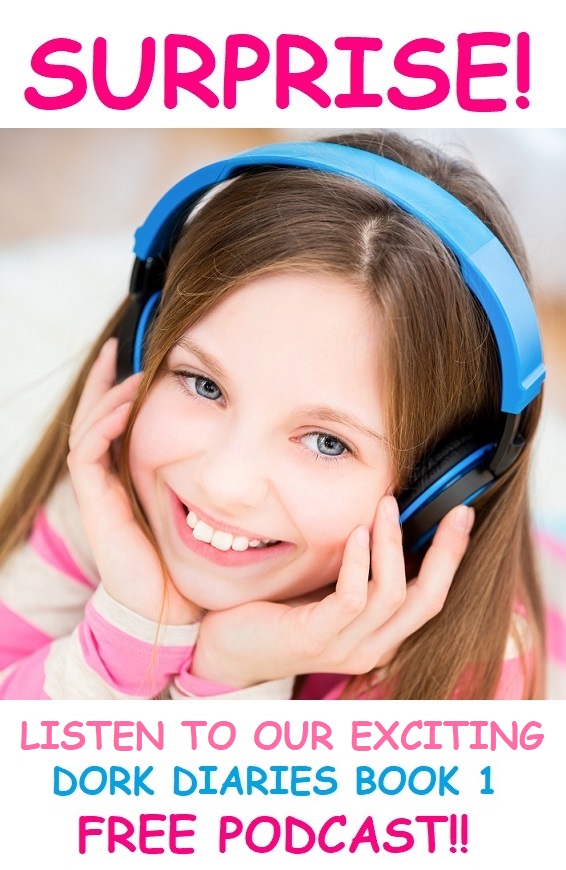 Okay! I told you I was making A LOT of changes around here to make this place more FUN and EXCITING!
Well, the FIRST thing I've added is a Dork Diaries Book 1 podcast!  YES!  A real PODCAST must for YOU!  And, it's totally FREE!!
All of my FRIENDS (and FRENEMIES!) have acted out scenes from Dork Diaries Book 1 and made an AMAZINGLY COOL podcast for your listening pleasure.
We went all out and you'll hear music, silly sound effects, and more, as I give YOU all of the details about the endless DRAMA in MY cruddy life!
Below is a one minute preview of my new podcast.  Please click on it to listen, and if you LOVE IT you'll definitely want to check out my 15 minute Episode 1!
So, are you ready to hear the ENTIRE Episode 1 right now?!!  GREAT
!
The Podcast is available everywhere for FREE, and to hear it, all you need to do is just click one of the links below. Each Monday and Friday, I'll add a new episode for a total of 15!
I hope you LOVE our new podcast!  After you've listened to Episode 1, remember that Episode 2 will be released on Friday.  Please let me know what you think about the podcast it in the comments section below.