May 16, 2021
WE'RE MAILING OUT ANSWERS TO FAN LETTERS!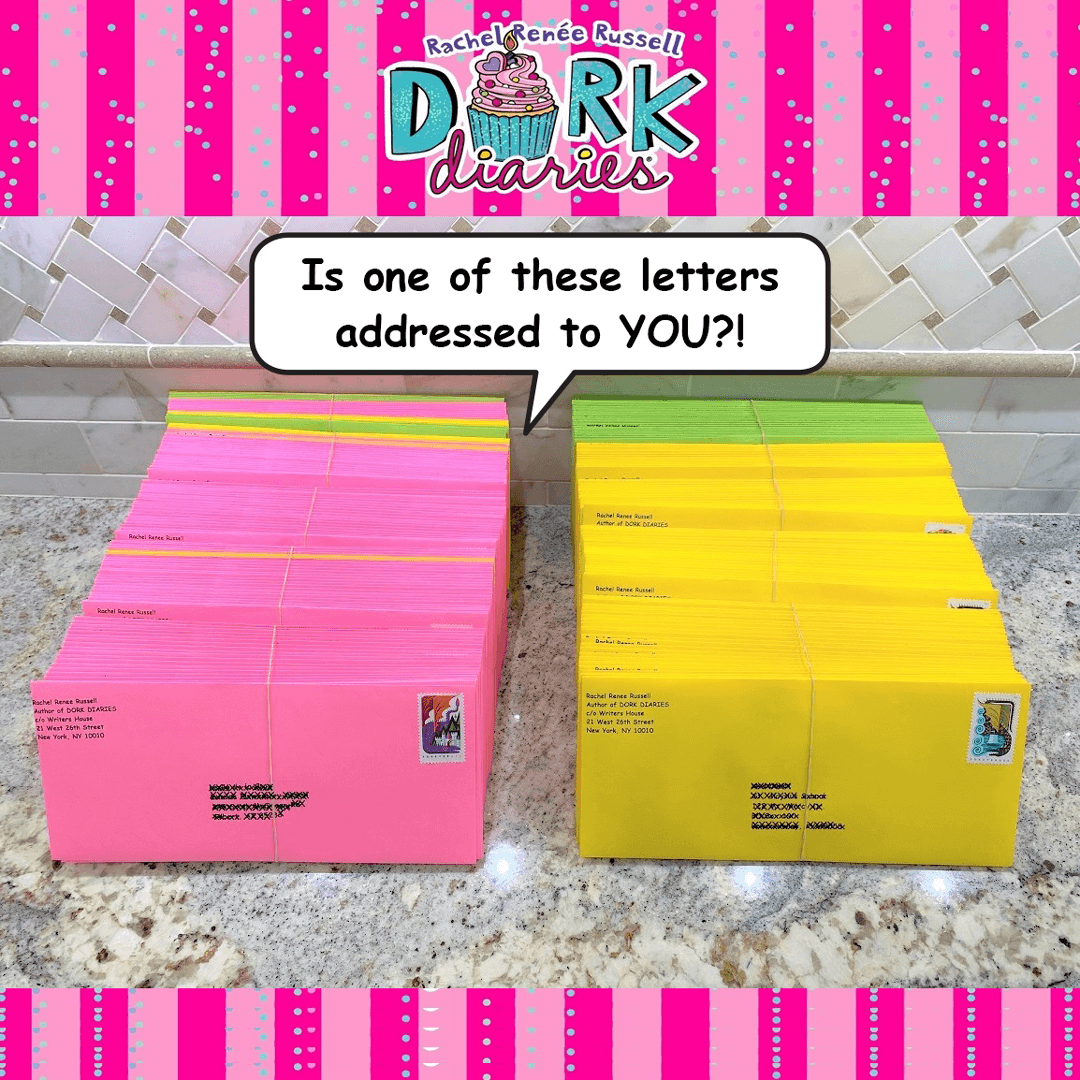 Hi Everyone! I want to thank Brandon for letting me take over his ASK BRANDON column today to share news about a BIG PROJECT we're currently working on.
Well, it's a project we're working on in ADDITION to the even BIGGER PROJECT of finishing Dork Diaries Book 15
! Yes, Team Dork is VERY BUSY right now!!
We have a backlog of over 1,000 snail mail fan letters! YES!! Over ONE THOUSAND letters from YOU!! We received these letters last year in 2020 from fans all around the world via the United States Postal Service. The number of letters we received is actually significantly LESS than usual due to COVID.
Since the majority of the letters were from classrooms/students and since most schools were closed due to COVID, we were very worried students wouldn't receive them. So, we delayed sending out our letters. We have the same concerns with mailing out classroom letters during the summer months since schools are usually closed.
The good news is that many schools reopened in 2021 or at least have staff working in the school offices, so we've resumed answering your letters
. And, in June we'll start sending out the letters going to your home addresses.
I'm very excited to share the cool photo above of about 300 letters that will be mailed out to YOU this week
.
HOW ABOUT A FUN GUESSING GAME?!
In addition to a letter from Rachel, there is a set of FOUR additional items inside each envelope! Can you guess what's inside these letters?
I'll reveal the four items next week! Assuming, of course, that Brandon will let me take over his, ASK BRANDON, column again
!
Have you sent us a snail mail letter in 2020 or 2021 and are now waiting on a response? Please post your thoughts and guesses in the comments section below.
May 11, 2021
Summer Dork Maker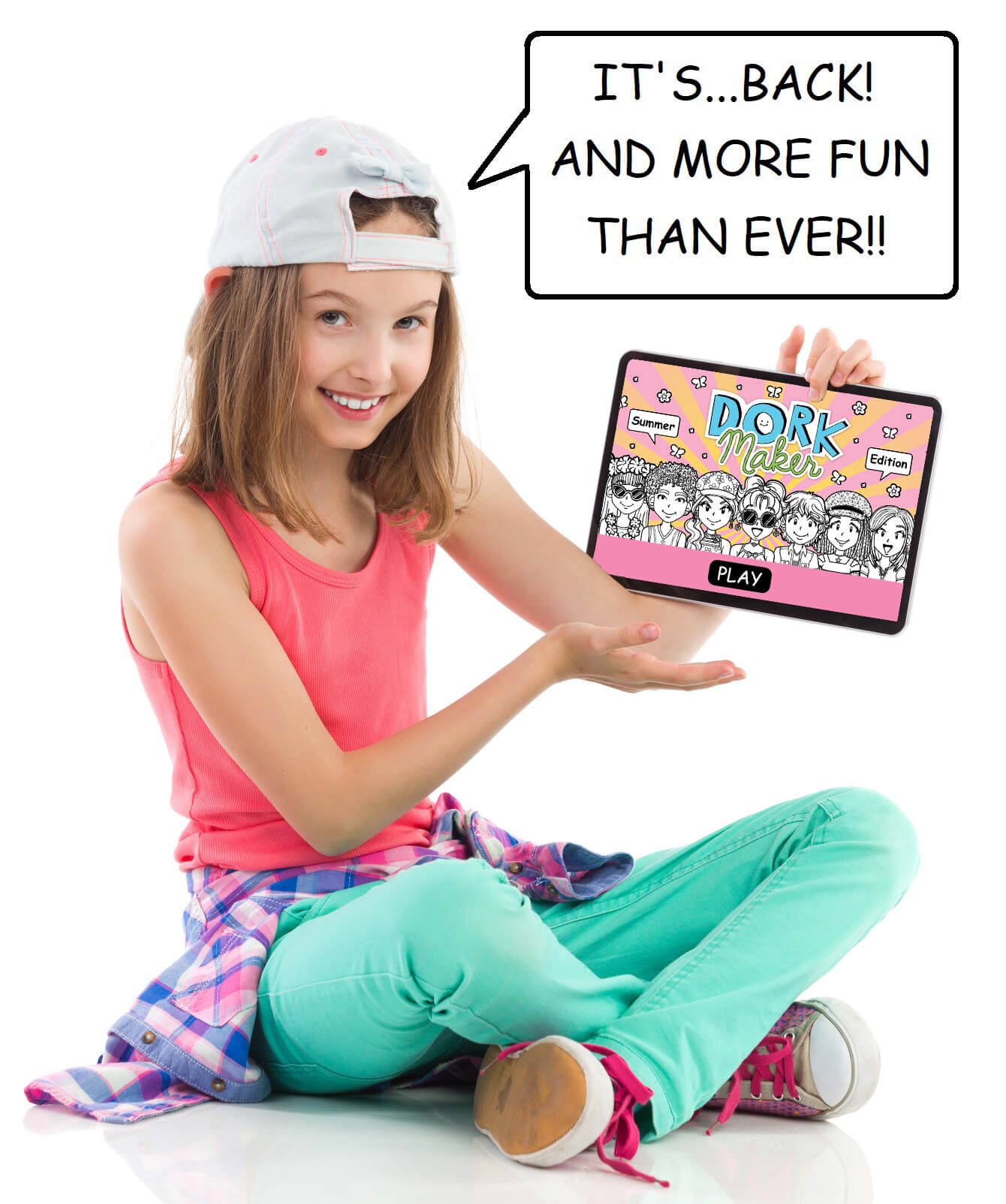 What's up, everyone! Can you believe it's already mid-May?!
In just a few more weeks, SCHOOL will be out for the SUMMER!!
SQUEEEEEEEEEEEEEEEEEEEE !!
In anticipation of this, I have some FUN and EXCITING news
!
Today we are launching our new and improved:
SUMMER DORK MAKER!
We've added lots of trendy clothing, cool accessories, new hairstyles, and MORE! But, the very best part is…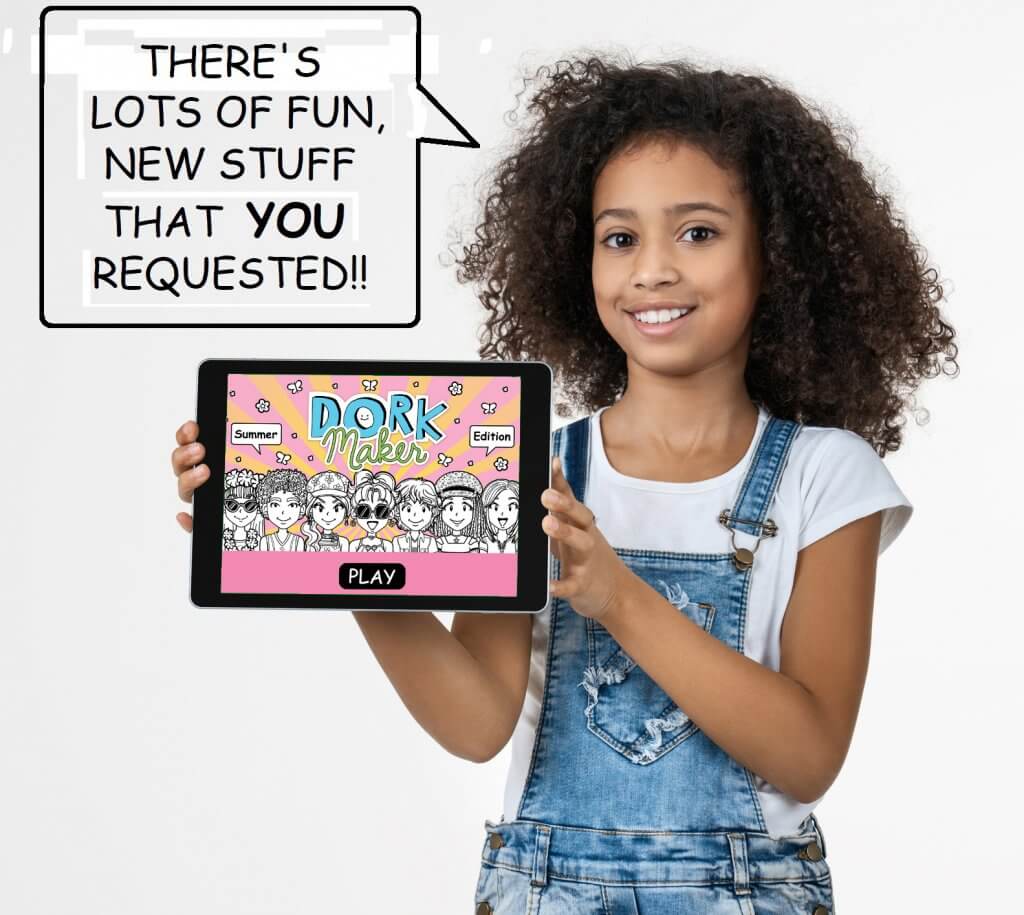 We'll feature the most recent characters that YOU created in the PREVIEW section below.
ENJOY! Click on the Dork Maker photo link below to get started: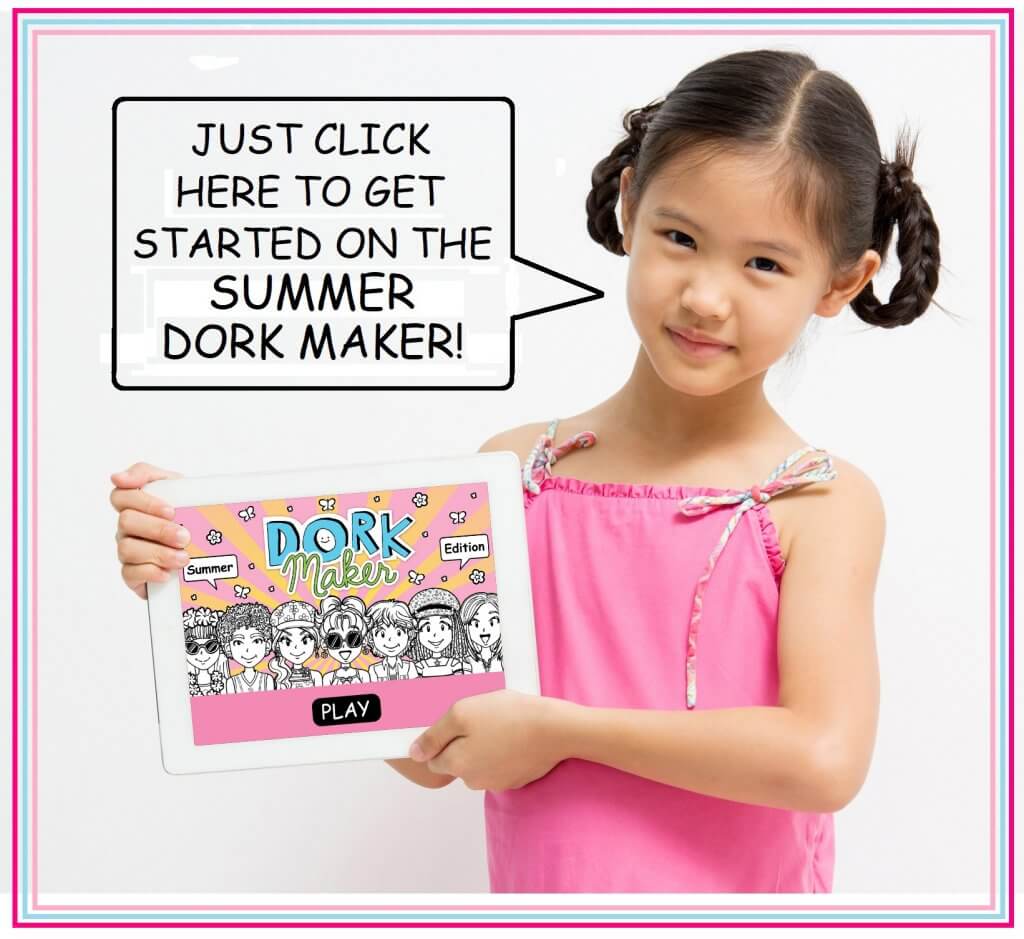 Dork Maker Instructions
When uploading Dork Diaries Summer Dork Maker art, it's important to follow these rules:
Acceptable formats: .jpg, .jpeg, .gif, .png
Max file size: 2 MB
Images MUST be created using the Dork Maker. Save a copy of the Dork Maker image that you created, and then upload it on this page below.
Please do not upload duplicate images.
image per day only! Extras will be deleted.
We will review every image uploaded BEFORE it appears on the site. Due to the volume received, this process may take several days, so please be patient.
If you enjoyed these previews, you can see more SUMMER DORK MAKER artwork creations **HERE!**
Did you enjoy my updated summer Dork Maker? What did you like best about it? What would you like to see added to it to make it even BETTER?! Please post your answers in the comments section below.
May 4, 2021
Update on Dork Diaries Book 15 ☹️!
I know this is REALLY disappointing news for everyone, but Dork Diaries Book 15 has been rescheduled again!
Honestly, the book is not finished yet, and it will probably be published in late fall 2021.
Thank you so much for your patience so far
!
April 30, 2021
May calendars: May Day
Right click the download button to save the calendar of your choice on your computer.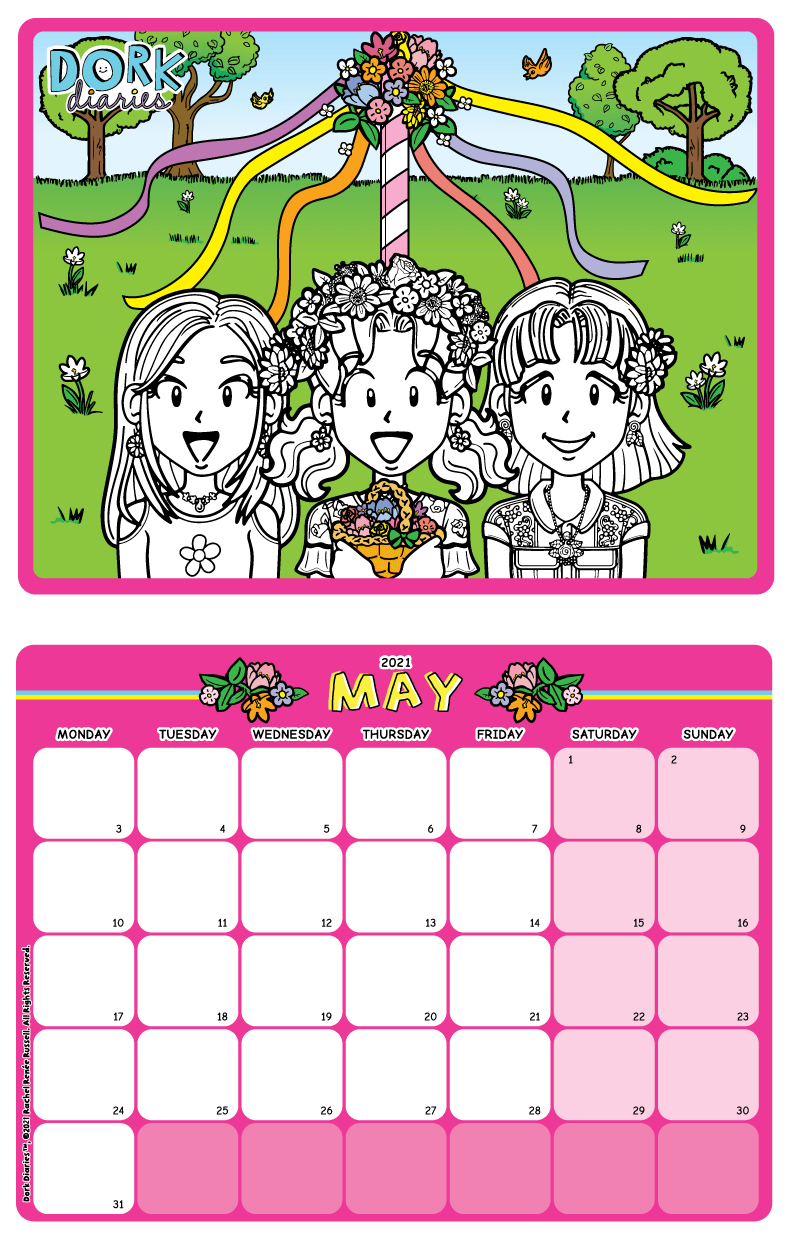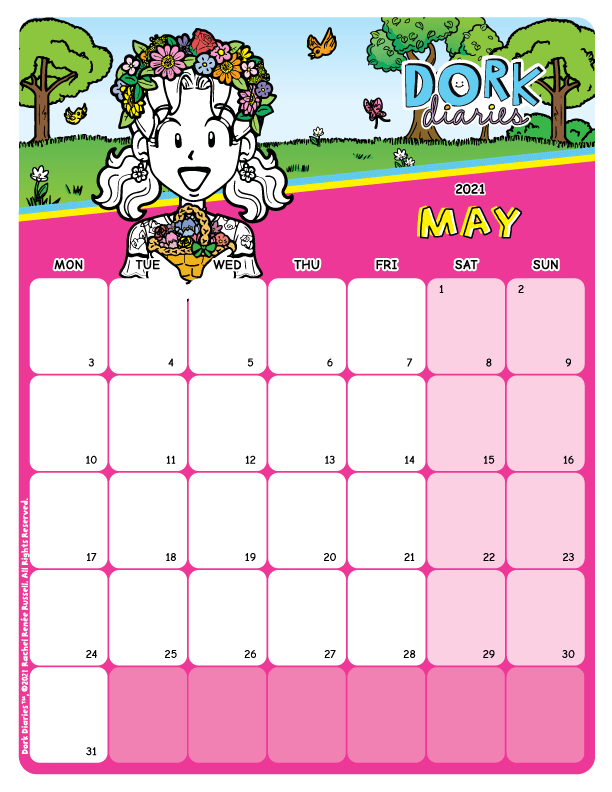 April 29, 2021
DO YOU HAVE SPRING FEVER?!  QUIZ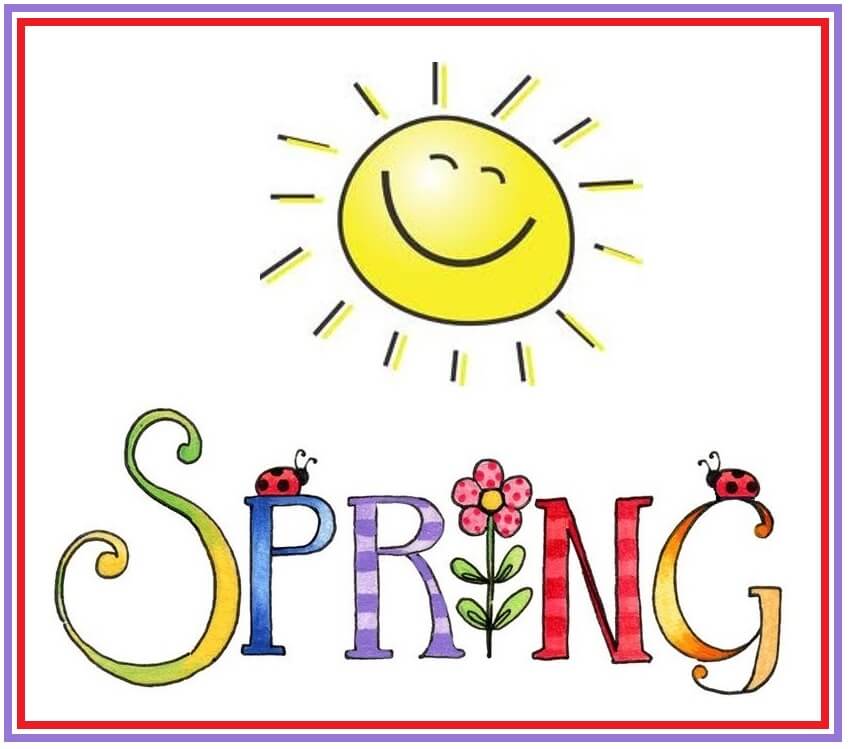 Hi everyone! Today is the PERFECT spring day
!
The sun is shining, the birds are singing, and the flowers are blooming.
But, it's ALSO the season for that DREADED mental condition called…
SPRING FEVER!!
If you feel BORED and TIRED with NO ENERGY from being cooped up all winter long, YOU have Spring Fever!
If you feel ANXIOUS and EXCITED and are literally DYING to finally get out of the house, YOU have Spring Fever!
But, this year, Spring Fever has been aggravated by the stress of COVID. So, you're probably ALSO missing your friends, family, and your normal school routine.
If you're like ME, you're feeling ALL of these conflicting emotions at the exact same time!! YIKES!!!
So, I decided to make a fun QUIZ called, "HOW BAD IS YOUR SPRING FEVER?!!"
You can find out if your spring fever is SEVERE, BAD, or MILD, just by answering a few silly questions!
Click on the SPRING FEVER QUIZ image below to get started! ENJOY!!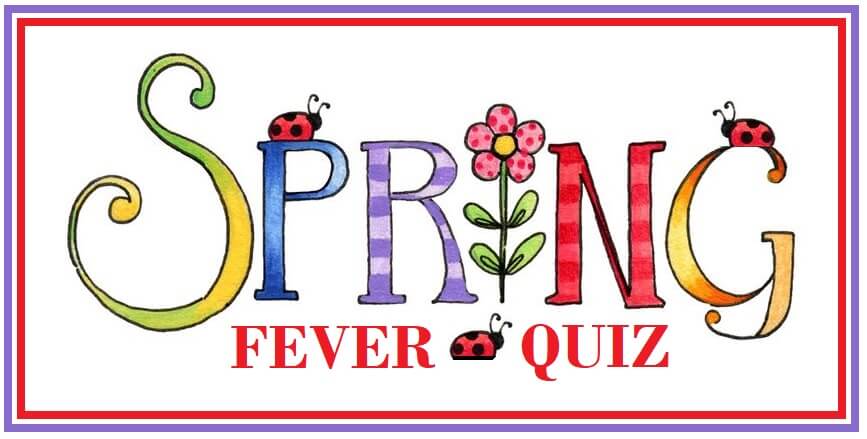 Did my quiz accurately predict how you're actually feeling right now? Was your Spring Fever severe, bad, or mild? Would you like to see more fun quizzes like this one? Let me know your thoughts in the comments section below!
April 24, 2021
SHOULD I TAKE THE BLAME FOR MY FRIEND?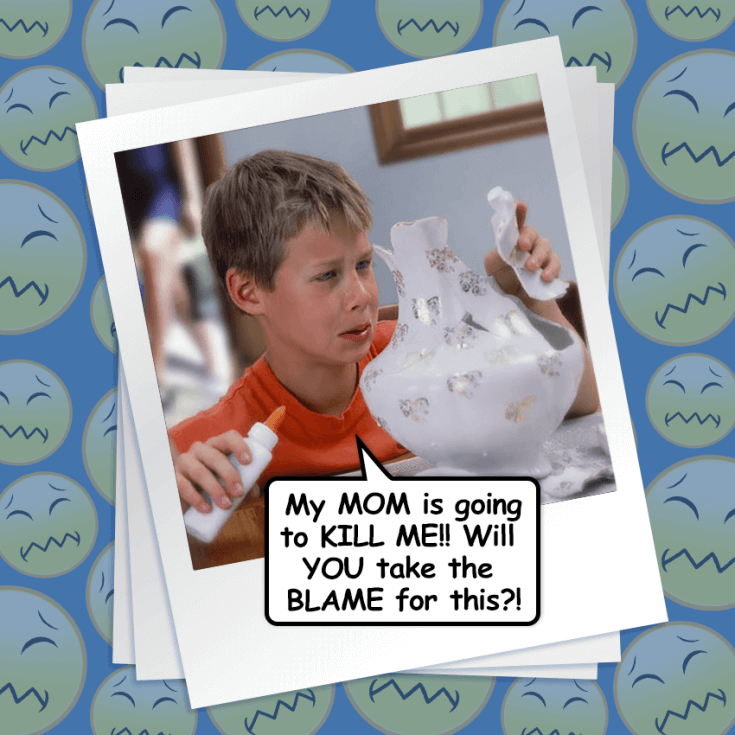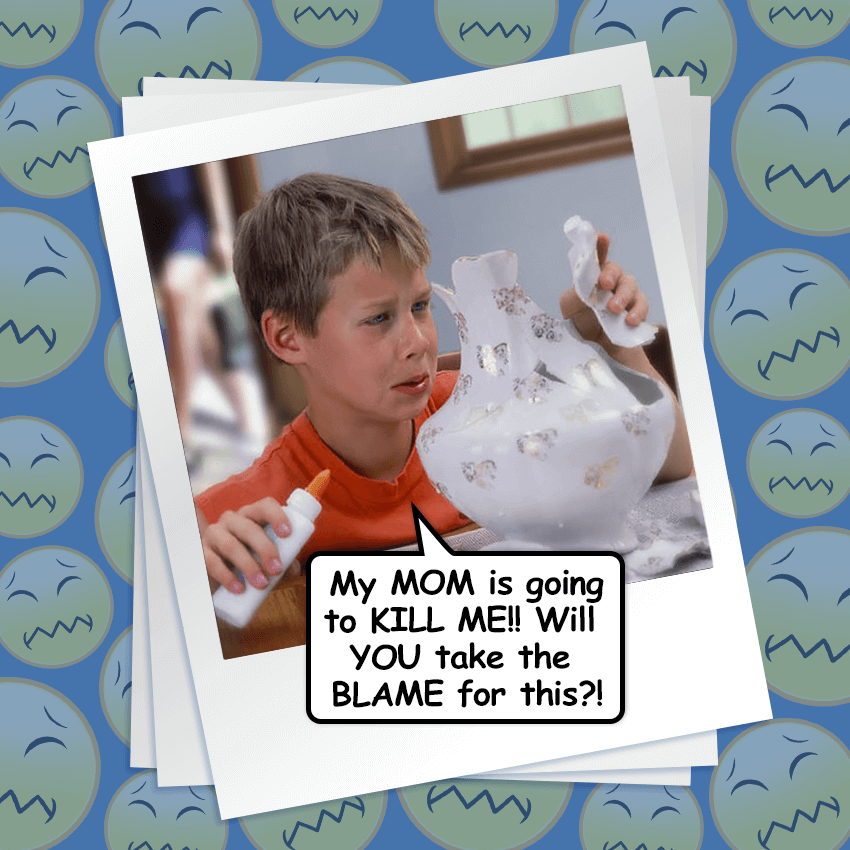 Hi Brandon,

My friend and I are working on a long-term project for school, and we've been doing all the after schoolwork at his house. His mom is usually super nice (putting out snacks and stuff), but a few days ago, my friend accidentally broke her favorite (and expensive) vase while he was goofing around. We tried gluing it back together but that didn't work. Then my friend begged me to take the blame because he said his mom would take his cell phone away for a week if he was messing around when he was supposed to be studying. So, I took the blame. His mom was SO mad, and now every time I go over there, she looks at me like I'm a major troublemaker! I really want my friend to tell her the truth, but I don't want him to get punished (both for breaking the vase and for lying). What should I do?

From,
Not-So-Guilty Girl
Hi Not-So-Guilty-Girl,
Wow, that's a tough situation. I know you've got loyalty to your friend, but that's not cool at all that you took the blame for the broken vase.
So, about his mom's potential punishment for him…
If you communicate with your friend by phone a whole bunch, that's a big loss for both you and him (although, I bet if an emergency happened, anybody could contact him through his mom).
But on the other hand, while losing your cell phone for a week might seem like a huge deal (believe me, it DOES), I think that it's not the worst punishment in the world. I mean, you could ask him this question. . .
"Is it worse if your mom treats me differently FOREVER just because you lied about breaking the vase?"
Here's what I think: your friend knows that he should have confessed. I think he knows that the moment has kind of passed, so if he tells his mom the truth much later, she'll be even more mad.
Here's another thing I think: moms (or grandmas in my case, since I live with my grandparents) are generally pretty understanding about mistakes, especially if you come clean. And they generally love you a lot. And they'll forgive you for a lot, even if they seem angry at first.
Here's what I also think: it's not cool to let your friends take the blame for something, particularly if THEY end up getting punished instead of you. But if it's a friend who you like a whole bunch, it's probably really hard to ask them to take the blame.
Bottom line: if your friend is a good friend, he'll be feeling really guilty about how he treated you…so maybe you can talk to him about some options that might make you both feel better. Here are three options to consider:
Keep taking the blame. Don't worry about how his mom feels about you—just be proud that you got your friend's back! Um…yeah…but that whole situation is just going to keep coming up, especially if you spend time at your friend's house. I feel like it's not fair for you to seem like a "troublemaker" when you were only being a study buddy.
Tell your friend's mom who broke the vase. If you don't talk about it to your friend ahead of time, this option might make your friend a little mad…but really, you have the right to be a bit upset at your friend too!
Ask your friend to confess to your mom. I think that this option is the best for allowing you to keep hanging out with your friend. It might be painful for him to lose his phone for a week, but in the end, I feel like his mom will feel good about him coming clean (and she might end up putting out snacks for you again!).
Okay, readers, your turn—has a friend ever asked you to take the blame for something you didn't do? How did you handle it? Tell us in the comments!
April 22, 2021
SHOULD I STAND UP TO MY SCHOOL'S MEAN GIRLS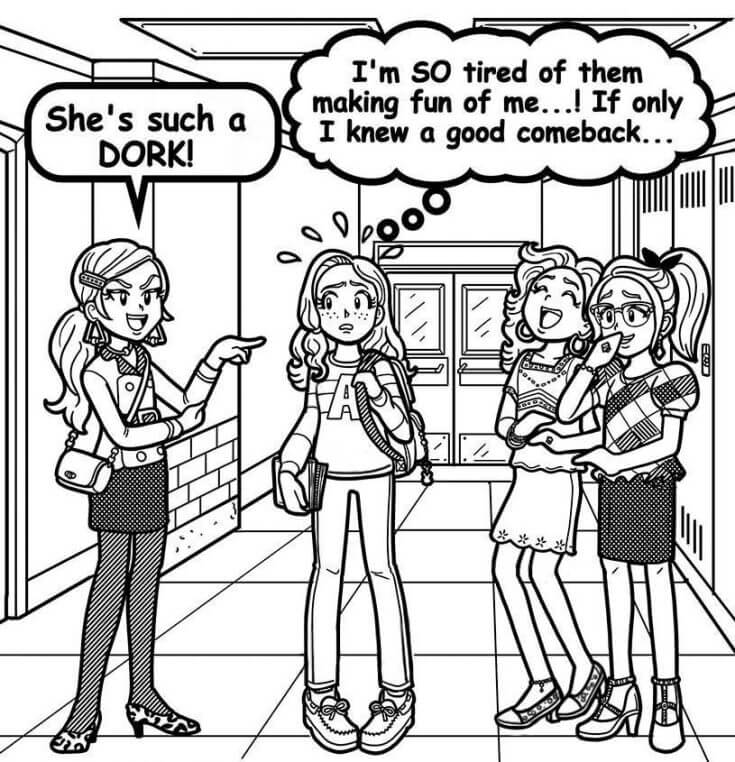 Hi Nikki,

The CCPs at my school have been picking on me ALL year! They make fun of the way I dress, the way I do my hair, the way I talk–they even make fun of my backpack. I hate being treated this way, but I'm really shy and I never know what to say or do. Should I stand up to them? If so, what can I do? Help, please!!!

From,
Dork in a Dilemma
Dear Dork in a Dilemma,
I'm so, so sorry you've got CCP drama—mean girls are the WORST (trust me, I have some experience with this)! They go after people who are different from them just to make themselves feel more powerful.
Like I said, I've dealt with my fair share of mean words and it always hurts—here are a just a few of the ANNOYING things MacKenzie has said to me over the last year:
"So, Nikki, are you going to the Sweetheart Dance? Oh, my bad! They don't admit ANIMALS!"
"Hey Nikki, do you need a donation to your plastic surgery fund to remove your mustache hair?"
"Nikki, where are pathetic girls like you buying such HIDEOUS clothes? What, do you shop at a store that sells lawn mowers?"
OMG. That girl is SO mean, she's like a rabid hyena in lip gloss and false eyelashes!
!!
Her minions—which include Jessica and a handful of other CCP girls—haven't been much better. Usually, they're just going along with MacKenzie because they're afraid that she'll start making fun of them, too!
Here's my advice for how to handle YOUR MacKenzie Hollisters:
Do nothing. Just deal with it. I don't really suggest this option. It's obviously bothering you, and you need to address your situation in some way.
Avoid them. Again, not really a good (or realistic) option. Unless you want to change schools (where there might be more mean CCPs), you'll have to see them at some point.
Get MAD. Pick a time when there are a lot of people around, like the hallway or cafeteria, then yell, "YOU ARE ALL TERRIBLE PEOPLE! YOU'RE HORRIBLE, NASTY JERKS!" Hmm. Technically, this would be in the category of standing up for yourself, but this particular technique has a good chance of backfiring.
Fake It 'til you Make It. Even if these CCPs hurt your feelings, act like they don't. Hold your head high, roll your eyes, and walk away like those meanies just don't matter.
Make a Clever (not mean) Comeback List— If you can never think of how to respond to the CCPs, you can always make a list of clever responses so you're ready to stand up for yourself. Tip: don't stoop to their level and just insult them back. I have to admit, I've gotten a little snarky with MacKenzie a few times, and while it might be temporarily satisfying to try to be just as nasty as she is, ultimately, it never really helps my situation. You know what? Compliments can actually throw a bully for a loop. Responding calmly with, "You're really pretty. I love your outfit," and then walking away might leave a mean girl baffled.
Take Action! Tell a teacher or your parents and see what they say. Most schools have a strict anti-bullying policy, and I'm certain that you're not the only one dealing with this issue. You could try to organize a school assembly that talks about how mean people STINK, and how nice people go WAY farther in life. Even if the mean CCPs don't change, they'll know that adults at school are aware of the issue, and that you're not just going to take their awful behavior.
All in all, I think you SHOULD stand up to those CCPs—but it's your choice how to go about it. I know things will be okay—I'm sending a virtual "You can do this, Fellow Dork!" high-five your way!
Okay readers, your turn to chime in—has anyone ever bullied you at school? What advice do you have for Dork In A Dilemma? Tell us all about it in the comments!
April 19, 2021
GOT QUESTIONS FOR DORKY DETAILS VIDEO?!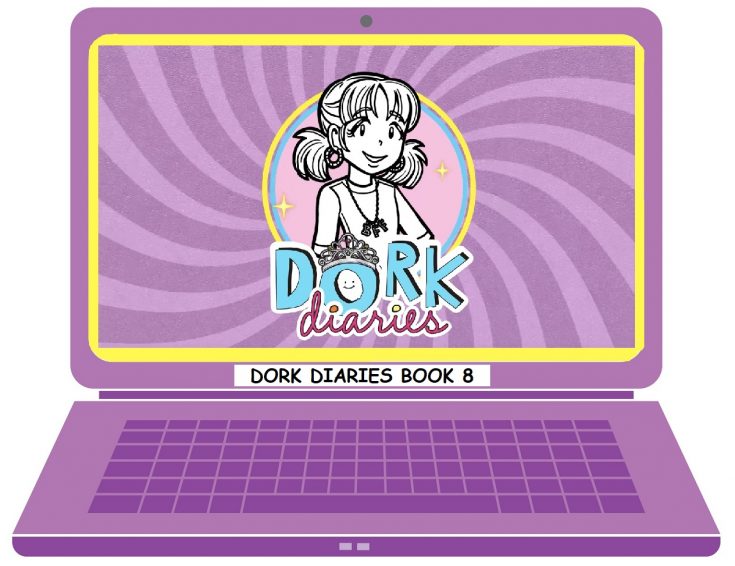 Hey, everyone! It's that time again. Time for you to post YOUR questions, for our next…
ZOEY'S DORKY DETAILS VIDEO!  
This month, Zoey is taking questions about Dork Diaries Book 8:  Tales From a Not-So-Happily Ever After.
However, since she received over 1,000 questions for each of her past videos, I decided to add a couple of new rules for her next video event.
RULE #1 – Try to ask an original question that has NOT already been asked and answered in a PREVIOUS VIDEO.
RULE #2 – Try to ask a question that hasn't already been asked by several other people in the COMMENTS SECTION. If you do ask the same question, it's not a big deal. However, starting this week, we'll only credit the first THREE people that ask the same (or a similar) question and NOT the 24 (or more) people that asked the same super popular question. So, if you want to get a shout-out and see your name in Zoey's video, try to come up with an intriguing question that has NOT been asked by others.
The deadline for posting your question is Friday, April 23rd. Zoey hopes to have her video finished sometime next week, but she doesn't have a specific date yet since they take quite a while to complete.
DO YOU HAVE AN ADORKABLE FAIRY TALE IDEA?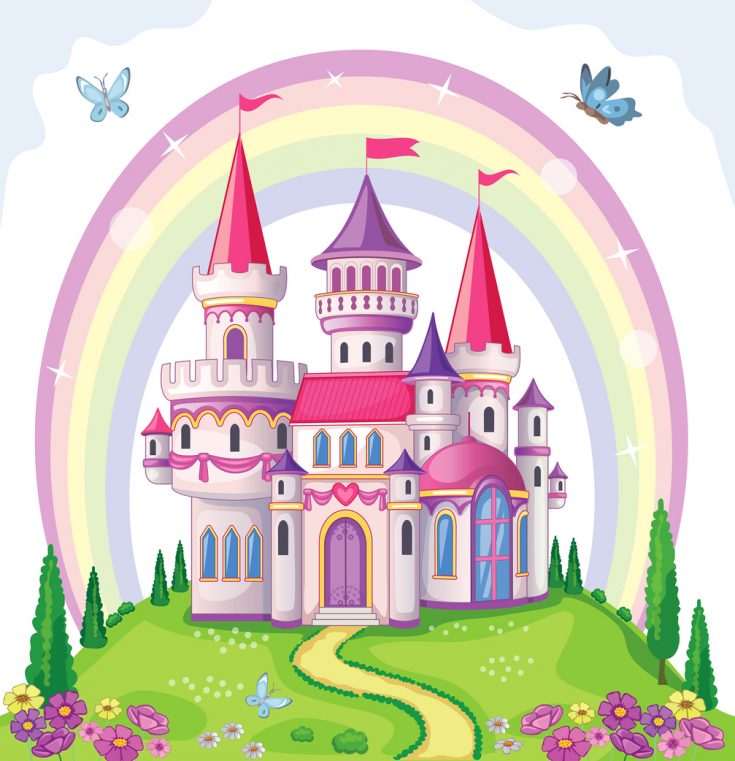 Would you like to see ANOTHER fractured-fairytale like Book 8? If so, please tell me your FAV scene from your FAV fairytale that would be PERFECT for a future book. However, it should NOT be the exact same scenes that we ALREADY used for Book 8.
Also, tell me which Dork Diaries characters YOU would cast to be the various fairytale characters in YOUR favorite scene! We'll take the TOP 5 BEST ADORKABLE ideas and feature them in Zoey's Book 8 video. Post your idea in the comments section with the title, "MY ADORKABLE FAIRY TALE IDEA!"
So, have fun posting your BURNING questions for Book 8 as well as your Adorkable Fairy Tale ideas in the comments section below. I can't wait to read them!!
April 17, 2021
MY BIG FAMILY IS DRIVING ME CRAZY!!!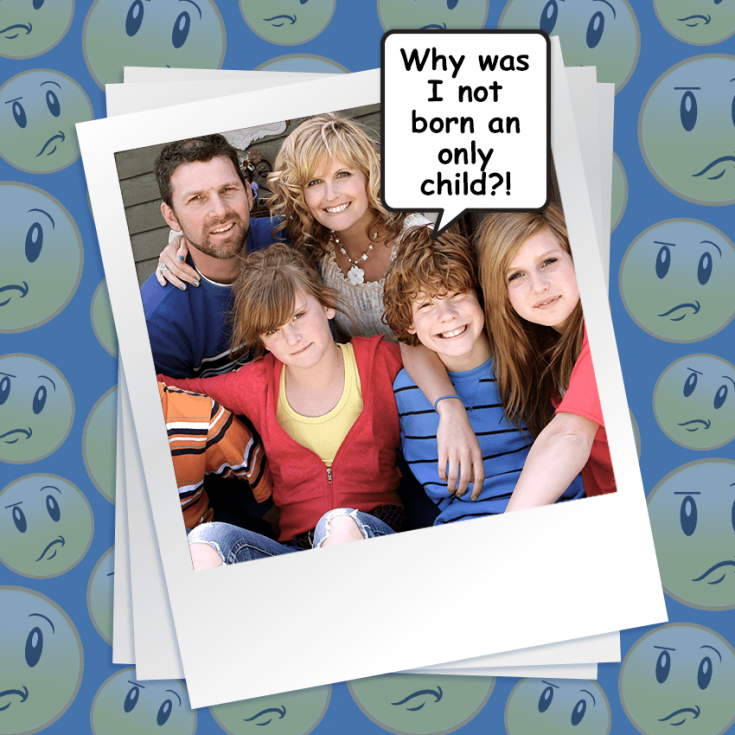 Hey Brandon,

I really need help. I have three siblings and they all give me a really hard time. We're doing the self-isolation thing and now it's worse than ever! I love my sisters and brother and I know I should feel happy living with them but they're so loud and always in my business and teasing me! Honestly, I sometimes wish I lived with just my grandparents like you! Help!!!

So Sick Of Siblings!
What's Up So Sick Of Siblings,
Wow, THREE siblings can be A LOT. And with them all home all the time now…I bet it feels like there are SIX of them!
Let's talk about the special circumstances of self-isolation first. (Then we'll get to the normal ways they drive you crazy.)
So everybody's cooped up and frustrated and dealing with this super sudden change in routine. This means NOBODY is at their best. We're all irritating each other more than usual. (And before self-isolation, you probably didn't think it was POSSIBLE for your siblings to irritate you any more than they already do!)
We're also probably all looking for ways to feel normal. So if your siblings are used to teasing you, they're probably going to tease you more than ever. If they're used to being loud and rambunctious, well, turn that volume up even more.
This…is a bummer. But hopefully in these weird circumstances, everyone is also more aware than usual that everyone's under stress. Maybe that means now would actually be a good time to express how you feel and try to make some changes.
You can't change the fact that there are seven kids in the family. (Since you have so many siblings, I'm assuming the older ones will probably be moving out at some point.) And you can't change their personalities or how they interact with each other. So when it comes to the part where they're loud and rambunctious, I think that's on you to figure out a way to deal.
Maybe that means asking your mom or dad for permission to retreat to your bedroom when things get loud. Maybe that means spending your savings on noise-cancelling headphones. Maybe that means getting outside and riding a bike or doing something else you enjoy (or just sitting on the porch steps) when inside is too much to handle.
Now let's talk about the teasing. Under normal circumstances, I believe in standing up for yourself, but I also know it's probably not realistic to ask your siblings not to tease you. Like…I think that's just part of the deal with siblings?
But right now, these are not normal circumstances. With self-isolation, I think a family meeting might be in order. You could talk to your parents first and ask them to call it. During the meeting, I think you can tell your family (and especially your siblings) that you're feeling a lot of stress from self-isolation, and being the target of their teasing makes it worse. Ask if they could try not to tease you so much right now. Ask if there's anything they need from you. I bet at least some of your siblings will admire your guts and honesty try to make a change.
No one doubts that you love your siblings, and it's totally normal to be frustrated with them. ESPECIALLY now. But there must be good parts about having siblings, right? I know there are days I would definitely switch places with you! If only that were possible.
Do you have a big family or a small one? Do you sometimes wish you had a larger or smaller family? How do you handle teasing? Tell us in the comments.
April 16, 2021
NIKKI IN FAIRYTALE LAND!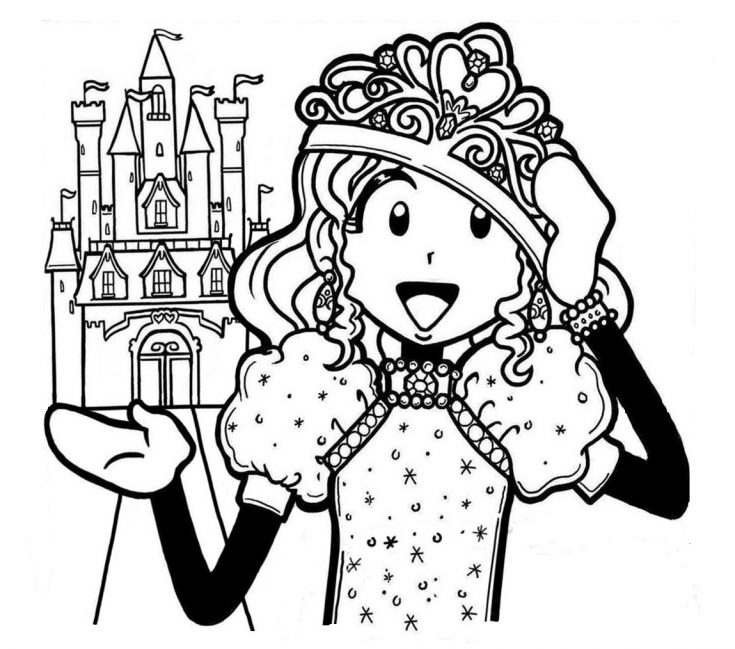 What's up,! For the month of April, our Book-of-the-Month is…
Dork Diaries Book 8: Tales From a Not-So-Happily Ever After!
It's a wacky, fractured fairytale featuring all of the Dork Diaries characters as your favorite storybook characters.
I have some really exciting Book 8 activities for you. THREE, to be exact!
Would you like to read (or re-read) the first 76-pages of Book 8?! Then check out our book excerpt below.
GOOD NEWS! Brooke from Studio B has created a HILARIOUS new Book 8 video just for YOU! Find out how I ended up in Fairytale Land, and exactly WHO is responsible for that mishap.
You'll also get to meet my Kay-Ray-Zee FAIRY GODMOTHER. You'll be surprised to see who she is.
And, last but not least, I have a FUN new game based on Book 8 called, "WHICH FAIRYTALE CHARACTER AM?!"
It's a matching game that will test your knowledge of the book. You'll be given pictures of my 12 friends and, of course, my FRENEMY. Then, you'll have to select the 12 fairytale characters that each of them portrayed in Book 8. A CORRECT match will show up in the same color frame.
The book excerpt, video, and game are all below. ENJOY!!…
DORK DIARIES BOOK 8 EXCERPT
---
DORK DIARIES BOOK 8 VIDEO
---
WHICH FAIRYTALE CHARACTER AM I?! – A MATCHING GAME (Click on the Fairy Godmother to play):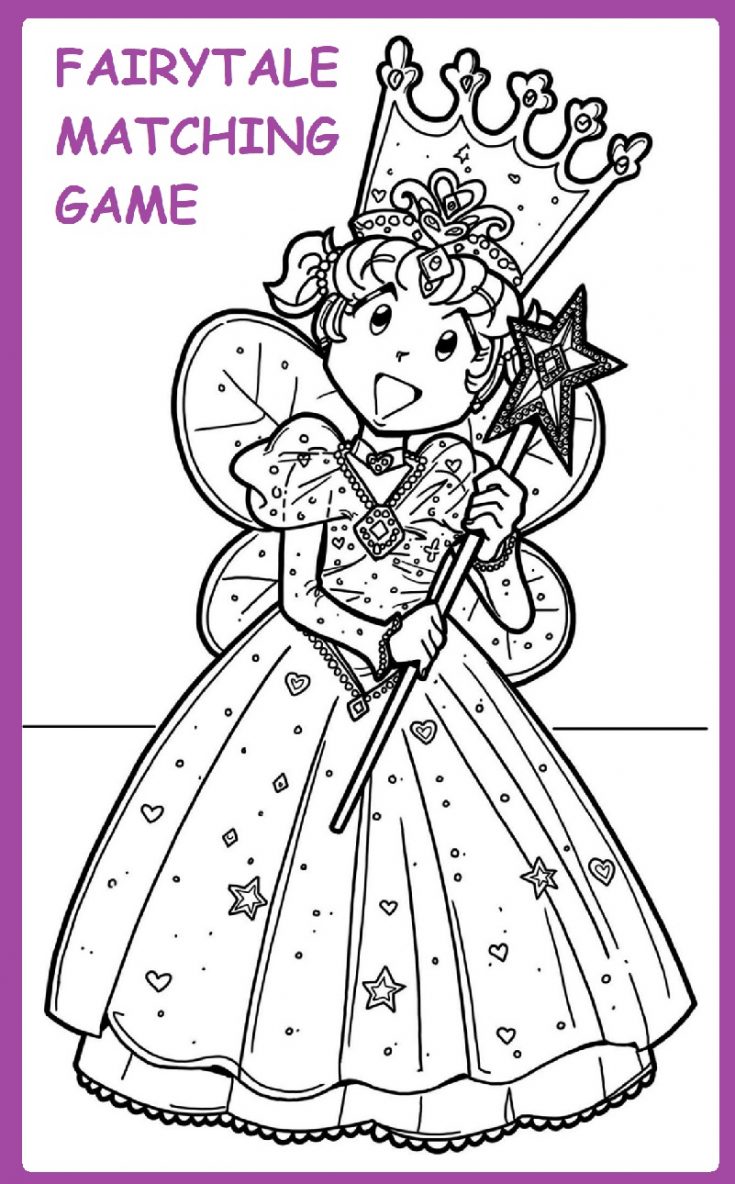 How did you like the Book 8 video? Was the Fairytale Character game easy or a bit challenging? Have you read Book 8 yet, and if so, what was YOUR most favorite scene? I'd love to hear your thoughts in the comments section below!