September 1, 2021
September Calendar – Back to School
Right click the download button to save the calendar of your choice on your computer.
August 2, 2021
August Calendar – Summer Nights
Right click the download button to save the calendar of your choice on your computer.
July 10, 2021
Exciting Update On Our Advice Column!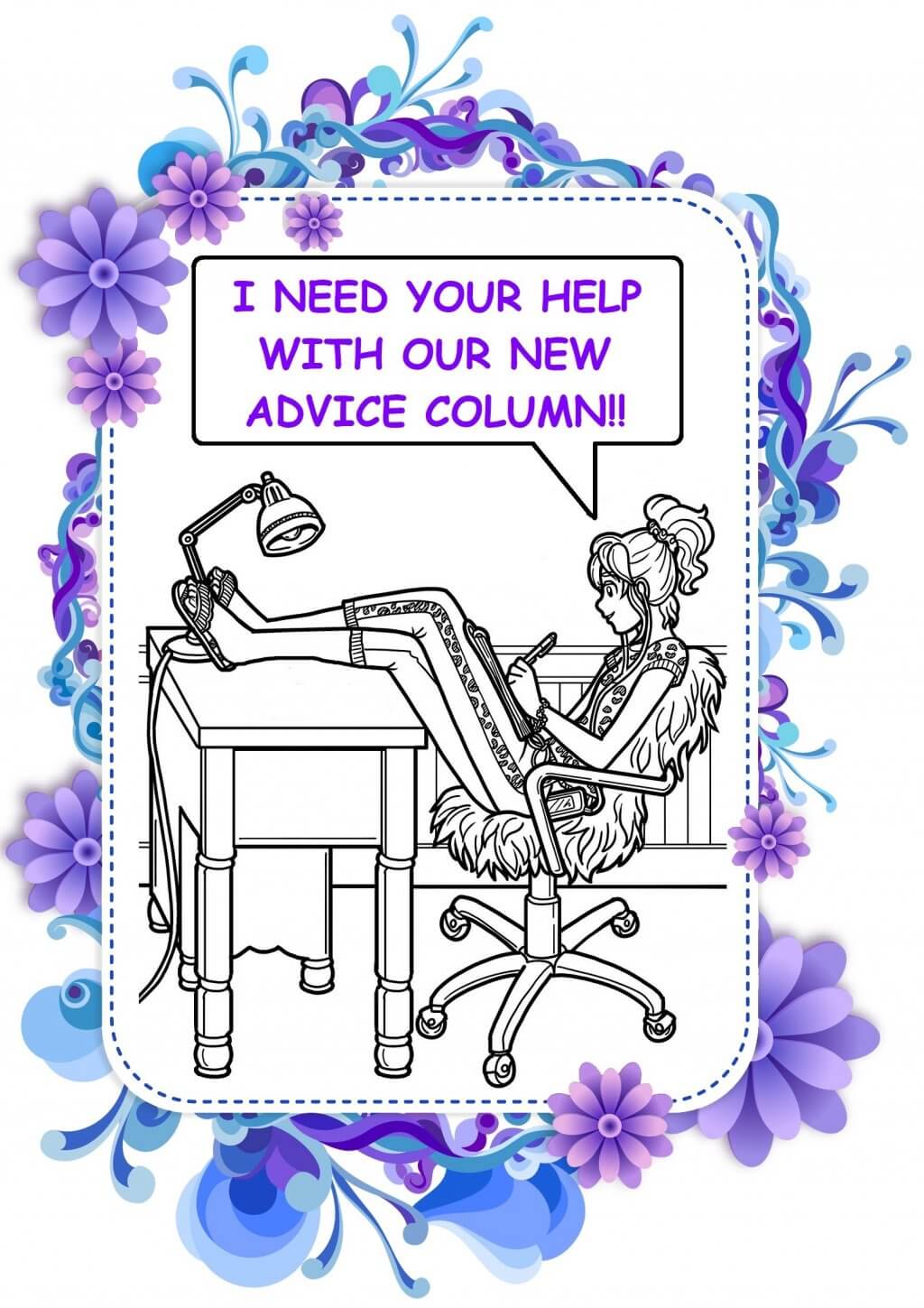 Hi everyone!
It's Nikki here, and I have an exciting update on our Advice Column!
As you have probably noticed, we're in the process of redesigning the Dork Diaries website and making a lot of changes. We're also adding new material and updating our older columns.
Soon, we'll be bringing back our advice column in a brand new, fun, and exciting format. But, I REALLY need YOUR help to do this!
I would like to know the topics you're most interested in reading about here in our Advice Column.
Here is a list of the 10 most popular advice topics on our Dork Diaries website:
Crush Crisis
Friendships
Am I Normal?!
Mean Girls
Secrets
Gossip
Popularity
Parties
Cell Phones
Siblings
The best way to gather the information for our Advice Column is for all of YOU Dork Diaries SUPERFANS to complete my Opinion Poll!
Each of the 10 topics above will contain the TWO most popular questions that we've received on our Ask Nikki and Ask Brandon columns over the years.
Please vote for your most burning question for each of the 10 topics shown in the list above. This means you will get to vote for your 10 FAV advice questions.
I will consider the questions YOU selected when we relaunch our advice column in the near future.
You can participate in the poll by clicking on the link below. After you select your 10 questions, remember to click on the pink VOTE button at the bottom of the page to see the results of the poll so far.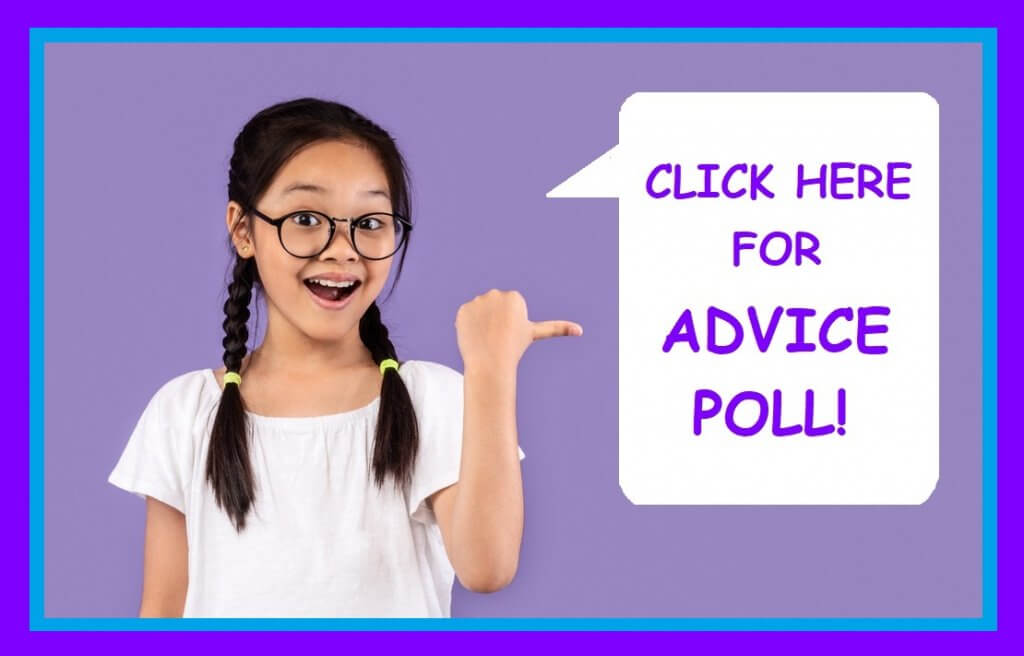 Thank you for participating in our Advice Column Poll. Do you have any ideas, suggestions, or requests for our NEW Advice Column? If so, please let me know your thoughts in the comments section below. Is there a question or topic that YOU are DYING to get advice on that was NOT mentioned in our poll? Just let me know!
July 1, 2021
July Calendars – Summer BBQ
Right click the download button to save the calendar of your choice on your computer.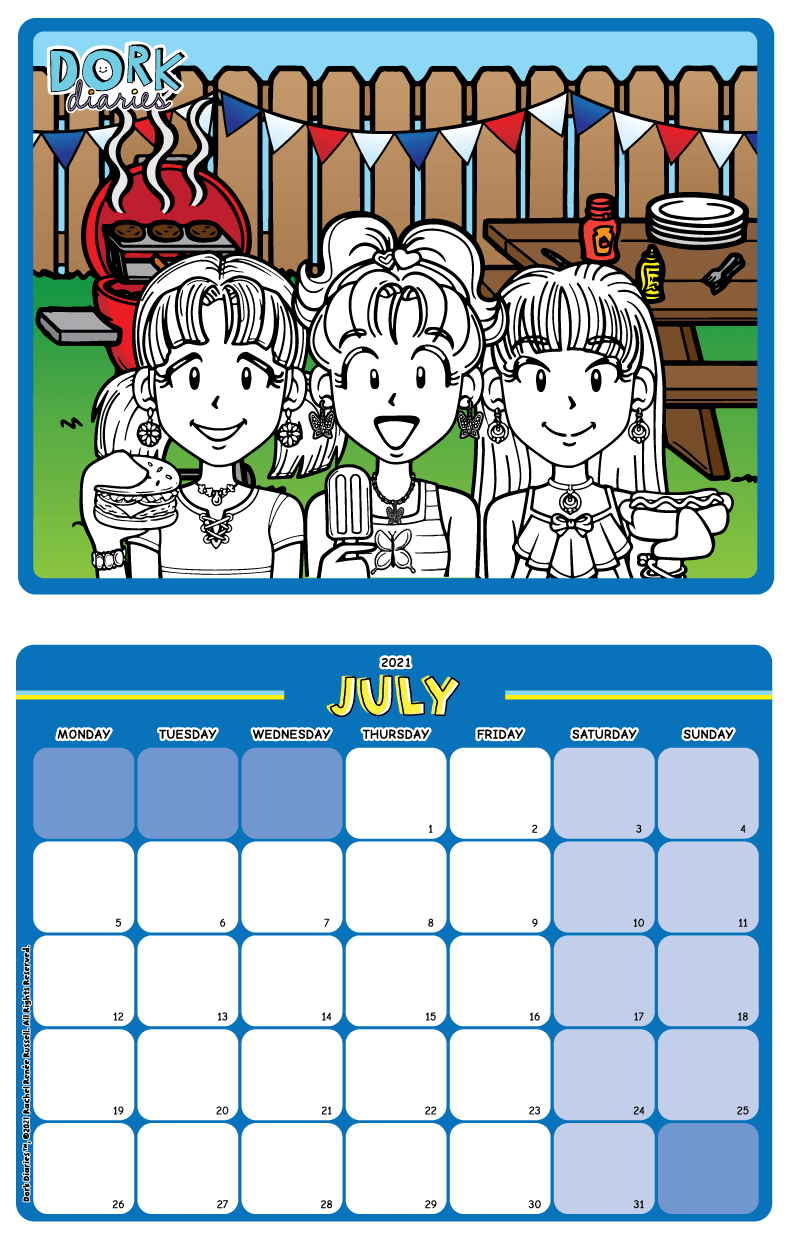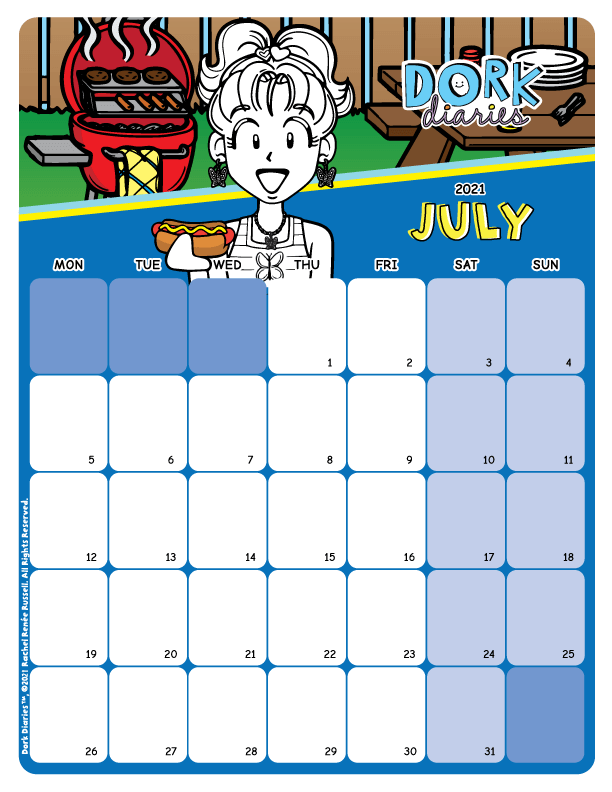 June 26, 2021
QUIRKY QUESTION OF THE WEEK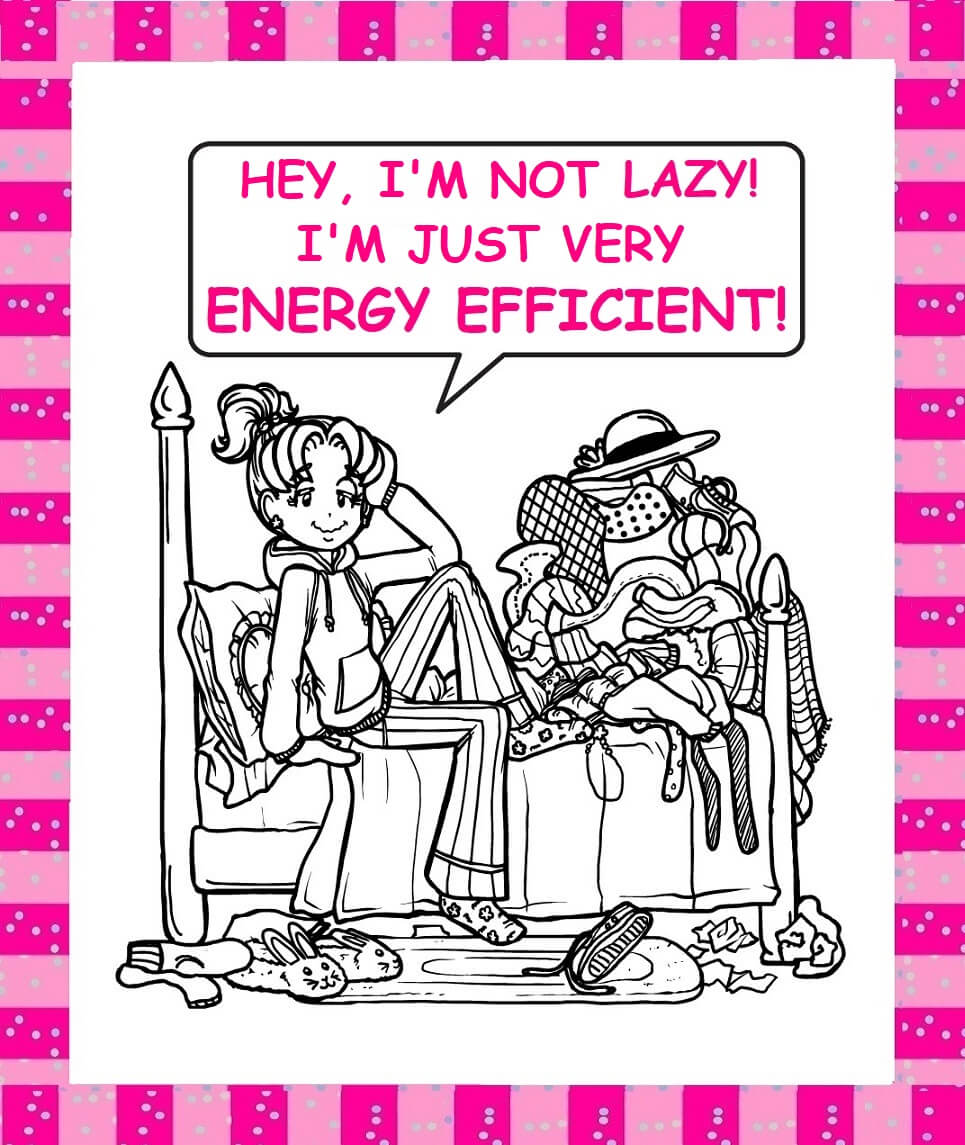 What's up, everyone! This week, we have another fun…
QUIRKY QUESTION OF THE WEEK!
For the past year, we have all spent A LOT of time stuck at home.
Did you use this extra time to keep your bedroom tidy or did you have more time on your hands to make it messier?
Right now, is YOUR BEDROOM messy or neat? Actually, you have FOUR choices:
Nice-N-Neat
Comfy-N-Cozy
Controlled Chaos
Massive Mess
In the poll below, pick a photo that looks the most like YOUR bedroom right now!
Then check out the results to see how everyone voted.
But, don't worry!! This is all in good fun and there is no right or wrong answer.
Tell us how you described your room in the comments section below?
June 16, 2021
Welcome To MACKENZIE'S World!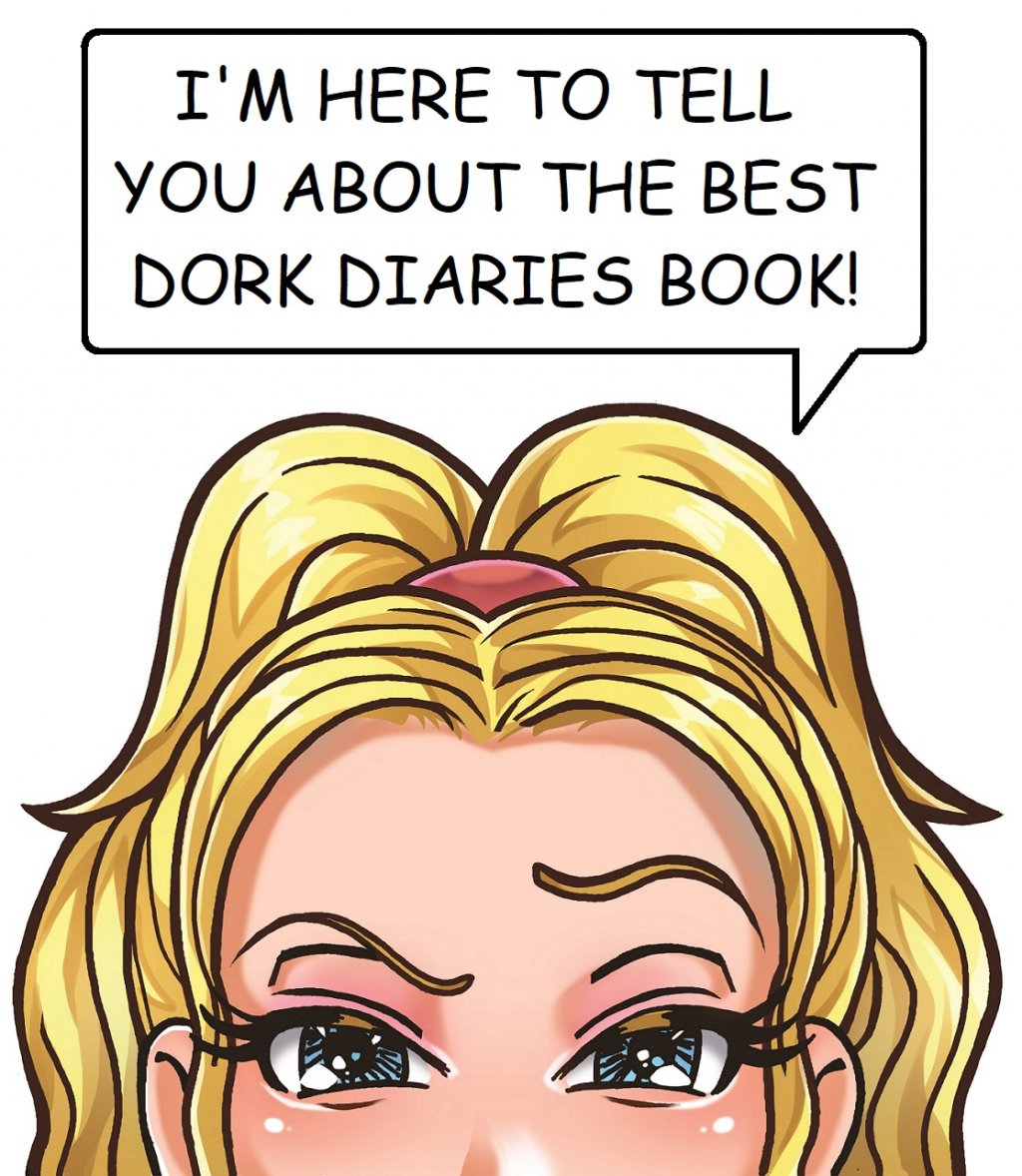 But, please don't HATE ME because I'm RICH and BEAUTIFUL, and YOU'RE NOT
!! Sorry, NOT Sorry!!
When Nikki asked ME to write a guest post about a Dork Diaries book, I thought it was the STUPIDEST. IDEA. EVER!
Hey, I don't KNOW you, people! And, most of you are probably as WEIRD and FASHION-CHALLENGED as Nikki.
Like, what MATURE teen girl has an entire WARDROBE made of cheap POLYESTER in various shades of VOMIT?!
I CANNOT believe I'm actually doing this! But, the WORLD needs to know about the BEST Dork Diaries book EVER!!
And, just in case you're wondering, it's obviously…
DORK DIARIES BOOK 9 – TALES FROM A NOT-SO-DORKY DRAMA QUEEN!
It has personal diary entries written by ME with fascinating details about MY exciting, fabulously GLAM life!!
Today is YOUR lucky day because you can read an excerpt of it below. You're WELCOME!!
I also personally designed a FUN new GAME that you can play. You're WELCOME!!
Of course, the game is all about ME and my passion for trendy, designer fashion!
But, I'll warn you ahead of time. It's NOT like all of the other LAME games on this website that are either way too BORING or way too EASY.
Mine is a fashion match game, so you have to be BRILLIANT to win it!
And, because I have an impeccable fashion sense, I'll also give you a SNEAK PEEK at some of the super-cute things I picked up on my latest shopping spree!
But you can only see them for 90 SECONDS because I don't want you people STEALING my AWESOME style. The link to my EXCELLENT GAME is also below.
Good luck
!   Because you're going to NEED IT
!! 
Read A Few Exciting Chapters From My Personal Diary.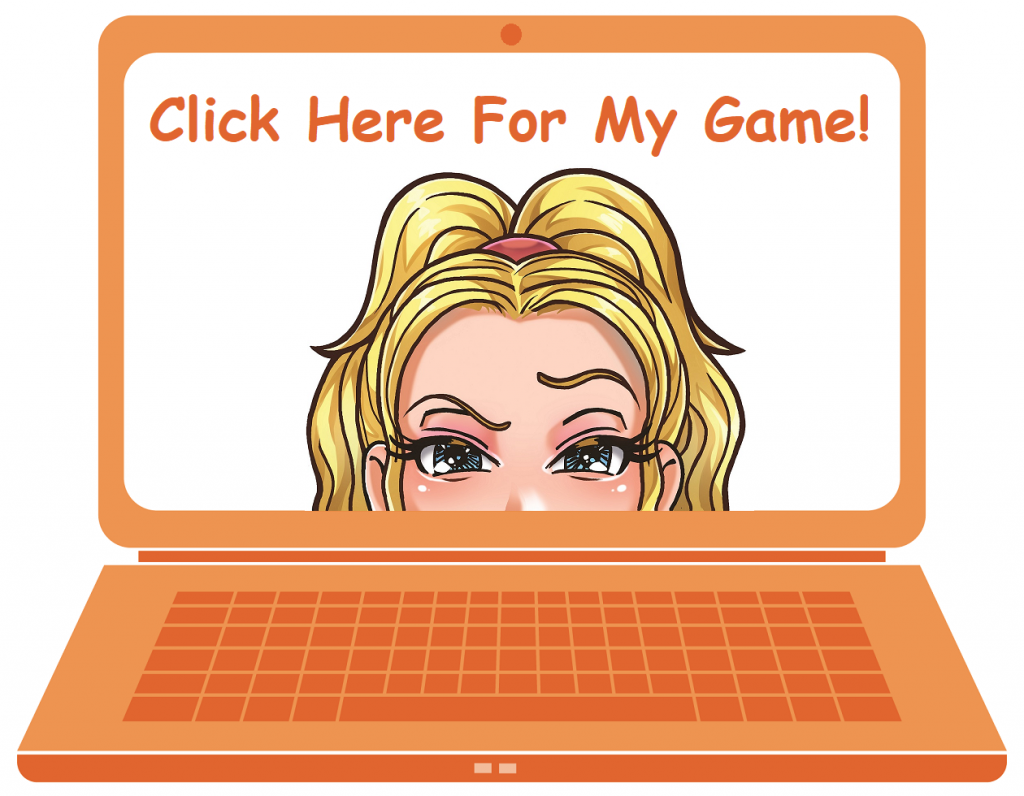 So, how did you like my diary? Wasn't it exciting?! Please don't be jelly of my FAB life! Also, tell me what you thought about my FUN fashion game! Were you totally CRUSHED when you didn't win?! Sorry, NOT sorry
!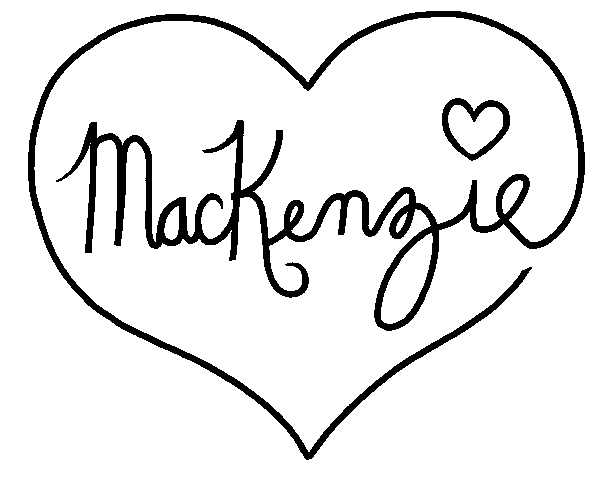 June 14, 2021
Best Friends Day – Dork Maker Awards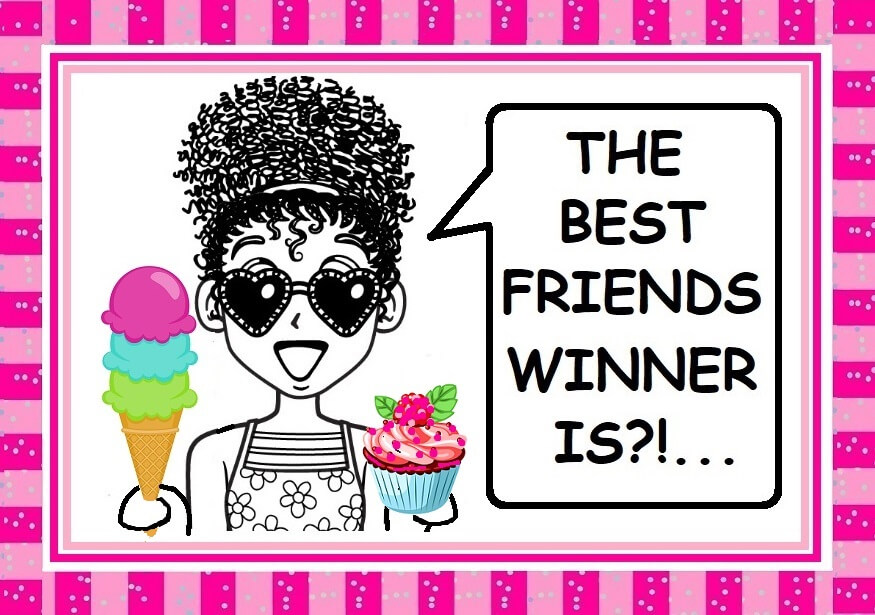 SQUEEEEEEEEEE
! Chloe and I are SO excited to announce the winners of our…
1st Annual Best Friends Day Dork Maker Awards!
The artwork you created of your BFFs was so AWESOME it was impossible to select just a few winners as we had originally planned.  So…
WE DIDN'T!!
Instead, we selected up to 12 winners in several categories!  To be honest, almost EVERYONE should be a WINNER because many of the artworks were VERY similar. The actual winner was often determined by when the artwork was created and submitted during the four-day event.   
So, if you see a winning artwork that is very similar to yours, you can consider YOURSELF a winner too along with bragging rights. SERIOUSLY!!  Because some of the artworks are almost identical except for very minor details like freckles, jewelry, braces, or even the type of snack.   As they say, "GREAT MINDS THINK ALIKE!!"  
We divided the artwork into FOUR categories:
BESTIE TIMES
MY BEST FRIEND
MY BESTIE
FRIENDS GROUP
The Dork Maker artwork was judged on creativity and how well you utilized the various BFF backgrounds and accessories. And, for our advanced artists who chose to add digital color, it needed to be done in a neat and attractive manner.
We also have the  DORK MAKER AWARD OF EXCELLENCE which is the very BEST artwork. 
So, are you ready?! Drum roll please!…
DORK MAKER AWARD OF EXCELLENCE!!
CONGRATULATIONS TO ATLANTIC FOR HER AWESOME ARTWORK!
---
Next are the artworks for the BESTIE TIMES AWARD!
We have 3 winners for COLOR  artwork and 3 winners for INKED artwork and 18 winners for honorable mentions!
---
Next are the artworks for the MY BEST FRIEND AWARD!
We have 3 winners for COLOR artwork and 3 winners for INKED artwork and 18 winners for honorable mentions!
---
Next are the artworks for the MY BESTIE AWARD!
We have 3 winners for COLOR artwork and 3 winners for INKED artwork and 18 winners for honorable mentions!
---
And, last are the artworks for the FRIENDS GROUP AWARD!
We have 3 winners for COLOR and 3 winners for INKED and 16 winners for honorable mentions!
---
CONGRATULATIONS to everyone who won an award and to all who participated! And as we stated earlier, if your artwork is similar to any of these, YOU'RE a WINNER, too! I hope you enjoyed sharing the artwork you created of YOUR BEST FRIEND with the entire world!!  
How did you like celebrating National Best Friends Day with our Dork Maker?  What did you like BEST about this activity? Should we make this an annual event? Please post your thoughts in the comments section below.    
June 8, 2021
Come Join the Fun Celebration!
What's up, everyone! It's Chloe and Zoey here, and this is our SECOND column on Dork Diaries.
We'd like to start by wishing everyone a…
HAPPY NATIONAL BEST FRIENDS DAY!
To help YOU celebrate YOUR Best Friend(s), we're asking everyone to participate in a fun activity and create an artwork image of your BEST FRIEND using our Dork Maker.
We've added more than a dozen new Best Friend items including backgrounds, clothing, hats and even jewelry!…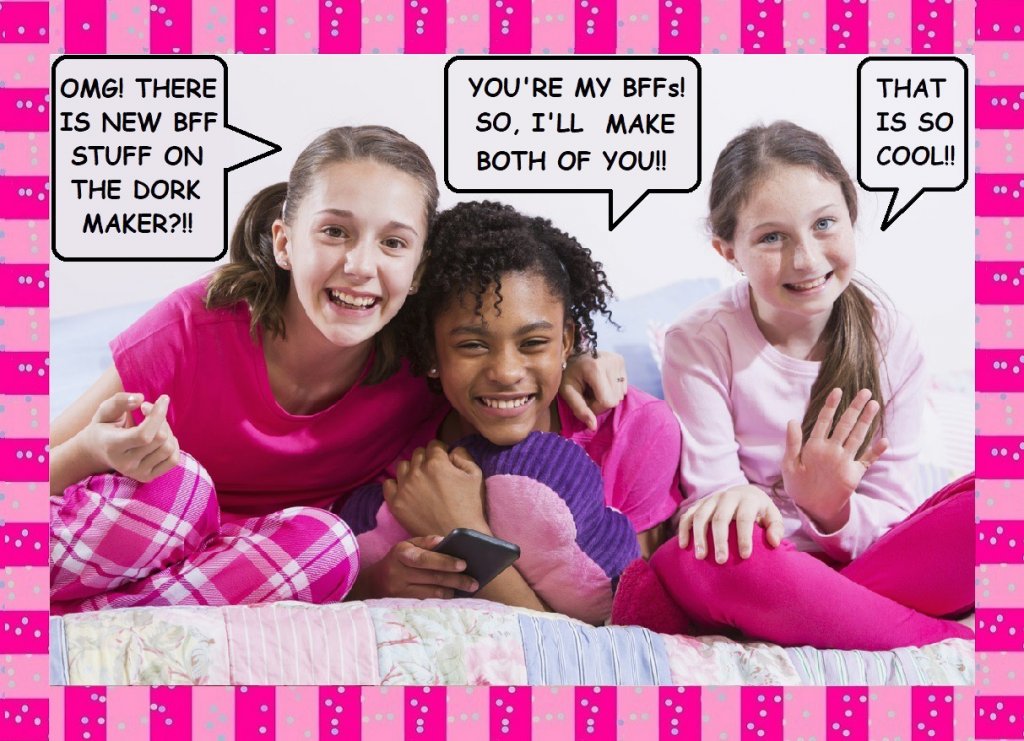 And, we're really excited about the addition of some delicious, summer snacks!
Now you can cool down with a chilly popsicle or ice cream cone.
And, for a healthy snack, we've added a slice of sweet, juicy watermelon.
For the cupcake lovers, there's even a delish red velvet cupcake with cream cheese frosting.
So, if your BFFs are prone to SNACK ATTACKS, we've totally got you covered!…
But, the very BEST part of our celebration is THIS!…
On Saturday, June 12th, we'll be selecting several of our favorite Best Friend Dork Maker artwork that YOU created and posting them RIGHT HERE in our column with a VIRTUAL AWARD!
SQUEEEEEEEEEEEEEEEE !!
So, remember to check back here on Saturday, June 12th, to see the award-winning artwork!
We're also featuring the 12 most recent Dork Maker characters that YOU created in the PREVIEW section below. Be sure to "LIKE" all of your FAVORITE characters by clicking on the !
You can CREATE and upload YOUR OWN CHARACTER in TWO easy steps:
STEP 1: Create your original character using our Dork Maker game at the link below. Be sure to SAVE your character image file.
STEP 2: Upload your saved character image to the Dork Diaries website to be added to our Dork Maker display section using the upload instructions. The instructions can be found right here on the page below.
So, are you READY to get started on creating YOUR Best Friend Forever?!
Just click on the Best Friend Dork Maker photo link below to get started. ENJOY!:
Dork Maker Upload Instructions
When uploading Dork Diaries Summer Dork Maker art, it's important to follow these SEVEN rules : ) :
1) UPLOAD ONLY ONE IMAGE PER DAY! Any additional images will be deleted.
2) Acceptable formats: .jpg, .jpeg, .gif, .png The Max file size: 2 MB
3) Images MUST be created using the Dork Maker. Please do not alter, change, or add to the image except for coloring it in a neat manner. Save a copy of the Dork Maker image that you created and then upload it on this page below.
4) Please do not upload duplicate images.
5) For "Author Name" just make up a silly name or post without a name. NEVER USE YOUR REAL NAME.
6) For "Title of Artwork" keep the title of your image brief and no more than ONE line (about 30 characters). Remember, a title is NOT a story.
7) NEVER INCLUDE PERSONAL INFORMATION like your name, age, school, city, etc., or similar details about another person.
Your artwork will NOT be published if any of the above rules are not followed. We review every image before it appears on this website. Due to the volume of images received, please allow up to one week for posting.
Also, remember to click on the to "like" your FAVS.
Did you create YOUR best friend using our Dork Maker? What was your favorite new Best Friend accessory? Please post your thoughts in the comments section below.
June 6, 2021
A Special BFF Surprise!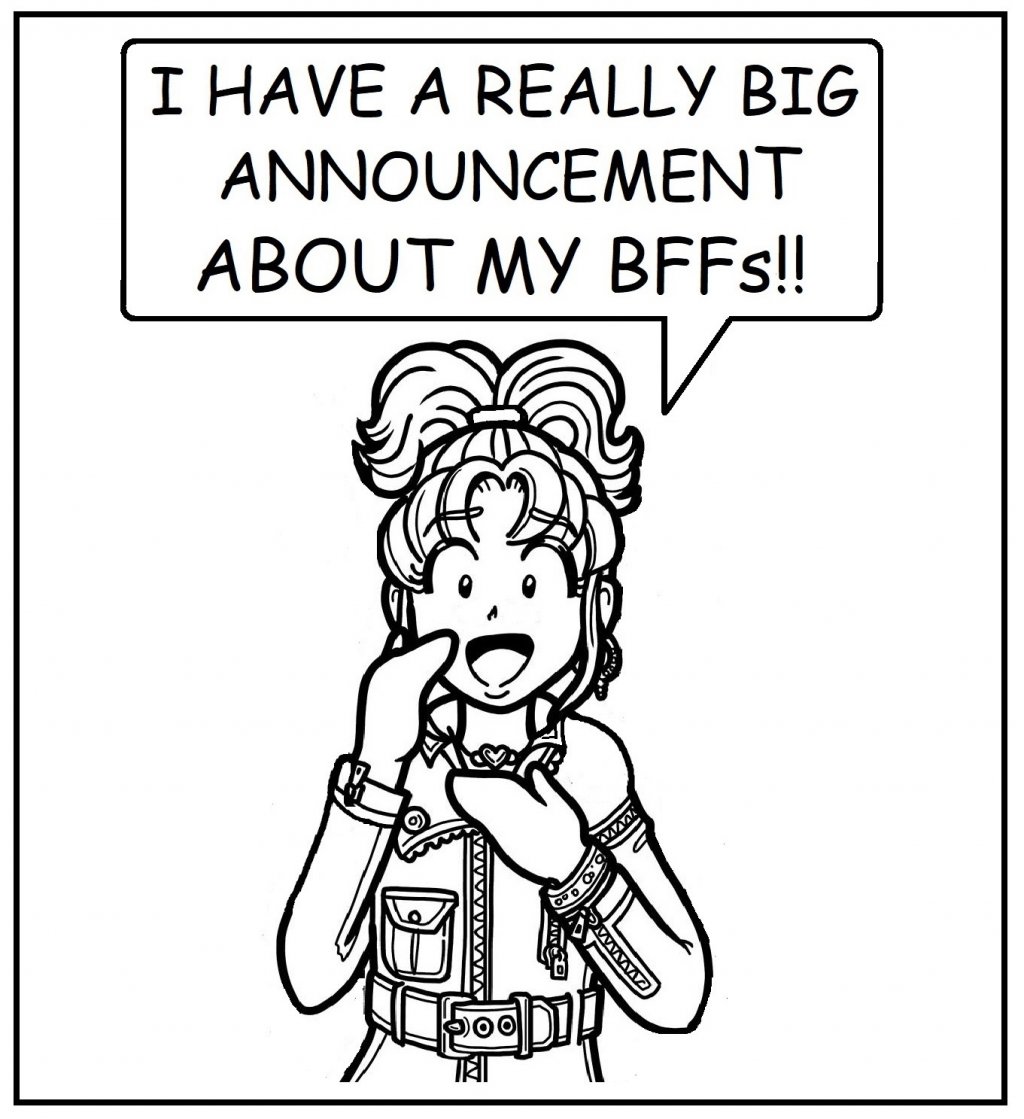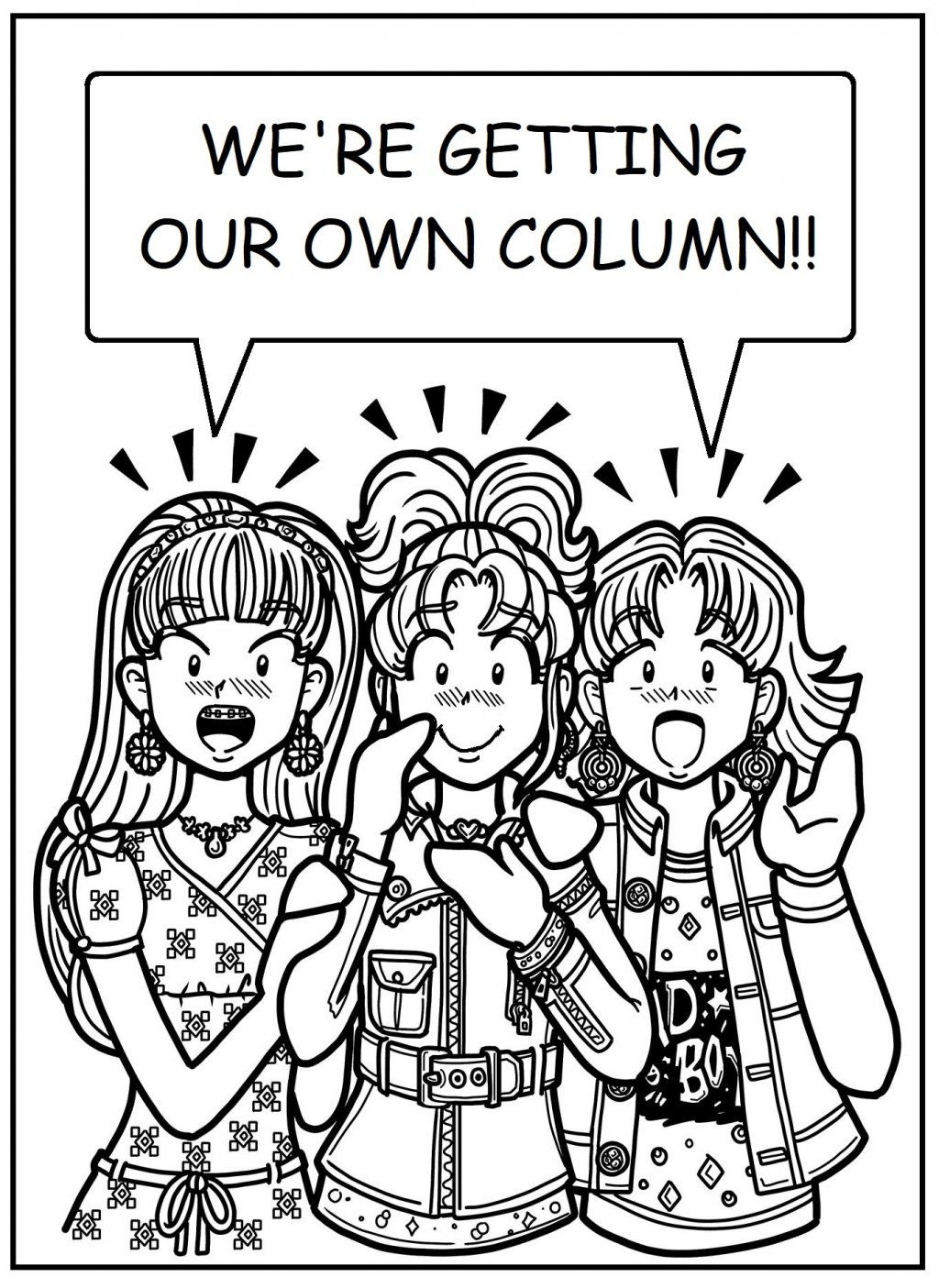 OMG! We're SO excited!
It's Chloe and Zoey here and we're happy to FINALLY have our very OWN column on Dork Diaries! SQUEEEEEEEEEEEEE!!!
And, launching our column today is PERFECT timing because the three of us are BFFs, and GUESS what special day Tuesday, June 8th is?! 
NO!  It's NOT..
NATIONAL CLEAN UNDER YOUR BED DAY!!
Although we probably could really use a day like that!! 
OMG! Have you even checked that mess under your bed lately?! Under OUR beds it looks like the CITY DUMP!! Seriously!!  
Anyway, June 8th is a very SPECIAL day, especially for the THREE of US Because it's…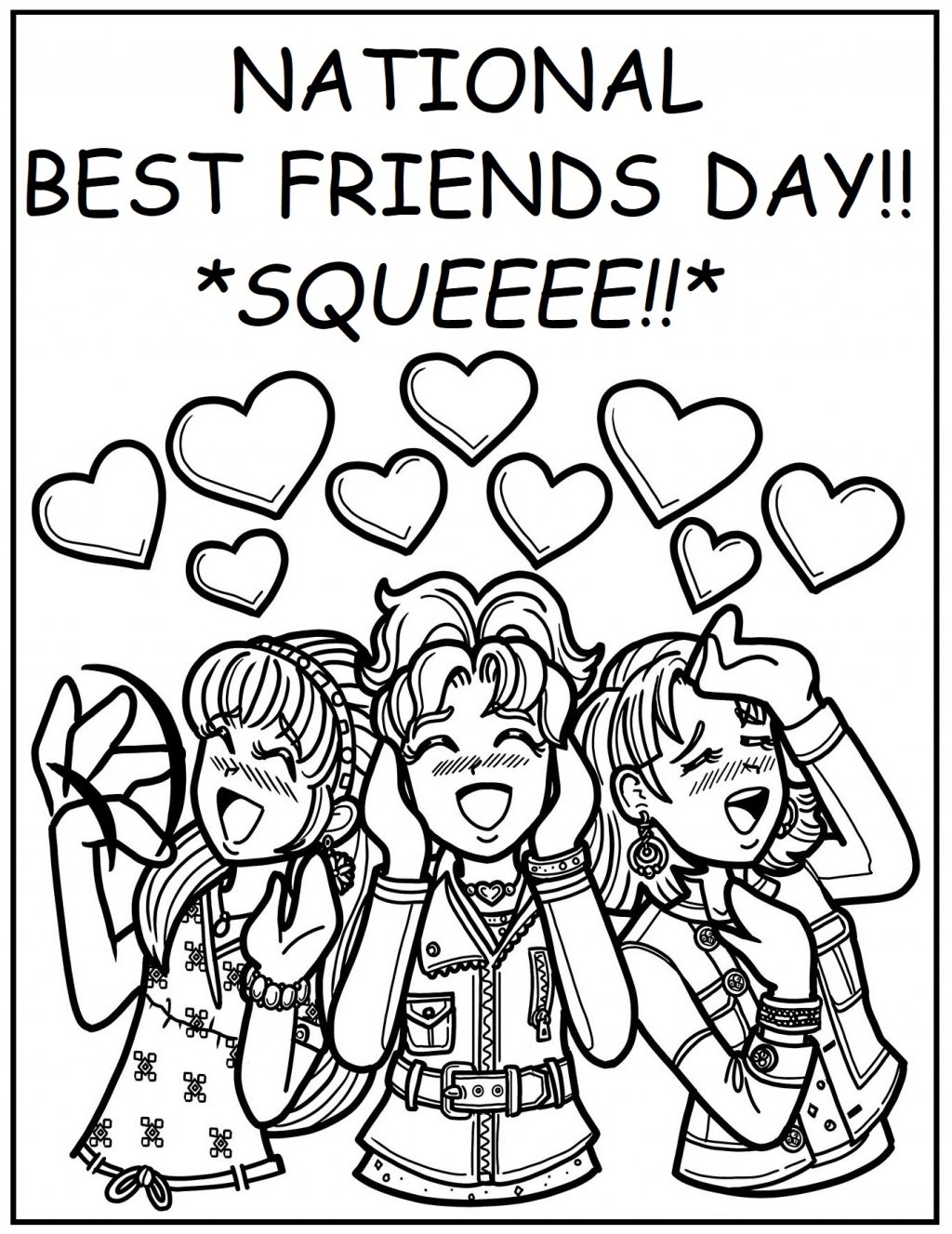 YES! FOR REAL!! Well, WE added the "SQUEEEEE!" part for dramatic effect! "SQUEEEE!" is NOT actually part of the OFFICIAL name of the holiday!!
Although, it COULD BE!!
Anyway, because Tuesday, June 8 is National Best Friends Day, we're going to have a special edition BFF DORK MAKER so YOU can create keepsake artwork of YOUR BEST FRIEND!
It's going to have several new BFF background options and word balloons along with cute BFF jewelry, t-shirts, and hats. SQUEEEEEEE!! This activity will start on Tuesday, June 8 and end on Friday, June 11th.
But, there's MORE….
On Saturday, June 12th, we'll select a few of OUR favorites BFF artworks that YOU created to be featured right here!!
So, remember to check back with us on Tuesday, June 8th to get started on your special edition BFF Dork Maker.
LOVE you guys! Talk to you later!! OOPS! Wait a second…
We thought we were all done, but Nikki says we ALSO have to come up with something for you guys to post about in the comments sections.
WOW, this column stuff is kind of complicated. How about you post a comment on:
1) What are the three best positive qualities that you admire in YOUR best friend? And,
2) What would you like us to talk about here in our new column?
We're looking forward to hearing your thoughts.
May 31, 2021
SUMMER FUN PUZZLE PALOOZA!!

IT'S TIME FOR SUMMER FUN IN THE SUN!!
HAPPY MEMORIAL DAY!!
OMG! I've been in a REALLY good mood lately!! WHY?!
My school year will FINALLY be over in just a few days! SQUEEEEEEEEEE
!!
And, the month of JUNE means sunshine, chillaxing, and summer fun!
What better way to celebrate all of this than with a…
SUMMER PUZZLE PALOOZA!!
I have FOUR super-cute Summer Fun puzzles just for you. But first, here are a few tips! The correct puzzle pieces will connect and lock in place. Start by finding the four corner pieces and then place the puzzle pieces that have a straight edge. Finally, add the pieces inside the center.
Select your favorite summer puzzle from the ones below, and then click on it to get started. ENJOY!!…
It's the FIRST weekend of YOUR summer vacation (even if your school year ends a month or two from now)! Which ONE of the four fun PARTIES above would YOU like to have with YOUR immediate family members as a summer celebration, and WHY?! Please post your comments below.