March 18, 2019
Spotlight on…Melati and Isabel Wijsen!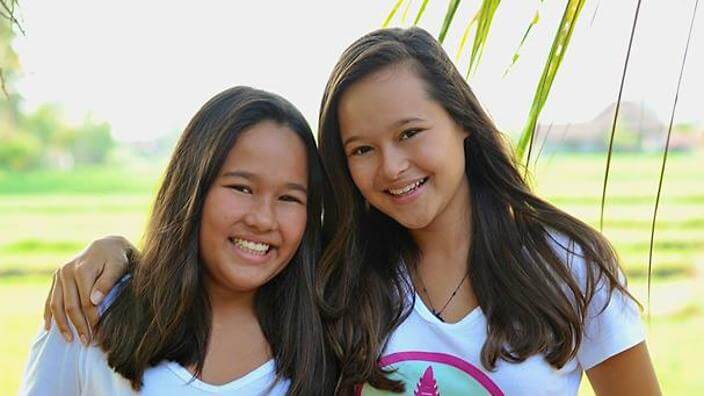 Imagine if you put all the energy you spend fighting with your sister into changing the world instead… I'm pretty sure I could solve global warming, feed all the hungry people, and save all the endangered species!!!
Sisters Melati and Isabel Wijsen live on the tiny island of Bali, which is part of the country of Indonesia in Southeast Asia. Like the rest of the planet, Bali has a terrible plastic pollution problem. But because it's a tiny island, that problem is more obvious than in some parts of the world.
The country of Indonesia produces massive amounts of plastic pollution – they're second in the world behind China, and the pollution from Indonesia makes up 10% of all the pollution in the oceans of the world. Because there's so much plastic pollution in the oceans of Indonesia, the beaches of Bali are completely covered in trash.
Melati and Isabel were 10 and 12 when they had a lesson in school about people who changed the world. They went home thinking about what they could do as kids living on a tiny island. They didn't want to wait until they were older. So they started with a problem they saw really clearly on their island home: plastic pollution.
Together they founded an organization called Bye Bye Plastic Bags, which has a goal of removing plastic bags from beaches, schools, and their community. Today Bye Bye Plastic Bags has a 25-person staff and is making change around the world. In 2016, they got the Bali airport to ban plastic bags, and by January of this year, the entire island of Bali was declared plastic bag free! The larger country of Indonesia is planning to ban plastic bags by 2021! All because a couple of sisters decided to put their heads together and figure out how to change the world!
It was a lot of work – one of their early actions was collecting 100,000 signatures on a petition. They spent a year and a half requesting meetings with Bali's governor, and he only spoke with them after they went on a hunger strike (supervised by a dietician). They've organized a beach clean-up in Bali with over 12,000 volunteers, given a TED talk in London, and appeared at the United Nations in New York.
Here's what they told CNN.com: "If we could meet with world leaders and speak to them, we would tell them to listen more to the youth, consider us as more than just inspiration. We have bright innovative ideas of how to deal with some of the greatest issues of our time. We are the future, but we are here now, and we're ready. We've learned kids can do things. We can make things happen."
Isn't that awesome?!