September 10, 2018
SPOTLIGHT ON…GABBY GARCIA'S ULTIMATE PLAYBOOK!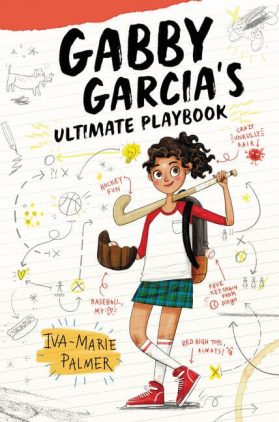 OMG YOU GUYS!!! I just finished reading a book that is a MUST-READ for Dork Diaries fans!!! It's called GABBY GARCIA'S ULTIMATE PLAYBOOK and it's by an author named Iva-Marie Palmer.
Here's why I think my dorky friends will LOVE IT:
The book is written in a sort-of diary format. Technically it's a "playbook" because Gabby is super into sports, so she's thinking of it like a guide to achieving her dreams on and off the field. Like MY diaries, it's got illustrations and doodles throughout. Gabby's got crush problems AND friend problems AND fitting in problems. At the beginning, Gabby is sent to a brand new, fancy school—just like I was!
If you're like, "Cool Nikki, but I don't like sports," trust me: that doesn't matter! I'm not sporty, but that really doesn't matter. It's not one of those sports books that spends most of the time describing every play in every game. It's really about her LIFE and her DREAMS.
And girl, Gabby knows what she wants and goes out and GETS IT. She makes some terrible choices and gets into hilarious messes along the way, and I can SO relate to that. 🙂 I totally admired her self-confidence and willingness to go after what she wants and I think I learned a couple things from Gabby.
Also, her crush is SUPER SWOONY.
I was super excited to learn there's a second book in the series, too: GABBY GARCIA'S ULTIMATE PLAYBOOK: MVP SUMMER. I can't wait to read it!!!
Here's the official description of the book:
If life were a baseball game, all-star pitcher Gabby Garcia would be having her Best. Season. EVER! Until she's suddenly sent to another school and her winning streak is about to disappear—both on and off the field.
But Gabby never gives up! She has a PLAN to keep her champion status intact, and every step of it is written out—PLAY by PLAY. How could it not work?
This new series written by Iva-Marie Palmer is filled with funny illustrations, sports facts, and blooper-reel moments that will have readers laughing and rooting for more.
Has anyone read this book? Tell us about it in the comments! And if you haven't read it, tell us about a book with a main character who's going after what they want.