January 13, 2020
SPOTLIGHT ON… STITCHES BY CHARLOTTE!!!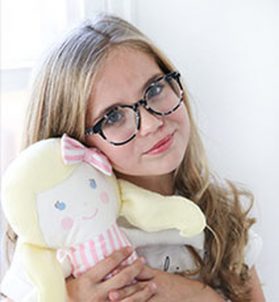 Have you ever had surgery? I feel super lucky that I haven't. But I know kids have surgery every day, and it must be super scary!
That's why I was so excited to discover Charlotte, a clever girl who designed a line of dolls specifically for kids who are about to have surgery. Charlotte herself was born with a cleft lip and palate, a facial deformity that meant she had to have two surgeries before she was even one year old. And even more after that!
When she was seven, Charlotte got her first sewing machine. Once she'd learned the basics, she sewed a doll that looked like her, with long, brown braids. Then she added a detail no store-bought doll would ever have – stitches on the doll's mouth in the same place Charlotte has a scar.
That's when the idea for Stitches by Charlotte was born. Charlotte wanted other kids facing surgery to have the comfort of a doll that looked like them. She started sewing more dolls, boys and girls with different skin tones and hair colors. She added stitches on the chest for a kid having heart surgery. She added stitches on the head for a kid having brain surgery.
Charlotte has sewn over 200 dolls. Now Stitches by Charlotte dolls are a whole business and can be bought by anyone who wants to comfort a child heading into surgery. The dolls come with a needle and thread, and instructions on how to add stitches to the dolls. Kids or parents can do this, and sometimes doctors or nurses do the stitches and use the dolls as a way to explain the surgery to the child.
Charlotte is eleven years old now, and totally healthy. When she's not sewing, she loves theater and reading. And mostly she loves making people smile! 
Isn't that awesome? Doesn't it make you want to go out and put a smile on someone's face?
Check out http://stitchesbycharlotte.com/ for more info on Charlotte and her dolls!
What simple acts of kindness do you think could make another person's day? Is it something you could do or create? Tell us about it in the comments below!