May 11, 2023
Pre-Order Book 15 at Barnes & Noble for a super special surprise!!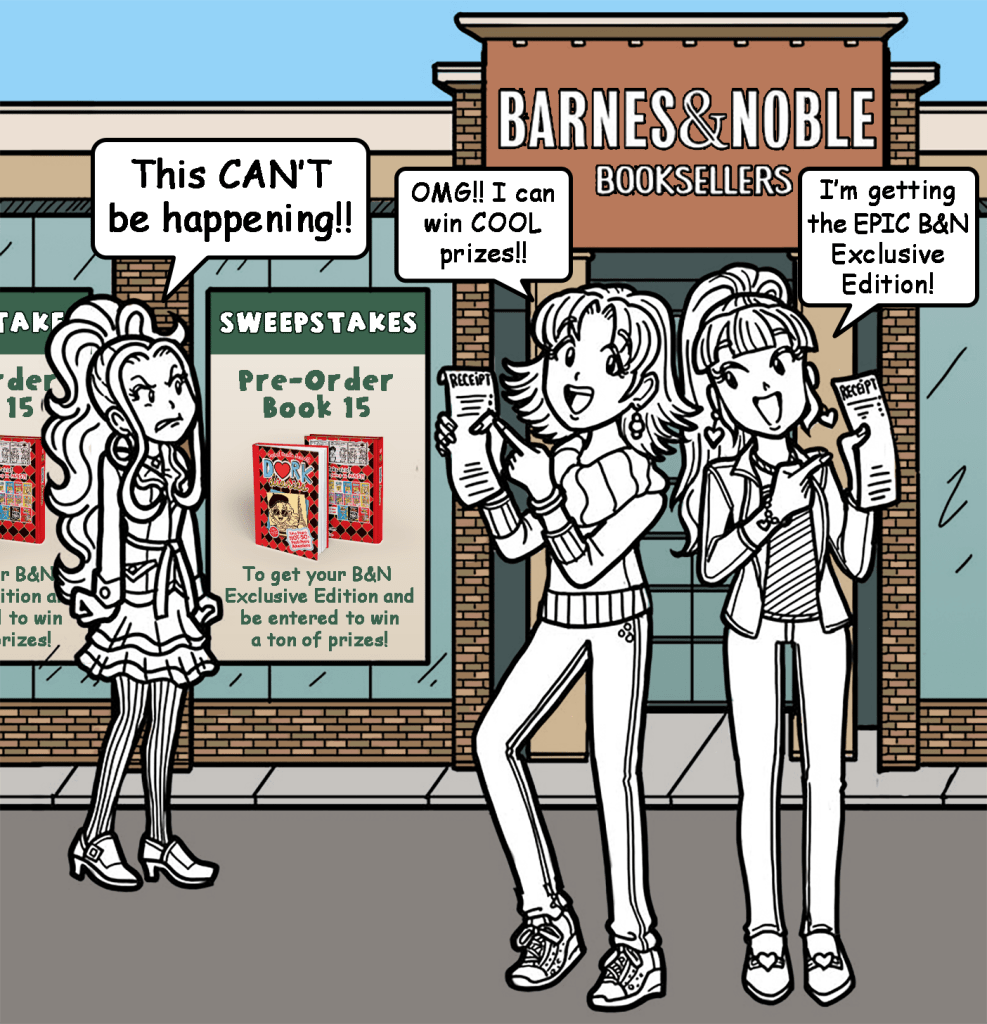 Hey everyone! We're sure you have heard the great news that Nikki's newest diary will be released on September 26th!!! Well, guess what?! We've got even MORE exciting news!!! We just stopped by our local Barnes & Noble bookstore (B&N) to pre-order Dork Diaries Book 15: Tales from a Not-So-Posh Paris Adventure, and we got the BIGGEST surprise! By simply pre-ordering Book 15, we're getting an exclusive B&N edition of the book which includes a really cool pull-out poster and sticker sheet. And if that weren't enough, once we pre-ordered Book 15, we were automatically entered into a super special Dork Diaries sweepstakes! SQUEEEEE!!!
You should have seen the look on MacKenzie's face when she heard the news! It was PRICELESS!
Want to get YOUR hands on an exclusive, one-of-a kind, super-cool Book 15 pull-out poster and sticker sheet?!? PRE-ORDER Dork Diaries: Tales from a Not-So-Posh Paris Adventure from B&N!! You can pre-order it here!
Once you've pre-ordered your book you'll be automatically entered into
The Dork Diaries Book 15 Sweepstakes
where you can win:
A full set of Dork Diaries Books 1-15
The Dork Diaries Friendship Box
A diary
A tote bag
A DIY nail art studio
A how to draw book
A box of yummy macarons
And, much much more!
OMG! How COOL and EXCITING is that?! This is the best news, EVER!! All you need to do is PRE-ORDER Book 15 from B&N either online or in the store! And if you have already pre-ordered Book 15 from B&N, no worries! You are already eligible for the sweepstakes!
Have you pre-ordered your book yet? Hurry!! Because the exclusive edition is only available from B&N while supplies last and the sweepstakes won't last forever!! Are you as excited to read Nikki's new diary as we are?