December 17, 2019
MY SECRET SANTA SURPRISE, PART 1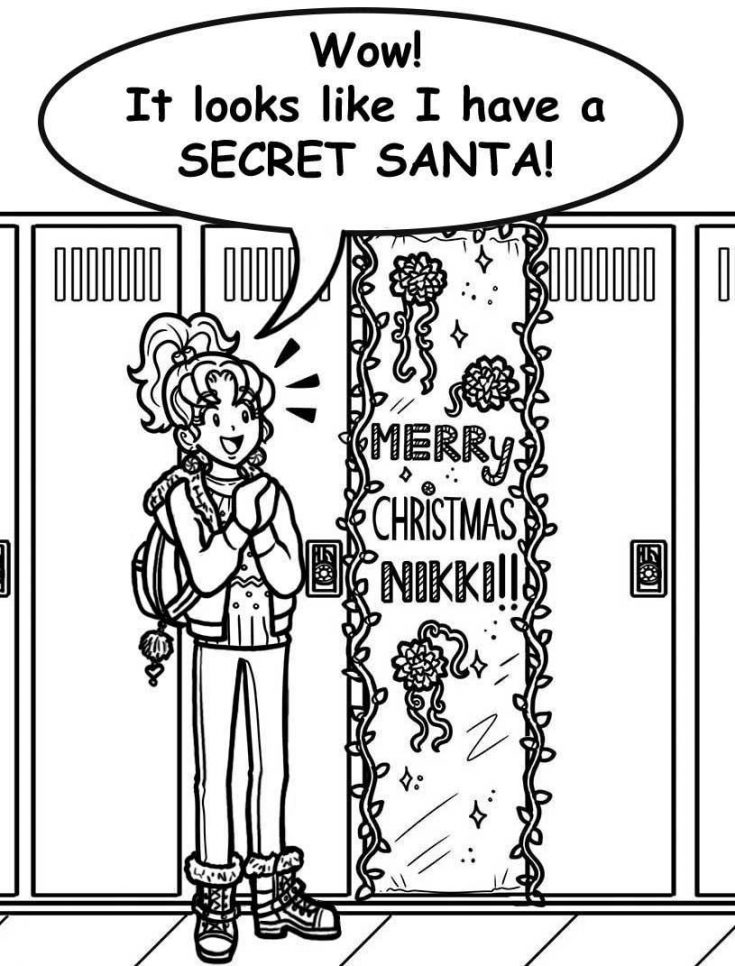 OH MY GOSH YOU GUYS!! Guess what happened to me today?! It's no wonder they call this the most wonderful time of the year! SQUEEEEE!!
I have a SECRET SANTA, and she (or he?!) has been leaving me gifts all over the place! The only thing is that I don't know who it is yet…
Before I go KAR-RAY-ZEE trying to figure it out, do you think you could help me?!
Okay, great! Let's start by me rehashing my day and the gifts my Secret Santa left me…
I was on my way to my locker when I noticed people gathered all around it with surprised looks on their faces. Apparently someone decided to give it a really festive holiday MAKEOVER complete with Christmas lights, red glittery wrapping paper, green streamers, and these cute little gold and silver bows!
The most impressive part was the great big MERRY CHRISTMAS NIKKI!!
message made out of candy canes (the really yummy rainbow fruity kind. My favorite)! 
Honestly, that message was SO very special to me. And delish! I was STARVING since I skipped breakfast so I ate it all up.
I didn't know what was more amusing, my locker or the massive look of shock and envy plastered all over MacKenzie's face when she saw it. I was all like, "HEY GIRLFRIEND, JEALOUS MUCH?!" 
But I only said that inside my head, so nobody heard it but me!
Then, when I went to study hall, I noticed a great big basket of homemade Christmas cookies waiting for me on my desk! There was also a note with it that said the following:
Santa is red,
And holly is too.
Because you're so sweet,
This gift it for YOU!
Oh, YOU GUYS. You should've tried the Santa cookies. The cream cheese frosting beard was AMAAAAAZING!! My Secret Santa has some MAD BAKING SKILLZ!!!
So when I got home later that day and checked the mailbox, I found yet ANOTHER GIFT for me hiding in there too! This time it was the most ADORABLE knitted doggy sweater (for Daisy!) with matching mittens (for me!) and a sack of paw-shaped doggy snacks tied up with a sparkly red ribbon. 
The next time I walk Daisy, both of us will stay nice and warm in the cold. Plus we'll be twins!! AWWWWW, SO CUTE! WHAT A THOUGHTFUL GIFT!! 
Of course there was another message included with the gift, which said the following:
If your Secret Santa is who you seek,
The answer will be revealed NEXT WEEK!
Gaaaaahhh! How am I supposed to wait until NEXT WEEK?! That's like SEVEN DAYS from now!!
Well until then, I better hide these doggy snacks from Brianna or she'll DEVOUR them and there won't be any left for Daisy!
Okay, I need answers people! Who do YOU think my Secret Santa is?! Leave your predictions in the comments below. 
And don't forget to read my next diary post to find out who it really is!