December 5, 2020
MY FAMILY'S HOLIDAY TRADITIONS ARE SO EMBARRASSING!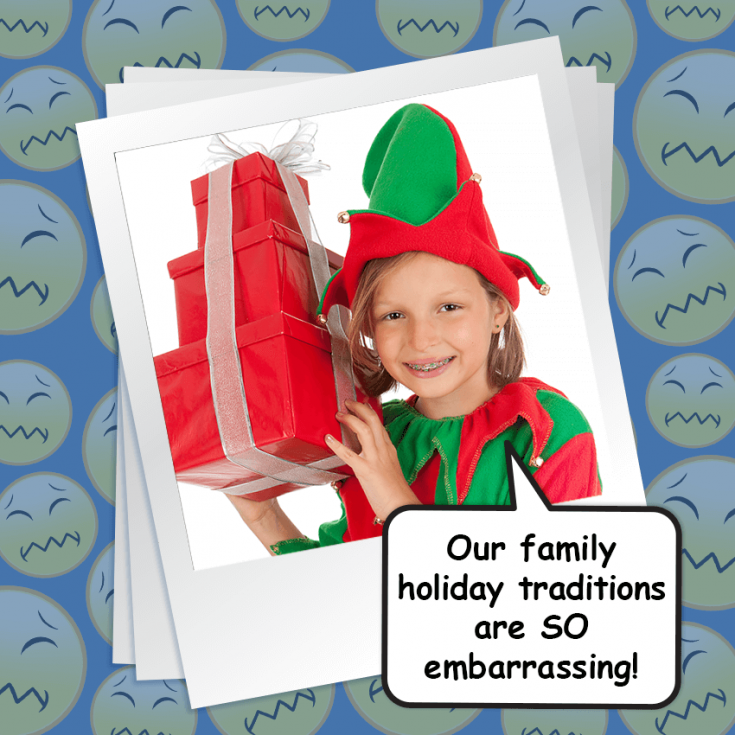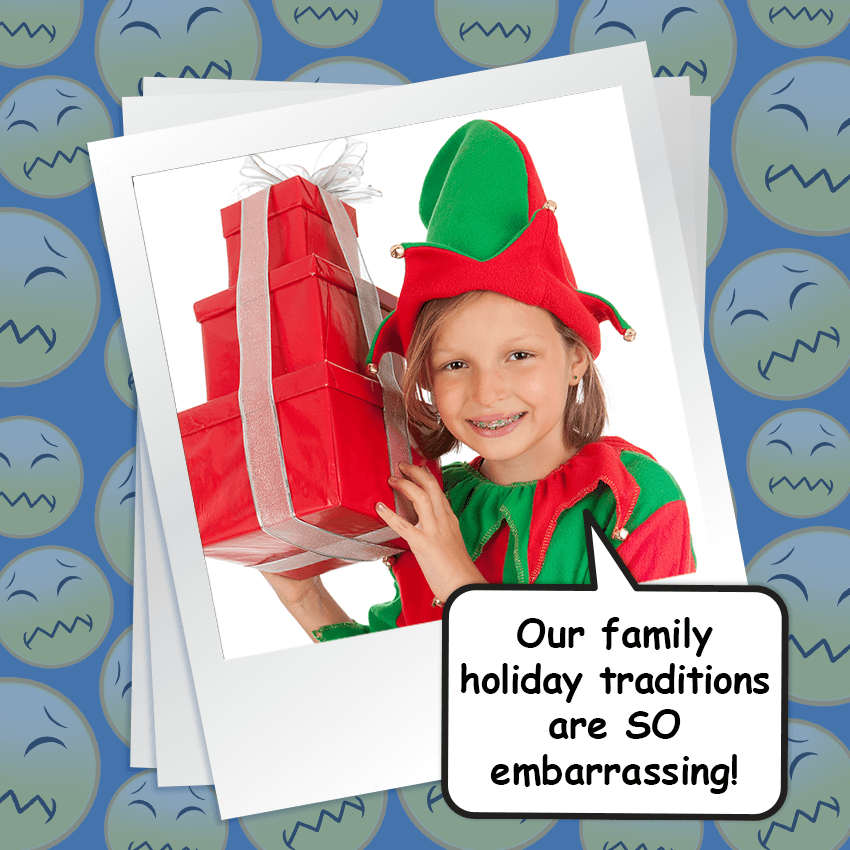 Okay Brandon,
I need some advice about my CRAZY EMBARRASSING family!! We celebrate Hanukkah and Christmas. Every year on the holidays, my parents make our family put on a stupid play and they tape it—last year I had to be the official pooper scooper elf and follow behind Santa's "reindeer" (aka my little brother who was making rude noises the whole time). This year, they're going to post our new play all over their lame social media accounts!! And maybe even on YouTube! PLUS, my mom's on the PTO and they're organizing a "Family Holiday Spirit" video competition. She's totally going to enter ours!! EVERYONE at my school will end up seeing it!

What should I do?! Help!!

Embarrassed Elf
Hey Embarrassed Elf,
This is a holiday hiccup for sure. I mean, your role in the play last year sounds like it stunk (literally). Trust me, I pick up a lot of poop at Fuzzy Friends—though to be fair, it's not on video (not that I would put it past MacKenzie to film me and then post it all over the internet).
A lot of families have holiday traditions. Some are great, like making cookies and volunteering. Some aren't as great (I mean, who came up with ugly Christmas sweater contests?). Nikki told me that some years her dad puts a Santa outfit on the giant roach on top of his truck, opens his windows, and blasts a song he wrote himself:
You better wipe floors,
You better not spill,
If you don't clean up, the bugs surely will,
Santa Roach is coming to town!
Um, yeah, she was pretty embarrassed about that.
It sounds like your family's plays are meant to be funny, so while you find them cringeworthy, other people will get a kick out of them and smile.
Have you ever seen the movie ELF? I love that movie! What if Will Ferrell had been too embarrassed to dress up as an enormous Santa's helper? What if he'd been too grossed out to shove all that spaghetti covered in syrup in his mouth or sing at the top of his lungs or eat used gum from under a subway railing??? The movie wouldn't have been a hit! And you know what? I think he had a blast doing it! I'm glad that guy doesn't take himself too seriously.
Yeah, yeah, I know what you're thinking:
"BAD example, Brandon! If I got paid millions of dollars to be a pooper scooper in an elf costume, I'd do it! I'd even make a sequel! Know why? Because then I'd have the money to quit school, buy a mansion on my own private island, and never have to face anyone again!"
You're right about one thing—we all have different personalities, so what's fun and funny to one person might not be to someone else (I gotta be honest, it sounds like your brother wasn't too upset about making farting noises on video). I'm a pretty shy guy, so I feel for you, for sure.
I'll leave you with some options:
Run away to the North Pole and become a REAL reindeer pooper scooper (hey, you kind of have experience). Santa would never post anything about the North Pole on YouTube. On second thought, this is probably a bad option. Might get you on the naughty list.
Fake sick on the day of filming the video. Hmmmm. Also not a great option, since your family could pull a sneak attack and put you in the video anyway (I'm picturing your brother running in with an emergency bowl of CHRISTMAS CHEER SOUP, and who knows what he'd put in it).
Demand a part that's not so embarrassing for you (or maybe ask politely—that'd probably go over better). Maybe you could be a Narrator and dress in regular clothes.
Explain your concerns to your parents. Tell them that even though you appreciate them trying to do something as a family, you're worried about getting made fun of at school (no parent wants to hear that!). Ask if maybe you can just keep the video for the family, and not share it with every person who has internet access.
Bottom line, you probably won't see many of the kids you go to school with when you grown up. BUT, you will see your family for the rest of your life. Speak your mind and make your points, but maybe take it a little easy on your parents. My grandma sometimes gets misty-eyed and tells me I'm growing up too fast. I bet your parents feel the same way.
That's all I've got for today! It's your turn readers. Does your family have any traditions that totally embarrass you? What did you do about it? Tell us in the comments!