February 20, 2021
Miss Your Friends? Plan a Virtual Party!
How To Have a Super Fun Virtual PJ Party In 8 Easy Steps!  Part 2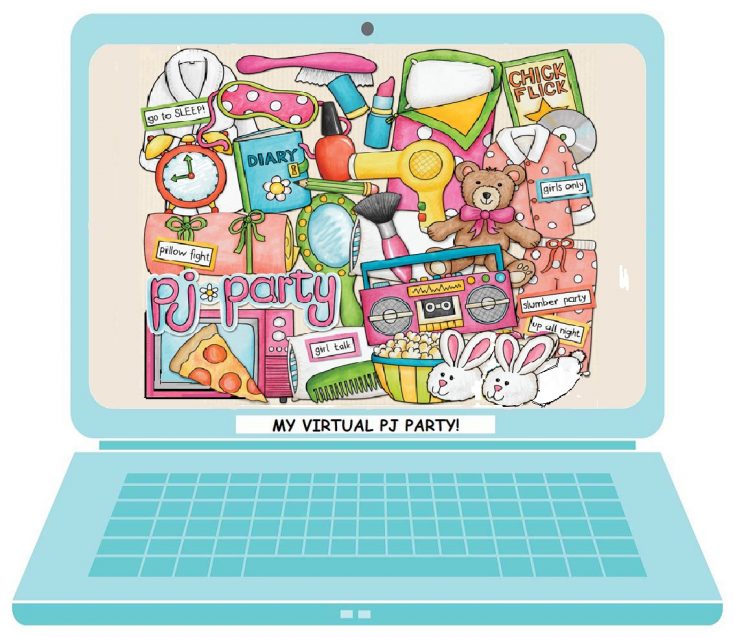 Today on Ask Nikki, I am posting PART 2 of my advice column about how to spend time with friends during the COVID pandemic.
Here is the original letter that I received from a group of friends DYING to hang out together:    
Dear Nikki, 

Since the pandemic, I haven't been able to hang out with my best friends for what seems like FOREVER!  

We all miss each other and are totally MISERABLE :-(!   

To make matters worse, our parents have decided that we shouldn't spend time together in person until the COVID situation is under control.      

Do you have any ideas for how we can hang out with each other and laugh and have fun like we used to?

BROKENHEARTED, BITTER, AND BORED BFFs! 
(Kiara, Amy, Olivia, Emily, Sofia, Ava, and Imani)
Dear BROKENHEARTED, BITTER, AND BORED BFFs,
YES, I have SO MANY IDEAS for you that today I'm posting a Part 2 to finish answering your question!
Part 2 will include Steps 5, 6, 7, and 8. I will also be sharing two NEW videos from a group of friends that had a real virtual party online.
Below is just a quick summary of the first FOUR steps that I covered in Part 1. You can read that entire column in more detail here (*insert link to Part 1*).
HOW TO HAVE A SUPER FUN VIRTUAL PJ PARTY IN 8 EASY STEPS!
Step 1) Make a List of Friends You Plan to Invite To Your Virtual PJ Party
Step 2) Select A Video Conferencing Service For Your Party
Step 3) Select a Date and Time and Send Out Party Invites
Step 4) Choose Fun Games and Activities That Can Be Played Online
and here are the final FOUR steps!…
Step 5) It's a PJ Party! So Have Fun Wearing Your Favorite PJs
Hey, it's a PJ party! So, everyone can wear their favorite pajamas even though it's a virtual party.
You can also wear a T-shirt and leggings or a hoody and sweatpants. Just wear your favorite, super-comfortable outfit.
A fun activity would be a virtual fashion show complete with snobby, over-the-top commentary.
You can take turns describing a friend's outfit or each person can describe their own.
Step 6) Plan a Menu That Includes Several Yummy Snacks
Everyone LOVES snacks! The yummy food is probably the best thing about parties. But, because your event is virtual, each party guest will need to plan for snacks ahead of time.
For salty snacks, you can have popcorn, chips, pretzels, or trail mix. For sweet snacks try cookies, cupcakes, ice cream, or candy.
Guests can also eat whatever healthy snacks are in their kitchen like fruit, veggies, nuts, cheese, or juice.
Our superfan, Lemonery, had all of her guests buy a frozen pizza. Then, they all cooked and ate hot, cheesy pizza during their party! YUM!!
Step 7) Make a Schedule to Keep Things Moving
Your party can be 90 minutes, two hours, or slightly longer. However, to keep things fun and entertaining, make a schedule of events.
It should list all of your games, activities, and snacks and include how long you plan to do each one and the order.
You can start your party with a fun game to break the ice or you may want a yummy snack right away. It's totally up to you.
Trying to stay on a strict schedule can feel like pressure, so just go with the flow.
Step 8) Enjoy Spending Time With Your Friends!
For the past year, most of us have not been able to spend much time with our friends.
It's YOUR party, so just chillax and enjoy the fun!
As long as everyone is talking, laughing, and having a blast hanging out together, your virtual PJ party will be a HUGE success!
CONGRATULATIONS:-)!!
Our superfan, Lemonerdy, had a virtual party and with five BFFs!  Check out the two new videos below of them having fun doing our "Dork Maker" and  "Which Dork Diaries Character Are You?!" activities online.
Dork Maker Game
Which Dork Diaries Character Are You? 
Do you have additional advice or suggestions for how to make the BEST virtual party EVER?   QUIRKY QUESTION:  If you could have a virtual party with any FIVE famous people (fictional or real) as guests, who would you choose?  Post your GUEST WISH LIST in the comments section below.