May 12, 2015
I NEED YOUR HELP WITH THE DORK DIARIES MOVIE!!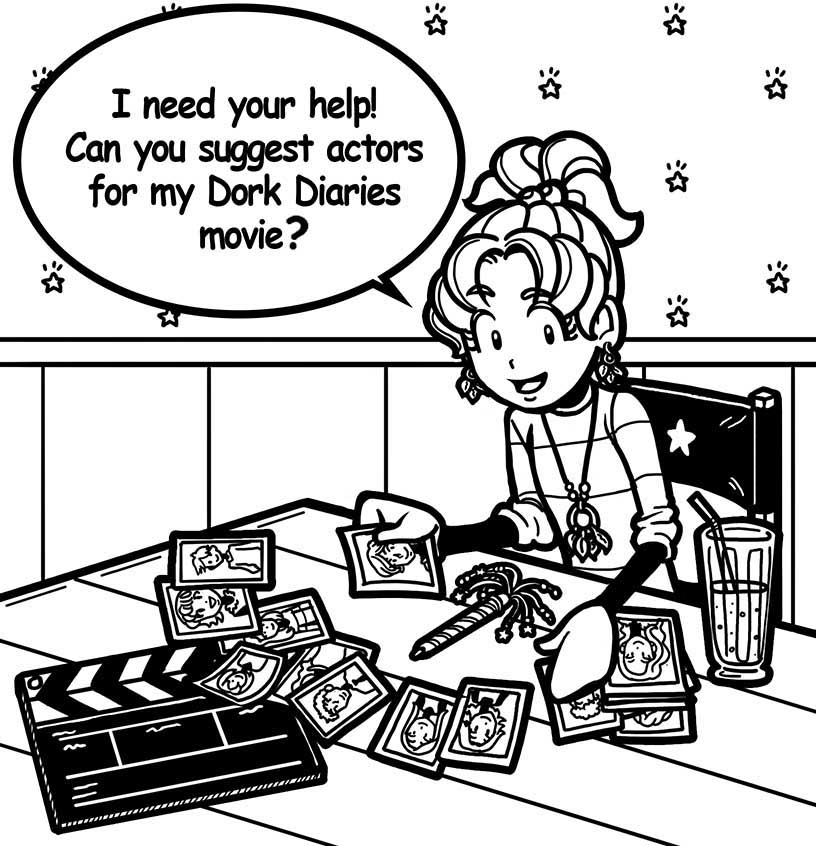 So…I'm sure you've heard the FANTASTIC news by now!
Lionsgate/Summit films is making a DORK DIARIES MOVIE!  
SQUEEEEEEEEEEEEEEEEEEEEEEEEEEEEEEEEE :-)!!!
They're the very COOL Hollywood studio that also made the blockbuster movies, Twilight, Hunger Games and Divergent.
Anyway, I need to come up with casting ideas for what actors and actresses should play all of the characters in the Dork Diaries movie.
So, I thought I'd ask all of YOU to help by giving me YOUR ideas!
Do you already know who would be perfect to play Brandon and me?
Or, have you figured out the cast members for the ENTIRE movie?
Please keep in mind that the teen actors will be playing 8th/9th graders in the movie, so a 21 year old (like Selena Gomez) would be a bit too old.
Or, you could go with a younger group of actors that are actually in middle school in real life.
Here is the list of major characters:
NIKKI MAXWELL:
CHLOE CHRISTINA GARCIA (Latina):
ZOEYSHA (ZOEY) EBONY FRANKLIN (African-American):
BRANDON ROBERTS:
MACKENZIE HOLLISTER:
BRIANNA MAXWELL:
MRS. MAXWELL (MY MOM):
MR. MAXWELL (MY DAD):
GRANDMA:
I can't wait to hear your ideas!  
And, guess what else?!!! 
I'm going to invite the Lionsgate/Summit Dork Diaries movie team to visit MY blog to read all of YOUR comments!!!
SQUEEEEEEEEEEE!!
I know!!  How COOL will that be?!
So, please post your cast lists and/or comments below!
(NOTE: Hey guys, since we're trying to make a really good impression, please try to avoid grammatical and/or spelling errors on these comments. Just pretend it's homework that you're handing in to your teacher for a grade!)