June 6, 2020
I miss my friends!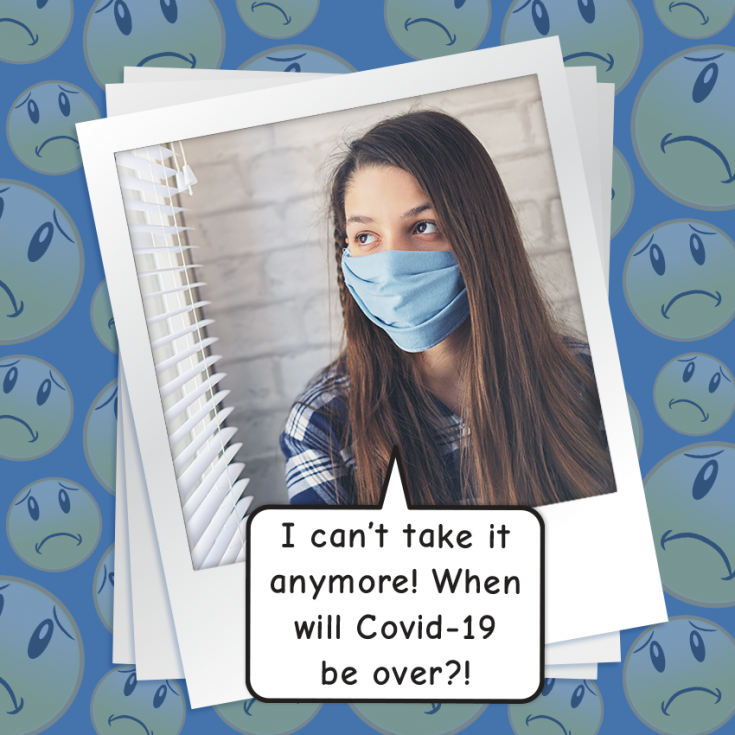 What's Up Brandon,
I've been cooped up at home FOREVER, and I really miss my friends! But, my parents say it's not safe to hang out with them yet because of the Coronavirus pandemic. Please help me before I go KA-RAY-ZEE!
!!
Chaotic Covid Crazies
Hey Chaotic Covid Crazies,
Okay. Before I say anything else, go get out of the house for a while. Go for a walk, ride your bike, play with your dog in the backyard or whatever. Anything to help you chillax from being cooped up at home for so long.
There. Feel a little better now? I sure hope so. Part of your problem might be that you're feeling STIR CRAZY. Everybody needs some time outside of the house to stay sane, you know? And it should be okay as long as nobody else besides your family is within six feet of you.
Now, let's talk about missing your friends. It seems like for the past FIVE MONTHS, the whole world has been on edge over this pandemic thing. Some people are taking it seriously and some aren't. In my opinion, I think it's cool that your parents are trying to keep you safe. But, it starts to feel like overkill after a while since you don't get to do the same stuff you used to, like hang with your friends. So naturally, you start to miss them.
I spoke with my friends, Nikki and Max (not in person, of course, since my grandparents are trying to keep me safe too). Nikki gave me some creative outlets that you can do for your friends to take your mind off of missing them. Max shared some awesome virtual ways to hang with friends from a distance. BTW, virtual just means you can see AND talk to people through technology, like your computer or phone.
Since it sounds like you really want to see and hear your friends again, let's start with Max's tips first:
Try a virtual hangout through Facetime, Google Duo, Skype or Zoom. There are all kinds of apps out there that allow you to see your friends' faces AND chat with them, which is so much better than just texting or a phone call. You could also take it to the next level by having a virtual party or sleepover, or by playing the same game you both have at home, like Monopoly, Pictionary or Genga. FYI, you can use Facetime if you or a family member have an iPhone, or you can use Google Duo if you have an Android. Both Skype and Zoom also work on a phone, plus you can download them on a computer, laptop or iPad. Oh, and one more thing…Zoom allows you to chat with more then one friend at a time. Pretty cool, huh? Of course, you need to get your parents' permission to use any of these. The good part is that you can use them to talk to your grandparents as well.
Get into the gaming community. If you're into video or computer games like me and Max, they're an awesome way to include your friends from the comfort of home. For example, if you have the Nintendo Switch game, Animal Crossing: New Horizons, and your friend does too, you both can actually visit each other's islands with the character you make! You can also play together on Super Mario Maker 2. For phones, you can play each other on Words With Friends 2 and Mario Kart Tour.
Here are some creative tips that Nikki suggested:
Make a photo scrapbook of you and your friends, then share it with them. Print out photos of you and your BFFs and then create a scrapbook to share with them during your next Zoom or Facetime chat. Make them pop by adding lots of color, stickers, glitter, or whatever you want. You can also paste the photos onto a poster board with all sorts of cool sayings like "BFFF," or Best Friends For Freakin' ever.
Send each other fun stuff through the mail. Not only could you send letters, but also stuff like care packs filled with your bestie's favorite things to make being cooped up at home a little easier for her or him (for instance, mine would include red licorice, a Queasy Cheesy gift card, and dog treats for the animals at Fuzzy Friends). The care pack idea is also great for when your bestie's birthday roles around. Or, you could…
Leave stuff on your friend's doorstep: If you and your friends live nearby, then you could always leave the care pack on each others' doorsteps with encouraging notes attached that say things like, "Looking forward to hanging with you again SOON! Until then, this is for you."
These are just a few ideas to get you started while you can't meet up with your friends IRL (or "in real life"). Until then, please remember that it won't stay this way forever, and that WE'RE ALL IN THIS TOGETHER.
Hey readers, how do you deal with the cooped up covid crazies? Please share your ideas in the comments section below.