December 10, 2018
HOW TO MAKE SNOWMAN COOKIE POPS!
When Brianna marched into my room and asked me if we could make a snowman, I just rolled my eyes at that girl. I mean, did she ever take a look out the window to see that there was absolutely NO TRACE of snow on the ground?!
So, when I tried to convince her that we couldn't make a snowman without snow, she told me I was being unfair! Seriously, the little brat had some NERVE. It's IMPOSSIBLE to make a snowman without SNOW! DUH!!
"But Amanda got to make a snowman last week!" Brianna complained. Then she crossed her arms, sank to the floor, and pouted. Amanda must have made a snowman when she and her family went to Swanky Hill Ski Resort last weekend. And the only reason why I knew they went was because MacKenzie would NOT stop bragging about it!
Then I noticed how upset Brianna was because she wouldn't be able to make her own snowman. She can be a brat sometimes, but I actually felt sorry for her. That's when I got a BRILLIANT idea!
"Hey Brianna, I know another way we could make a snowman!!"
I grabbed her hand and we ran downstairs into the kitchen. I told her how Mom taught me to make these cute little snowmen cookie pop thingies, and that I could show her.
It's super simple that even Brianna could do it (with my help, of course).
Turns out that Brianna LOVED making the snowmen cookie pops! 🙂
She also LOVED selfishly DEVOURING every last one, leaving absolutely NONE for me!! 🙁
So here I am, about to make some more of my own. And guess what? I decided to include some pictures and instructions right here so that YOU could make them, too! Like, how cool would that be?!
NOTE: Please make sure to ask your parents (or an adult) for permission before you begin!
❄️ SNOWMAN COOKIE POPS ❄️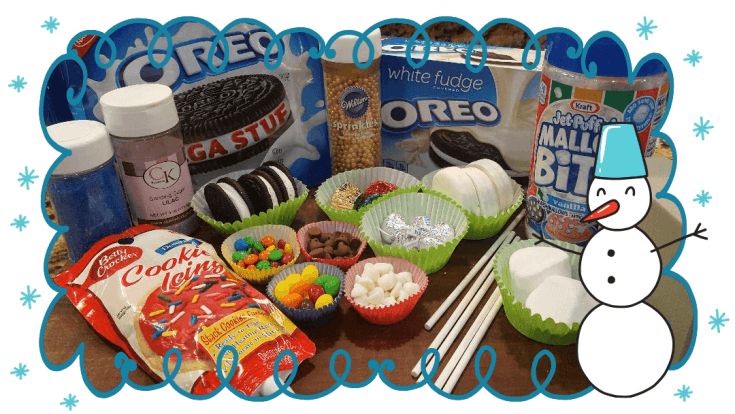 Okay, so here's what you need:
One package of Oreos

(I personally prefer the Mega Stuf ones!)

Two bars of white chocolate to cover the Oreos with

(instead of Oreos and white chocolate bars, you could also just use White Fudge Covered Oreos if your local grocery store carries them)

.
½ cup of chocolate chips

(you can do milk chocolate or white chocolate. Your choice!)

One bag of M&Ms or Skittles
One package of Mini Reese's Peanut Butter Cups
One package of Hershey Chocolate Kisses
24 Lollipop sticks
Sprinkles
Cookie Icing
Marshmallows
Okay, so first I melted the white chocolate in the microwave until it was all nice and gooey. After that, I used the white chocolate like glue to put the lollipop sticks into the Oreos.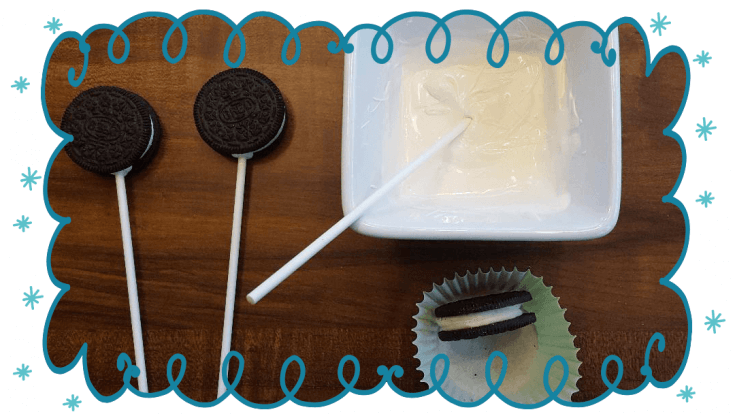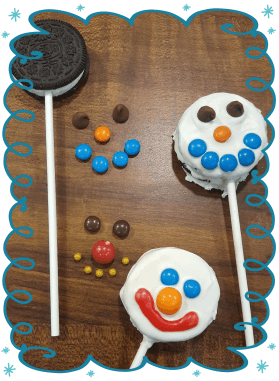 Next, I dipped the Oreo into the white chocolate. Then, while the white chocolate was still warm on the Oreo, I grabbed the chocolate chips and M&Ms and gave the Oreo two eyes and a nice, big smile!
It looked SO CUTE that I decided to make another one with a smirk made out of red cookie icing and a Skittles nose.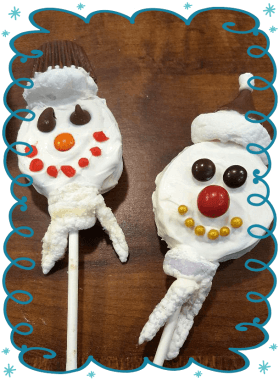 For the very last step, I created cute little scarfs and hats for the snowmen!
To make the scarf, I cut a marshmallow in half, and rolled it back and forth between my hands until it was long like a rope. Then I decorated it with sprinkles.
Finally, I used some white chocolate to glue the scarf around the snowman's neck.
For the hat, I flattened the other half of the marshmallow, added some white chocolate to the top of the marshmallow, and then placed a Hershey Chocolate Kiss on top. I even used a mini marshmallow as the little puffball on top of the Hershey Chocolate Kiss to create a Santa hat. It turned out so nicely that I decided to make another hat using a mini Reese's Peanut Butter cup!
And, as Miss Bri-Bri, celebrity chef to the stars would say—VOILA! You have some really delicious, absolutely ADORKABLE snowman cookie pops.
I had SO MUCH FUN making the first two snowmen that I decided to make a WHOLE FAMILY OF THEM! SQUEEEEEE!! 🙂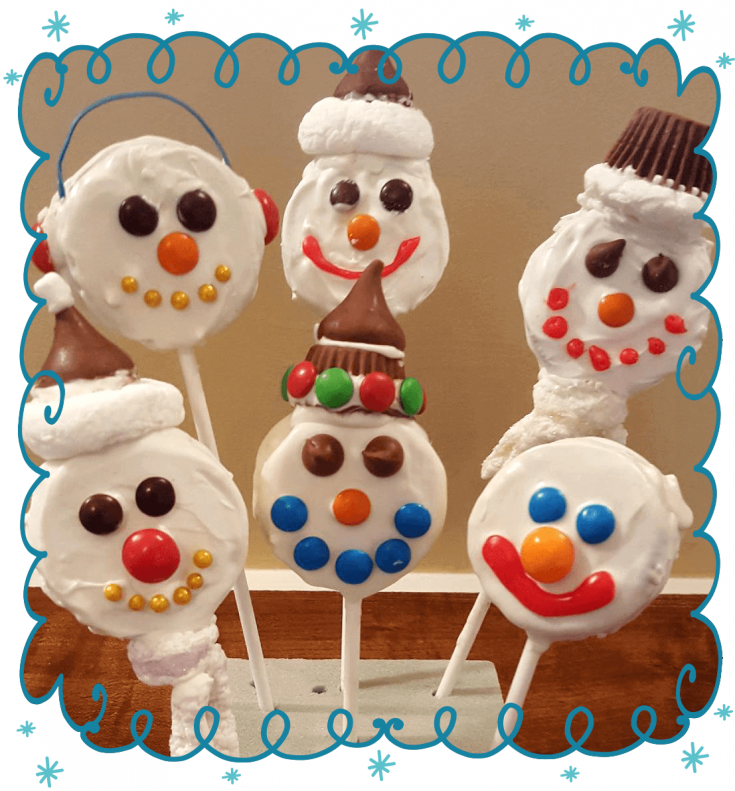 So, what did you think of my snowman cookie pop recipe? Give it a try and tell me how it turns out in the comments, or feel free to share your own favorite holiday treats and recipes below!