February 5, 2018
HAVE YOU SEEN DAISY?!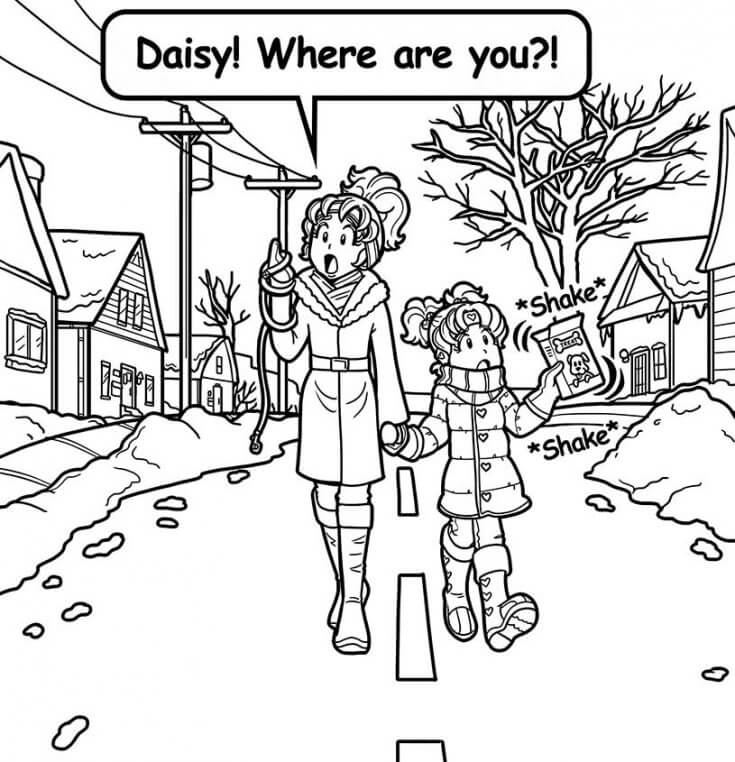 "NIKKI! NIKKI! HEEEELLP!!" Brianna shrieked. "DAISY'S GONE! SHE DISAPPEARED INTO THIN AIR!!"
I was studying for my big Bio quiz when Brianna came running into the room, screaming her head off.
Brianna has a very vivid imagination. So, you NEVER know whether she's making something up or when she really means it.
"Oh no," I mumbled, nonchalantly flipping a page in my Bio book. "Whatever will we do?"
"I'm not pretending, Nikki!" Brianna screeched. "I've looked everywhere! I found a doggy treat in my sock drawer and I wanted to give it to her, but I CAN'T FIND HER!!"
"She's probably on Mom's bed." I replied without looking up. I HAD to read this chapter again or I would never pass tomorrow's Bio quiz!
Brianna went running off toward Mom and Dad's bedroom, but she was back in a second. "No Daisy," she reported. "Just Mom taking a nap because she has a cold!"
"Well…check the backyard."
That didn't seem too likely because I hadn't let Daisy out in hours, and I would have noticed if someone else had. But it bought me a couple minutes of study time before Brianna was back. I couldn't concentrate because I was starting to worry, too. Daisy had never gotten out before!
When Brianna came back inside, she was shrieking even louder. "She's not there, Nikki!" she wailed. "And the back gate is OPEN!!"
That got me out of my chair. Suddenly I was panicking, too!! She's still a puppy, even though she's twice as big as when we got her. How did the gate get left open? Did I do that when I took the trash out in the morning? I don't think Brianna can even reach the latch, so I couldn't blame her.
"Stay here," I told Brianna.
I was halfway down the block when Brianna caught up to me. "You need these," she said, holding out Daisy's leash and a box of dog treats, which she rattled like a maraca. Daisy usually comes running the second she hears those treats rattling around. What can I say? Sometimes the little brat has some good ideas!
But she didn't come running no matter how hard we rattled the box. I was totally FREAKING OUT! She was probably cold, scared and…what would Brandon say when he found out I'd been such an irresponsible pet owner?!
"Maybe she went to visit Creampuff," Brianna suggested.
Apparently Brianna was the brains of this operation. I had used all my brainpower up on Bio, I guess!
We hurried over to Mrs. Wallabanger's house. No doggies came running at the sound of our rattling treat box, so we knocked on the door.
Mrs. Wallabanger opened the door, holding Creampuff. "Why, hello girls," she said. "It's nice to see you, but I don't need any cookies."
"Um, what?"
"We're not selling them," I said. "They're dog cookies."
"Frog cookies? What on earth are frog cookies? They used to only sell the minty ones and the peanut butter ones, but now they have everything!"
"Um, is Daisy here?"
"Lazy? If you're talking about my grandson, I don't disagree, but that's still rather rude!"
"Come on, Brianna," I said. "If she were here, she would have come to the door. Thank you, Mrs. Wallabanger."
"If you get some of the mint cookies, I'll take a box of those," she called out.
Just then, I got a text. Maybe someone had found Daisy and called the number on her tag. Was MY number on her tag??
But it was just my mom. She woke up and wondered where we were. She needed someone to bring her some hot tea and Kleenex.
"Come on, Brianna, we have to check on Mom." I figured maybe I should make a missing dog poster. Or call Dad and have him come home, so he could drive us around the neighborhood? Maybe Mom would know what to do.
I made Mom some tea and grabbed a box of Kleenex, while Brianna ran to get her favorite blankie, which she was going to share with Mom (even though it would probably give her like a zillion new germs).
On my way to Mom's room, I heard Brianna say, "Hey Nikki, look what I found!"
I peeked my head inside Brianna's room. She was looking into her closet, and the look on her face was a mixture of relief and OOPS!
I hurried in and looked over her shoulder. And there, inside Brianna's closet, curled up in a pile of stuffed animals, was DAISY!!
"OMG! Has she been there the whole time?!"
"I forgot," Brianna whispered.
"YOU KNEW SHE WAS THERE?!" I bellowed.
And THAT, my friends, is why I will probably flunk tomorrow's Bio quiz!
ARGH, BRIANNA!!! 🙁
I'm super-relieved that Daisy was safe and sound at home all along!
Have you ever lost something that was really important to you?  Did you find it?