June 8, 2021
Come Join the Fun Celebration!
What's up, everyone! It's Chloe and Zoey here, and this is our SECOND column on Dork Diaries.
We'd like to start by wishing everyone a…
HAPPY NATIONAL BEST FRIENDS DAY!
To help YOU celebrate YOUR Best Friend(s), we're asking everyone to participate in a fun activity and create an artwork image of your BEST FRIEND using our Dork Maker.
We've added more than a dozen new Best Friend items including backgrounds, clothing, hats and even jewelry!…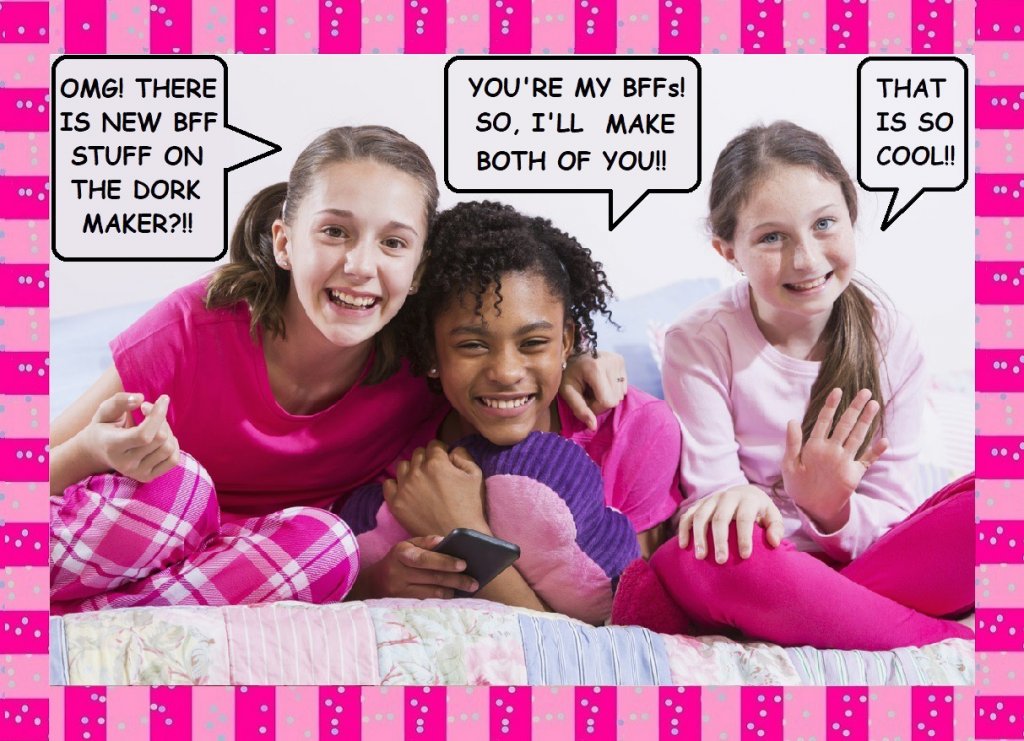 And, we're really excited about the addition of some delicious, summer snacks!
Now you can cool down with a chilly popsicle or ice cream cone.
And, for a healthy snack, we've added a slice of sweet, juicy watermelon.
For the cupcake lovers, there's even a delish red velvet cupcake with cream cheese frosting.
So, if your BFFs are prone to SNACK ATTACKS, we've totally got you covered!…
But, the very BEST part of our celebration is THIS!…
On Saturday, June 12th, we'll be selecting several of our favorite Best Friend Dork Maker artwork that YOU created and posting them RIGHT HERE in our column with a VIRTUAL AWARD!
SQUEEEEEEEEEEEEEEEE !!
So, remember to check back here on Saturday, June 12th, to see the award-winning artwork!
We're also featuring the 12 most recent Dork Maker characters that YOU created in the PREVIEW section below. Be sure to "LIKE" all of your FAVORITE characters by clicking on the !
You can CREATE and upload YOUR OWN CHARACTER in TWO easy steps:
STEP 1: Create your original character using our Dork Maker game at the link below. Be sure to SAVE your character image file.
STEP 2: Upload your saved character image to the Dork Diaries website to be added to our Dork Maker display section using the upload instructions. The instructions can be found right here on the page below.
So, are you READY to get started on creating YOUR Best Friend Forever?!
Just click on the Best Friend Dork Maker photo link below to get started. ENJOY!:
Dork Maker Upload Instructions
When uploading Dork Diaries Summer Dork Maker art, it's important to follow these SEVEN rules : ) :
1) UPLOAD ONLY ONE IMAGE PER DAY! Any additional images will be deleted.
2) Acceptable formats: .jpg, .jpeg, .gif, .png The Max file size: 2 MB
3) Images MUST be created using the Dork Maker. Please do not alter, change, or add to the image except for coloring it in a neat manner. Save a copy of the Dork Maker image that you created and then upload it on this page below.
4) Please do not upload duplicate images.
5) For "Author Name" just make up a silly name or post without a name. NEVER USE YOUR REAL NAME.
6) For "Title of Artwork" keep the title of your image brief and no more than ONE line (about 30 characters). Remember, a title is NOT a story.
7) NEVER INCLUDE PERSONAL INFORMATION like your name, age, school, city, etc., or similar details about another person.
Your artwork will NOT be published if any of the above rules are not followed. We review every image before it appears on this website. Due to the volume of images received, please allow up to one week for posting.
Also, remember to click on the to "like" your FAVS.
Did you create YOUR best friend using our Dork Maker? What was your favorite new Best Friend accessory? Please post your thoughts in the comments section below.