December 24, 2019
Christmas Charades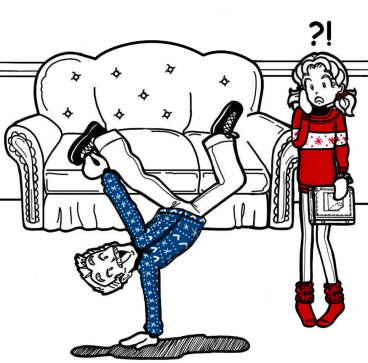 Today it was snowing like crazy! Which meant I was trapped inside the house with my NUTTY family!
As usual, Mom wanted to take full advantage of the snowy day.  So, she decided we needed to have some "Family Sharing Time."  Before I could escape to my bedroom to chillax and write in my diary, Mom cheerfully announced, It's time for "Christmas Charades!"
Great! Just great! Now I'm trapped in my house forced to hang out with my WACKY family, AGAIN. And, as you already know, The Maxwell Family Sharing Time can be pretty DEADLY!!!
As luck would have it, Brianna paired up with Mom which meant I was STUCK with Dad!
Dad drew the first card and started, um … breakdancing?!
Is the answer "Dancer!" Santa's Reindeer, I stuttered?!
YES!! Dad shouted as he gave me a fist bump then broke into his signature John Travolta Saturday Night Fever disco dance!
Okay, I love my family and everything. But sometimes I think they're, um . . . A FEW CLOWNS SHORT OF A CIRCUS!!
Even though I usually HATE Family Sharing Time, I have to admit it ended up being REALLY REALLY FUN! Now I know why Mom said that "spending preplanned quality time together as a family encourages love, mutual respect and bonding."
Check out our Christmas Charades Game.  I hope you have as much fun playing it as we did! I seriously can't wait until our next Family Sharing Time! 
Do you have Family Sharing Time? What do you typically dread during the holidays that actually turns out being REALLY fun?!
You can play too!
Download and print my Christmas Charades.
Grab your friends, family and form teams.
Get ready for a laugh!