October 25, 2016
BOOKISH COSTUMES BRAINSTORM!!!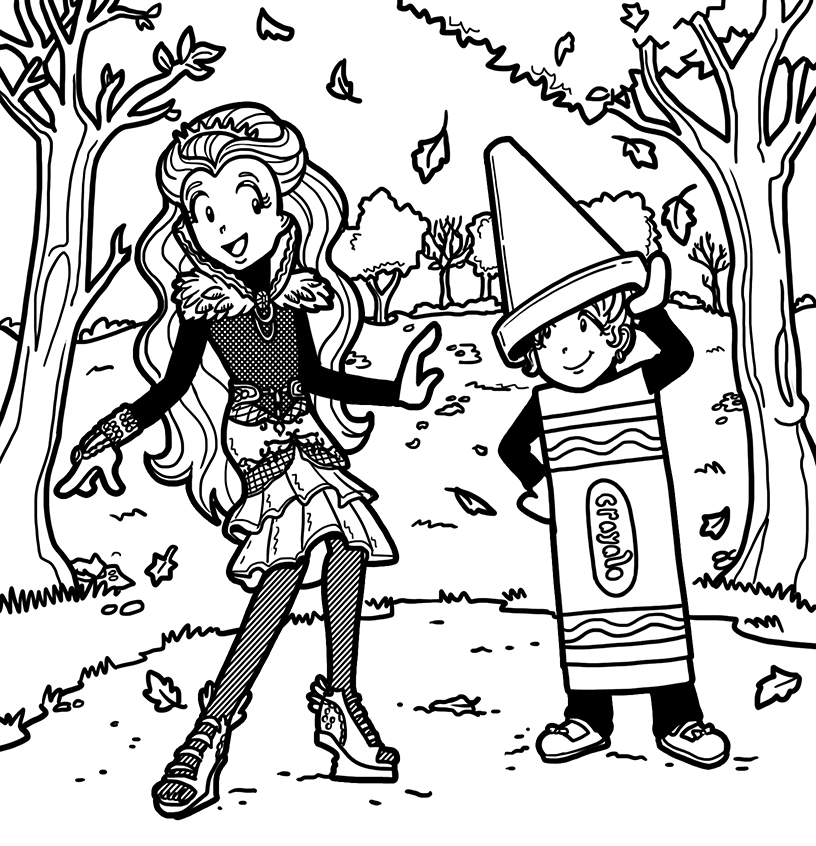 Chloe, Zoey, and I are going to volunteer at the elementary school's Halloween Festival! Mrs. Peach asked if we would help out at the library's booth, so we have to dress up as book characters.
We've been brainstorming ideas for costumes. We obviously can't use all of them, but I thought I'd share them here in case they help one of you decide what to be for Halloween! So, here's what we've come up with:
Disney's Descendants: Isle Of The Lost: Okay, so this is Chloe's latest obsession. I never would have expected her to get into villains, but I can't really blame her! Jay is sooooo cute!! And this is a great costume idea for a group of friends, because there are so many AWESOME characters to choose from. Rock some purple spray-on hair color for Mal, or make it blue for Evie. You could also put a big, pink bow on a prissy dress for Jane, and you're all set!
Harriet the Spy: This was Zoey's idea, and I think it's awesome. It also uses things you probably already have—jeans, a red hoodie, black sneakers, glasses, and a Composition notebook. Soooo easy! I said Zoey could have this costume. So, I'm still on the hunt for my own! Which leads me to…
Ever After High: This is another great group choice and Brianna is ALWAYS stealing these books out of my room, so I know the kids at her school would love it. Like in Isle of the Lost, the Ever After High characters are aaaaaalll about the hair. Wigs or spray color will make the costumes. My two favorite characters are Raven Queen and Apple White. This year, I decided to go as Raven Queen!!!
Charlotte, Wilbur, and Fern from Charlotte's Web: We found some pretty cool do-it-yourself pig and spider ideas on Pinterest. One of the spiders even had a black cape with a web painted on the back, and in the web it said, "Some pig!" Fern would be easy—just a farm girl with overalls, a flannel shirt, and braids. Still considering this.
Frozen: You really can't hang out with elementary school kids on Halloween and NOT consider Frozen costumes! But every other kid at the carnival will be Anna or Elsa. We wanted to get a little more creative—Olaf, a troll, and a reindeer!! Olaf's pretty easy—put big black buttons on a white sweatshirt and big googly eyes on a white ski cap. The reindeer's pretty easy, too. Cute face paint, brown sweatshirt, and antlers made from twigs glue-gunned onto a headband! But…we got stuck on the troll.
Crayons from The Day the Crayons Quit: Brianna is obsessed with this picture book called, The Day the Crayons Quit. She would FREAK if we dressed up as crayons. (Zoey thought maybe crayons weren't obviously literary enough, but I promise any kid under 8 knows that book super well.) Anyway, making a crayon costume is really easy—you just need a big t-shirt in the color crayon you want to be, and then you stencil on the word Crayola and that black wavy trim that's on all the crayons. Pair it with black leggings and a pointy (cardboard) hat and VOILA!
Baby Mouse—Brianna LOVES Baby Mouse, and this costume idea is so cute, I think I might suggest it to HER! She already has everything in her closet already! She just needs to wear a long sleeved white t-shirt and tights under a blue sundress that we'll pin a red heart onto. Add black Mary Janes for shoes, mouse face paint, and a headband with giant mouse ears and a big black bow in the center.
Princess In Black—I SO WISH The Princess in Black had been around when I was Brianna's age! She's such an AWESOME character! These are the books I sneak off BRIANNA's shelf!! She has two personas, and her ninja persona is SO simple! All black pants and top with a black cape, black boots, black gloves, black eye mask, and a giant daisy necklace. And, don't forget the crown!
Harry Potter Characters: You can't think about bookish costumes without thinking about Harry Potter. But, we decided not to do this one because a lot of people will be dressed up like Harry, Ron, and Hermione. We did brainstorm some other characters who could be really fun: Hedwig, Bellatrix, Luna Lovegood, Professor Snape, Professor McGonagall, or Hagrid.
I'm going as Raven Queen!! What are your bookish costume ideas? How would you dress up using only things you already own? How would you dress up if you could buy anything you needed?