December 3, 2021
Dork Diaries Battle of the Books – Holiday Edition – Round 1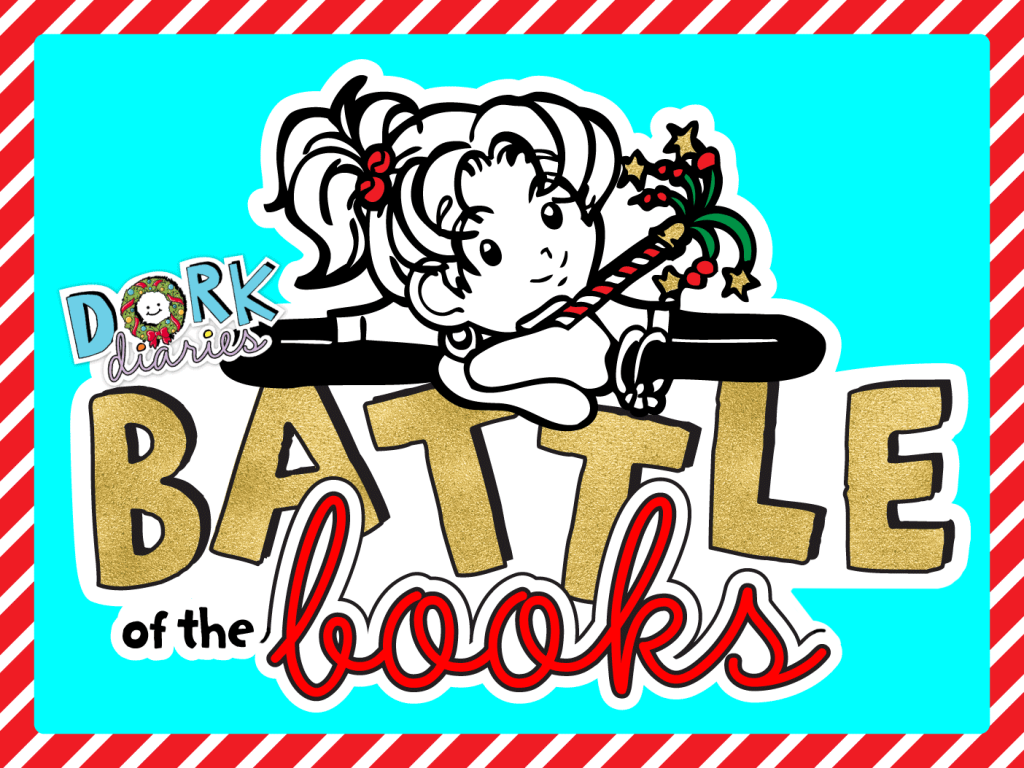 SQUEEEEE!! It's time to find out the most POPULAR Dork Diaries book with our holiday Battle of the Books.
We will add a NEW round every DAY. You have 24 hours to vote on each round before the winner is announced. Come back and vote often!
Which Dork Diaries Book is your favorite? Tell us why in the comments below!
November 30, 2021
December Calendar – Happy Holidays!
Right click the download button to save the calendar of your choice on your computer.
November 9, 2021
New Holiday Dork Maker!!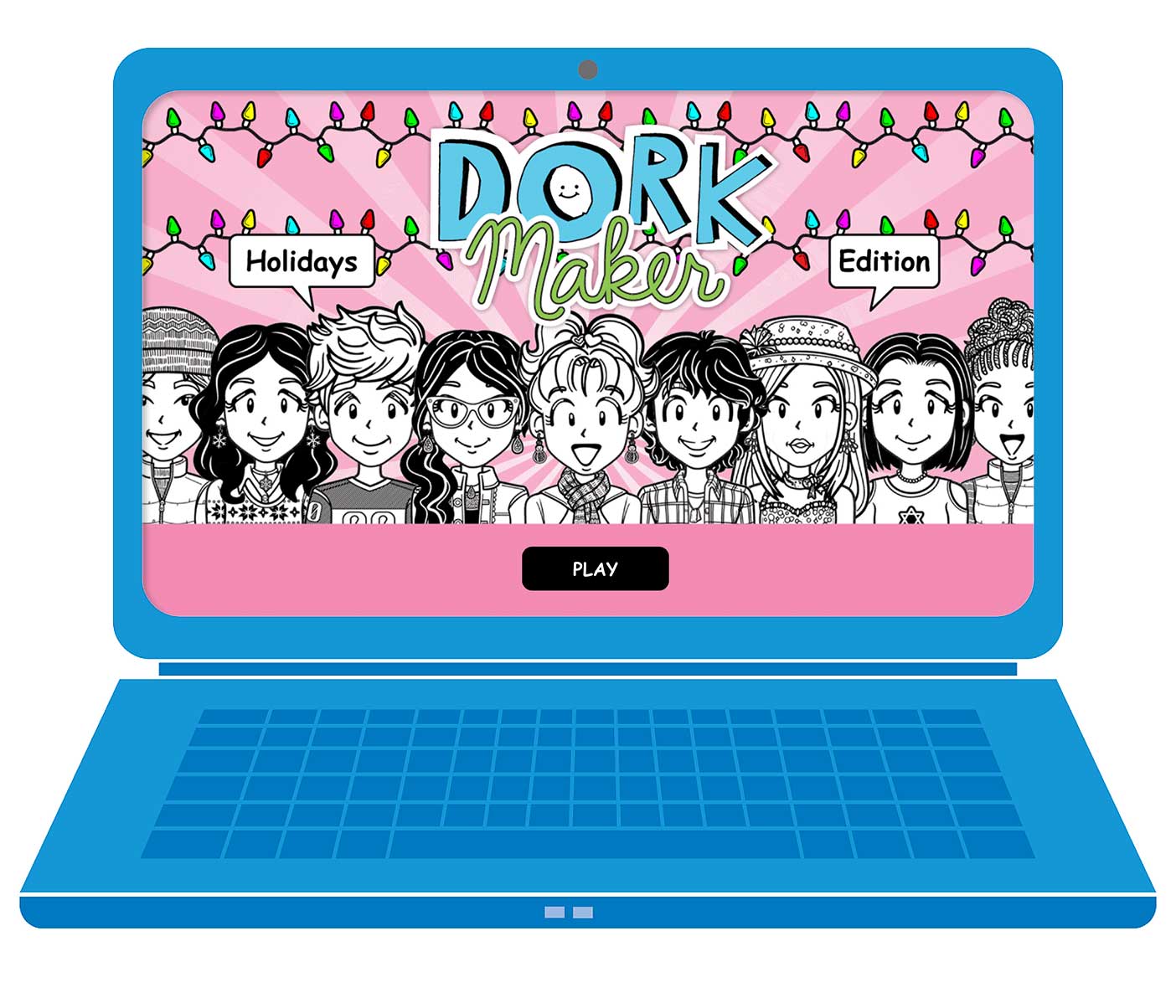 What's up, everyone!
It's Nikki here, and I can hardly believe that Thanksgiving is right around the corner.
And, before we know it Christmas will be here.
So, as a nice surprise, today I'm posting my…

WINTER HOLIDAY DORKMAKER!

As usual, we've added lots of cool new items that you requested, as well as full-color backgrounds!
However, this year, I'd LOVE to do a special event with our Dork Maker characters.
Like maybe a virtual HOLIDAY PARTY and YOU can attend with a FRIEND as Dork Marker characters!
I know. I KNOW!! That sounds pretty KAY-RAY-ZEE!
To be honest, I'm not sure if I could actually pull off a virtual Holiday party, but we can have a lot of FUN discussing it! RIGHT?!
So, I would LOVE to hear your IDEAS in the comments section below:
What should our Holiday party be called? We need a theme and a name!
What activities would YOU (your Dork Maker character) like to virtually attend? We could have rooms for dancing, gift exchange, games, crafts, snacks, etc.
Would you like for your character to hang out with your FAV Dork Diaries character? Like maybe sit at a table or participate in an activity with them?!
What would you wear to my Holiday party? Warm-N-Comfy Casual clothing, Cute-N-Trendy party clothes, or Breathtakingly Beautiful Ball Gowns?
What other cool and exciting ideas do you have for our virtual Holiday party?
I'm DYING to hear them all, so please post them in the comments section below.
But, remember! Right now, all of this is just a fun discussion, NOT an actual plan!
Hey, who knows!! Anything could happen

!!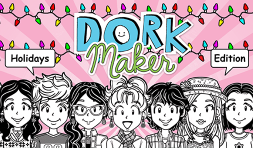 November 3, 2021
November Calendar – Autumn Leaves
Right click the download button to save the calendar of your choice on your computer.
October 31, 2021
Halloween HAUNTED HOUSE – FRIGHTFUL FAMILY ROOM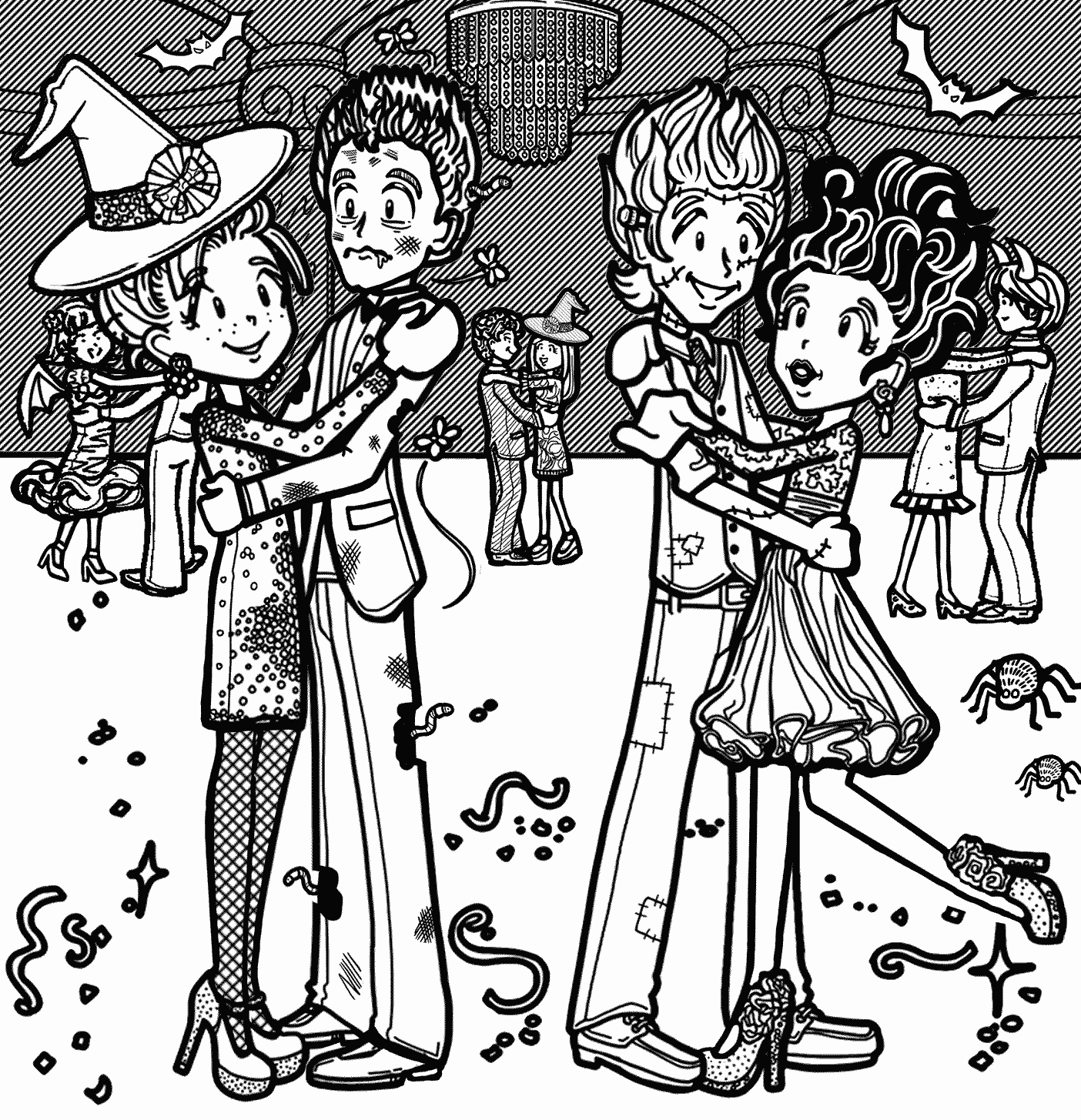 My BFFs, Chloe and Zoey, opened the last door of the haunted house. Inside, I saw a HUGE family room with a fireplace, a witch's cauldron, AND even more creepy characters. But they ignored us and boogied down to this really cool Halloween music. OMG!! I couldn't believe my eyes!!
All of the sudden, I felt someone or something tapping my shoulder.
"Chloe?" I shouted, "Why are you tapping my shoulder?!"
"But, Nikki!" she screamed, "I'm NOT tapping YOUR shoulder!!"
"Oh, then it must be Z-Z-Z-Z-Z-Zoey," I stuttered!
"Nikki!" Zoey yelled, "I have some bad news. It's not me!"
"NOT AGAIN!" I shrieked.
So, if it's not Cl-cl-cl-Chloe and it's not Z-Z-Z-Z-Z-Zoey, THEN WHO IS IT??!!
"IT'S ME!!" someone shouted, "SURPRISE!!!"
I quickly turned around to see Brandon smiling and holding out his hand.
"I tried to get your attention in the hallway, but you ran away" he said.
"OMG! That was YOU who tapped my shoulder in the haunted hallway?!" I screamed.
He smiled, grabbed my hand and we both ran to the dancefloor. Chloe and Zoey were already there dancing with Theo and Marcus.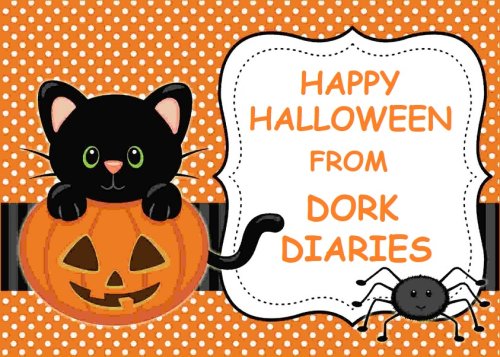 How was your Halloween this year? What was the most exciting and scariest thing that happened? I can't wait to hear your thoughts. Please post comments below. 
HALLOWEEN HAUNTED HOUSE – DEADLY DINING ROOM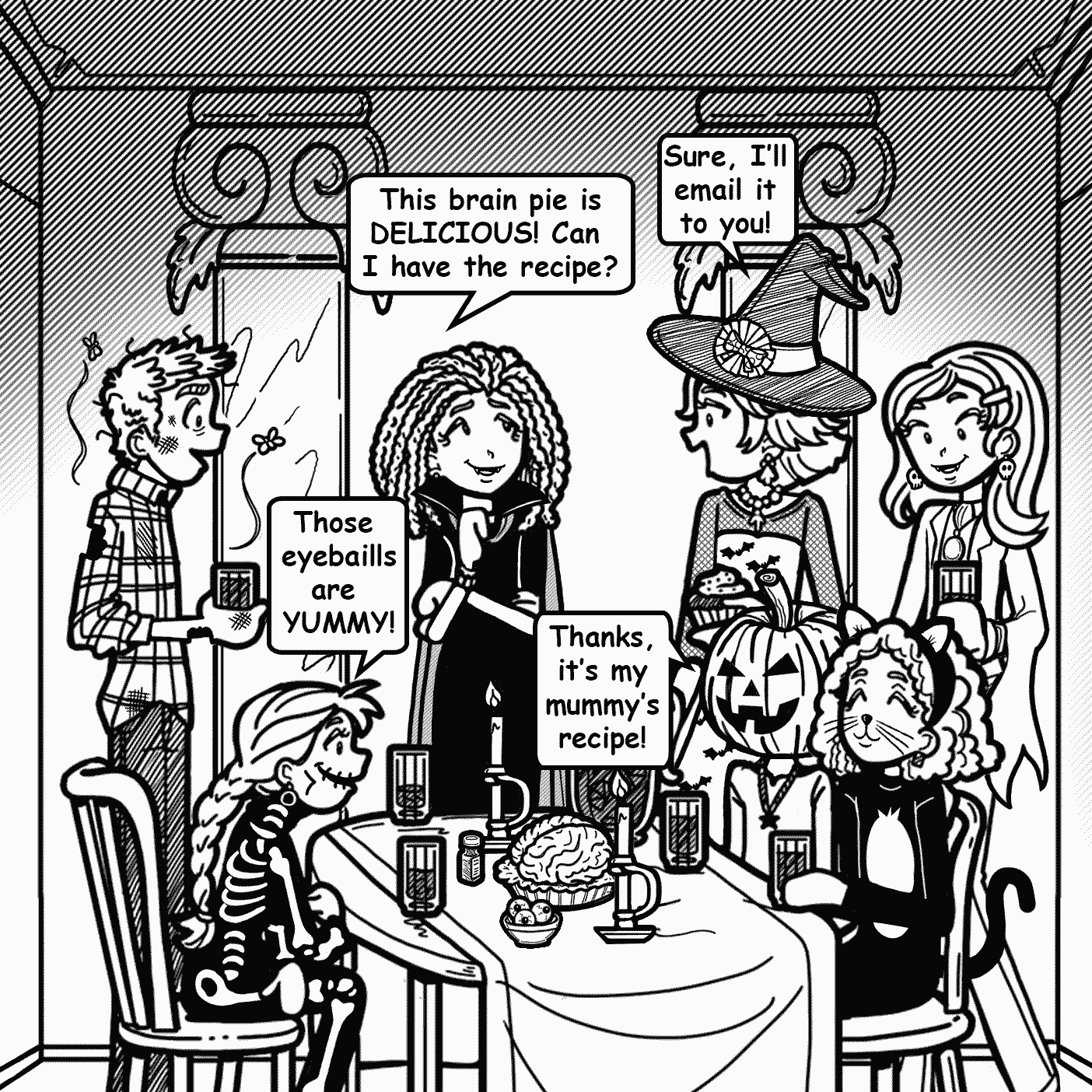 My BFFs, Chloe and Zoey, and I peeked into a candle lit room and saw a bunch of creepy characters hanging out. We overheard them talking about their dinner and how DELISH it was.
"EEEEWWWWWWWW!!!! GROSS!!! Like, who eats brain pie and eyeballs?" I squealed.
All of the creepy characters in the dining room stopped eating, stared at us, and ….
What did the creepy characters do next?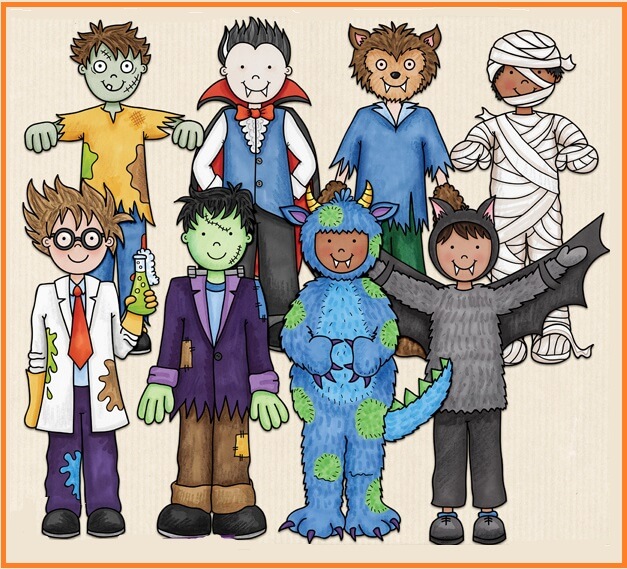 Halloween Word Search
October 30, 2021
HALLOWEEN HAUNTED HOUSE – Zombie Kitchen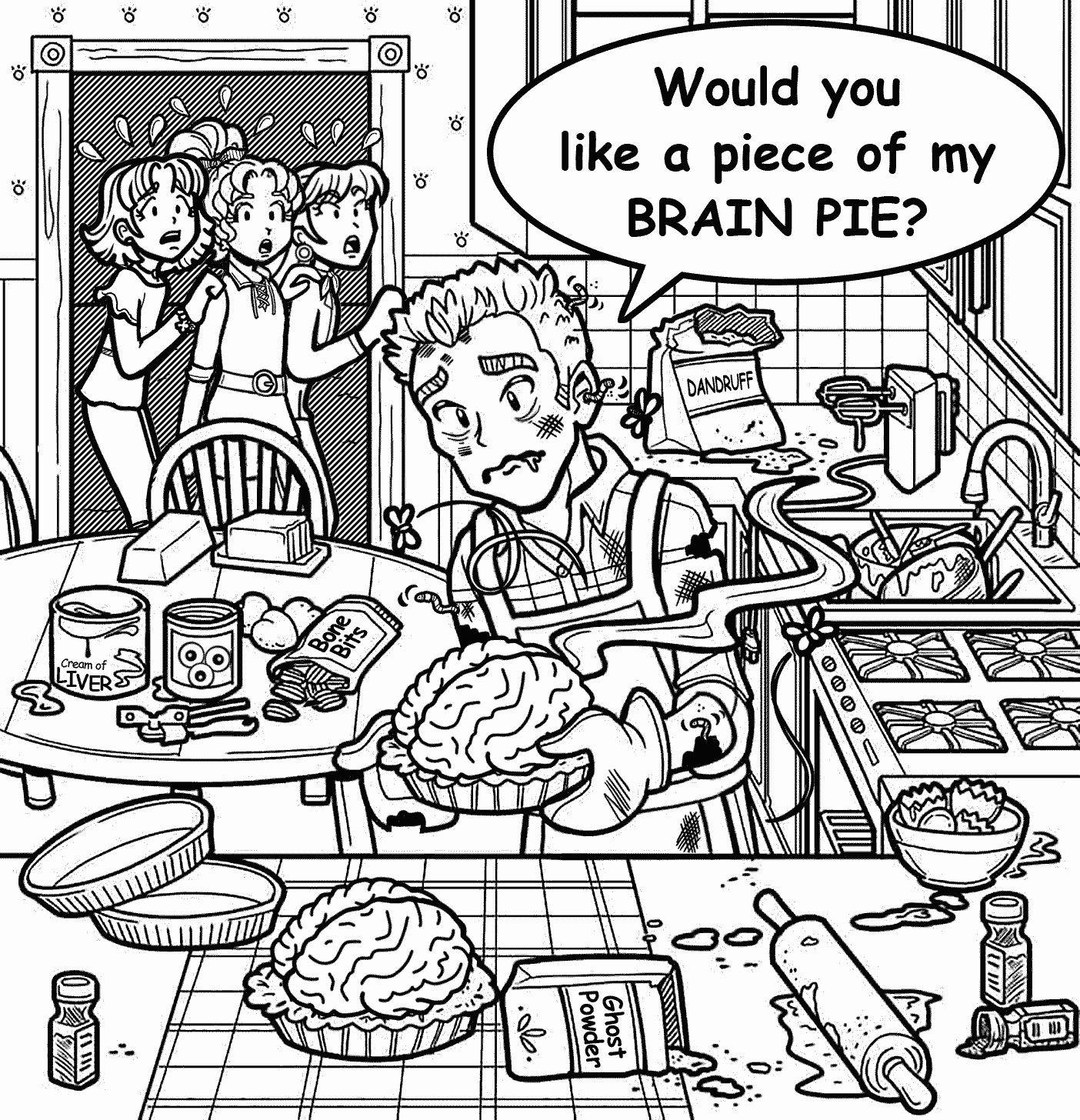 My BFFs, Chloe and Zoey, and I were cautiously creeping down the haunted hallway trying to be as quiet as possible.
The LAST thing I wanted to run into was another walking pumpkin head, spooky skeleton, or creepy life-sized dolls with spinning heads. We needed to find a safe place to hide out in, chillax, and plan our escape out of this place!!
"OMG! Do you hear that growling sound?" I whispered.
"It seems to be coming toward us!" I said in a panicked voice.
"There it goes again!" I whisper-shouted. "And now it sounds like it's coming from… ME?!!"
"OH NOOOOO! I must be turning into a W-W-W-W-WEREWOLF!!" I gasped. "Or maybe even a Z-Z-Z-Z-ZOMBIE!!! We must be DEAD and don't know it yet!!" I shrieked hysterically. "Are we walking, talking brain-eating ZOMBIES from the undead?!!"
"Nikki, if YOU'RE turning into a werewolf or zombie, then we are ALL turning into one because that growling sound is coming from me and Zoey too!!" Chloe whined.
I was having a complete meltdown right there in the dark, dank halls of that horrible, haunted house until Zoey convinced us that we were NOT having a FREAKY body transformation to the WORLD OF THE UNDEAD!
Instead, we had a simple case of…
the MUNCHIES!!
In other words, OUR STOMACHS WERE GROWLING FROM HUNGER!!
I never knew being scared to death in a haunted house would give us such an insatiable appetite! I was so hungry I could eat 37 of Brianna's stupid little "Piggies In a Blanket" that she loved to burn make in her Princess Sugar Plum toy oven.
Once we calmed down and realized we weren't turning into werewolves or zombies, we could smell the most DELISH aroma coming from the kitchen.
It smells like those freshly baked pies, cookies, and cinnamon rolls you can get from the food court at your local shopping mall.
We quickly followed the scrumptious, mouthwatering, lip-smacking scent until we were right outside the kitchen.
But once we rushed inside, the only feast we saw was a ZOMBIE baking BRAIN PIES!!
EEEEWWWWWWWWWWWW!!!!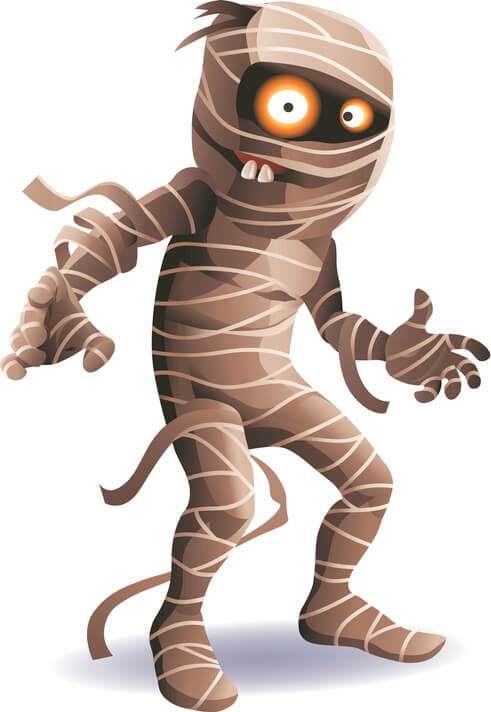 Quiz
WHICH HALLOWEEN COSTUME IS BEST FOR YOU?!
Do you like to bake special, creepy, desserts for Halloween? What's your fave Halloween-themed treat to make and eat? Please post your thoughts below in the comments section.
October 27, 2021
HALLOWEEN HAUNTED HOUSE – GHOSTLY BEDROOM
The next room I and my BFFs, Chloe and Zoey, entered was a SP-O-O-O-O-O-O-KY bedroom!
It was pitch dark inside, freezing, and literally felt like we had walked into a GIANT freezer!
We searched for a light switch in vain, but as our eyes adjusted to the darkness, we could see a faint, shadowy figure moving slowly across the room.
"OMG! Did YOU just see what I think I saw?!" I gasped and stammered.
"Well, that all depends on what YOU think you saw, Nikki," Chloe stuttered peering into the darkness.
"AAAAHHHH!" Zoey suddenly shrieked! "YES! Now I see exactly what you thought you saw, Nikki!"
"EEEEK!! I see it too!" Chloe gasped. "It's a GHOSTLY-GOBLIN-GIRL floating around the room! And, now…she heading right toward us!! EEEEEK!!!"
That's when I finally located the light switch and flipped on the lights.
As we blinked at the bright lights, the ghost girl suddenly disappeared into thin air!
We cautiously searched the room to make sure she was no longer there!
"I think we're safe now!" I assured Chloe and Zoey as we breathed a HUGE sigh of relief!
Then, suddenly, things started moving in the room!! ALL BY THEMSELVES!
"EEEEEK!!! We were in a HAUNTED BEDROOM!! HEEEELP!!" I screamed as Chloe, Zoey, and I huddled together in terror!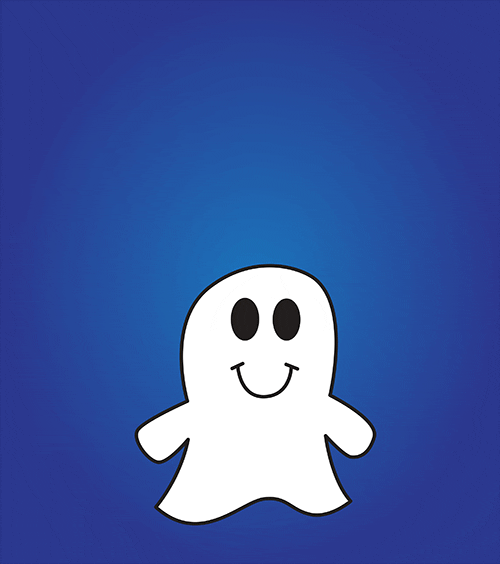 Halloween Quiz
Have you ever been to a spooky place that totally freaked you out? What happened and what did you do? Tell me all about it in the comments section below.
October 26, 2021
SPOOKTACULAR PUZZLE FUN!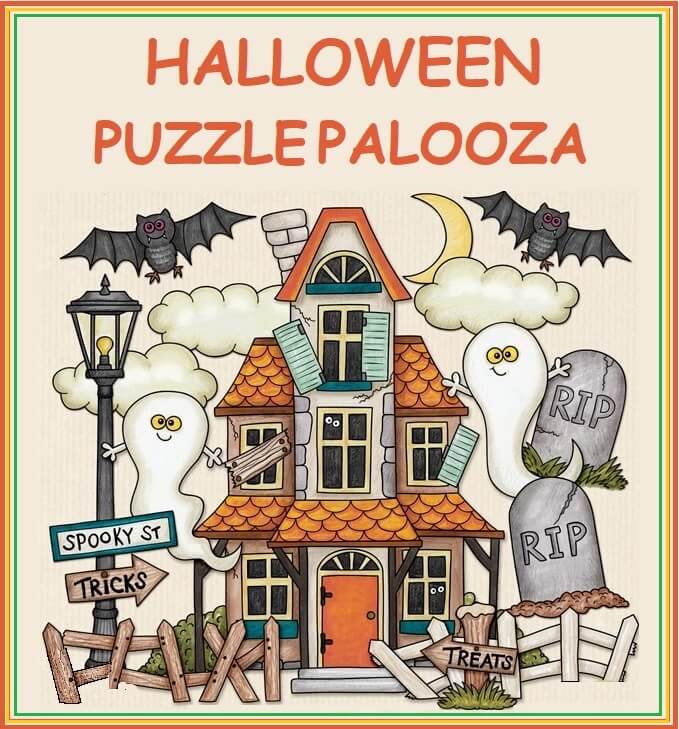 What's up! It's Brandon here and I'm happy to be hanging with you guys again.
Starting today, I'll be posting once a week, so be sure to check back on a regular basis.
I'm also open to suggestions for future blog posts. Please feel free to share any ideas you might have in the comments section below.
Nikki, Chloe, and Zoey have posted a lot of spooky and cool stuff for Halloween, so I decided to join in on the fun!
Since we haven't had a Puzzlepalooza in a while, I thought everyone would enjoy the four Halloween puzzles below.
But first, here are some PUZZLE TIPS! The correct puzzle pieces will connect and lock in place. Start by finding the four corner pieces and then place the puzzle pieces that have a straight edge. Finally, add the pieces inside the center.
What do YOU love most about Halloween?!
Select your answer from the four fun images below and then complete the puzzle(s):
October 24, 2021
HALLOWEEN HAUNTED HOUSE – CREEPY DOLL BEDROOM
My BFFs, Chloe and Zoey, opened a door at the end of the horrifying hallway. Inside, I saw what appeared to be life-sized dolls. I've played with dolls before but NEVER seen or played with a GIANT doll!
We tip-toed into the room to get a closer look at the dolls who were hanging out in the bedroom just like me and my BFFs. All of the sudden, the giant dolls started to move. OMG! It was soooo CREEPY!! Then a doll's head was spinning around like a top as she was walking backwards towards us!! AHHHHHHHH! (that was me screaming).
Right now Chloe, Zoey, and I are TOTALLY FREAKING out!!! What did the creepy dolls do next?!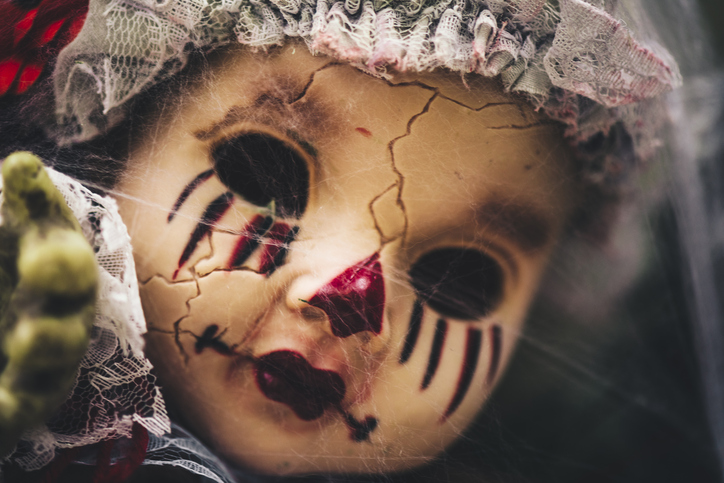 Hidden Objects Game
Spot the Difference Game