December 15, 2019
Nikki Russell's Favorite Things for the Holiday …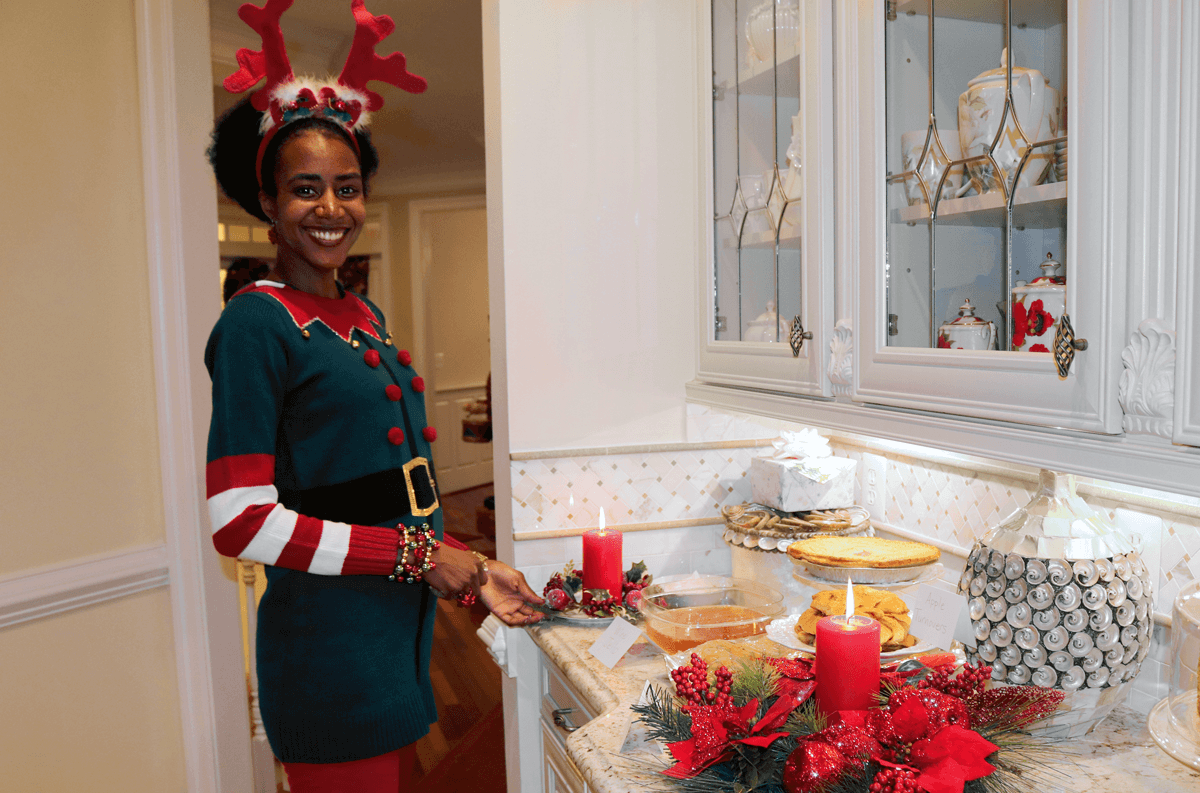 Favorite Holiday Tradition
I enjoy rocking festive Christmas attire, like a cute pair of reindeer antlers and an absolutely adorkable elf sweater. I also love to bake a great big German Chocolate Cake. It's a holiday favorite!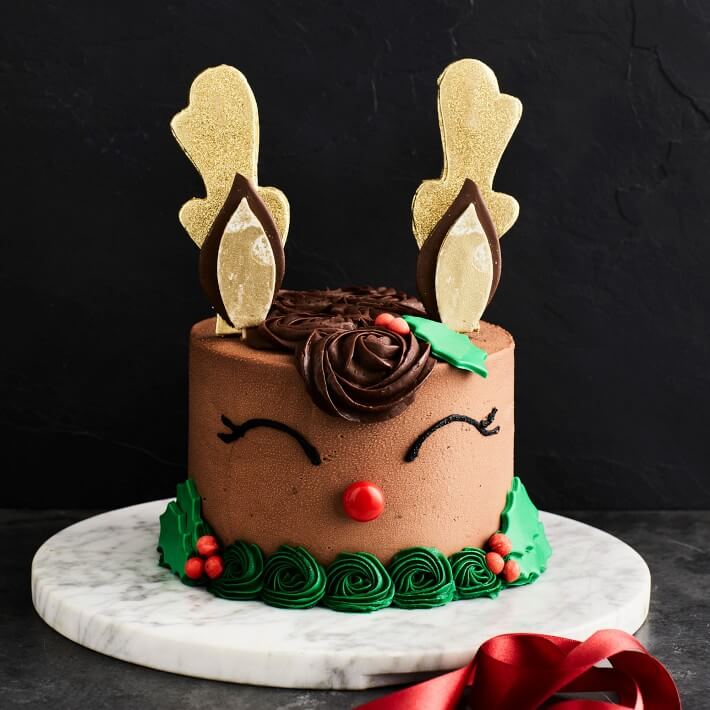 Favorite Holiday Dessert
Chocolate Fudge Reindeer Cake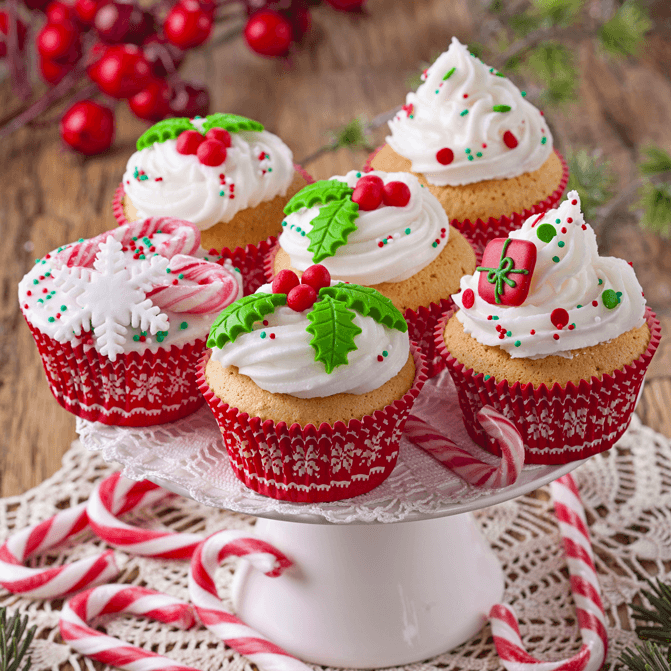 Favorite Holiday Snack
Very Merry Christmas Cupcakes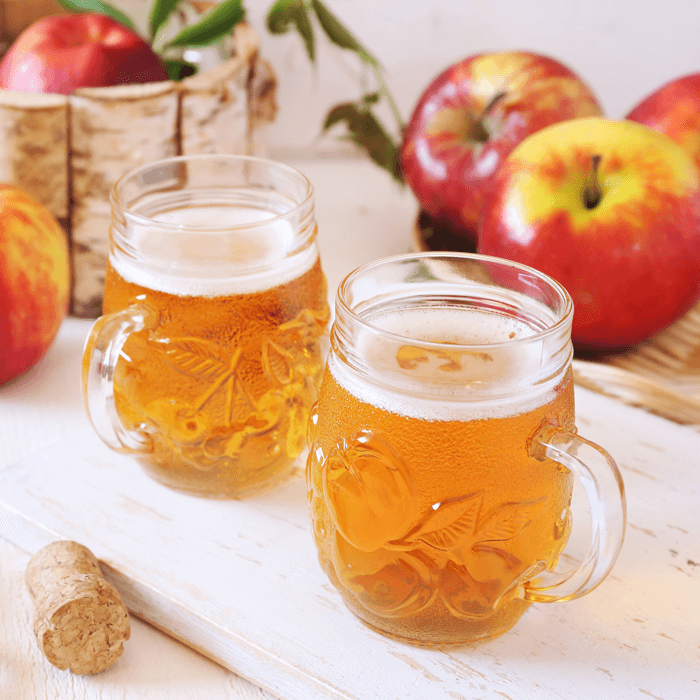 Favorite Holiday Beverage
Sparkling Apple Cider
Favorite Holiday Cartoon
How The Grinch Stole Christmas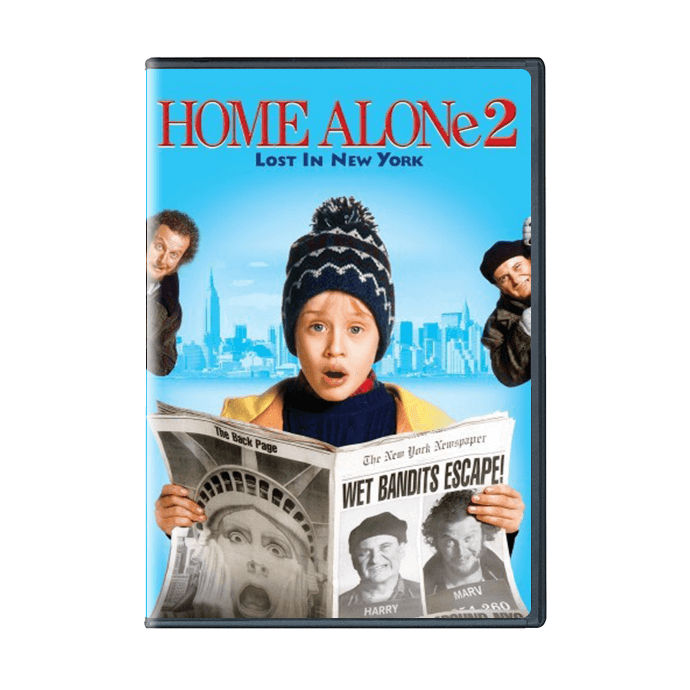 Favorite Holiday Movie
Home Alone 2: Lost in New York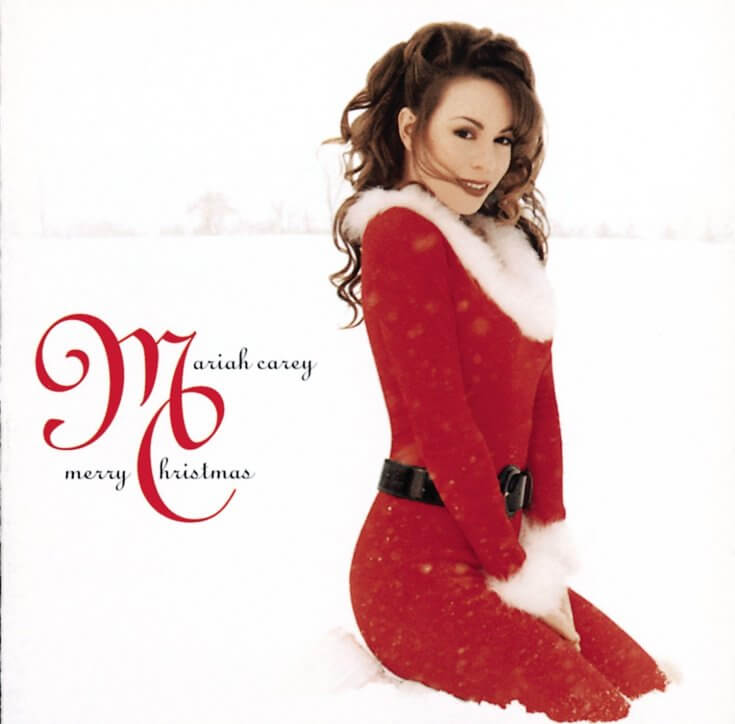 Favorite Holiday Song
All I Want For Christmas Is You By Mariah Carey
What are your favorite Holiday things?
December 14, 2019
Time for a yummy treat!
Rudolph The Red Nose Reindeer Cookies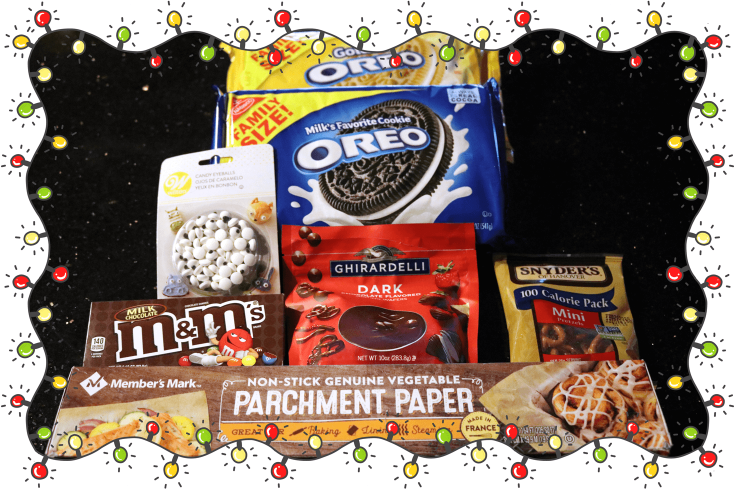 Okay, so here's what you need:
Ingredients:
A package of your favorite chocolate melting wafers or chocolate bark coating
A package of your favorite Oreo cookies
Candy eyes
Mini-sized pretzels
Red M&M's
Supplies:
Microwave safe bowl
Parchment paper or Wax paper
Spoon
Fork
Tray
Place the chocolate wafers/bark coating in a microwave safe bowl.
Melt the chocolate for 30 seconds then stir with a spoon. If needed, melt the chocolate for another 30 seconds until it is completely melted and smooth.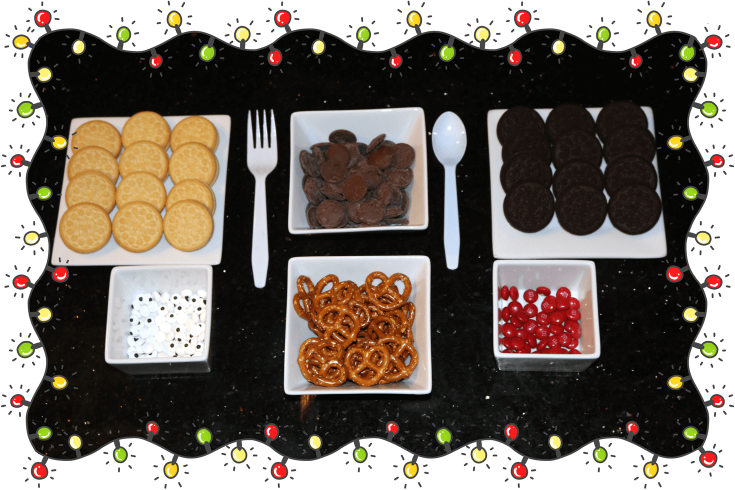 Using a fork, dip your cookie in the melted chocolate. Tap the excess chocolate off of the cookie back into the dish, then place your chocolatey covered cookie on a tray lined with parchment paper (or wax paper).
In order to make reindeer antlers, add 2 pretzels to each cookie.
Add candy eyes and a red M&M for Rudolph's nose.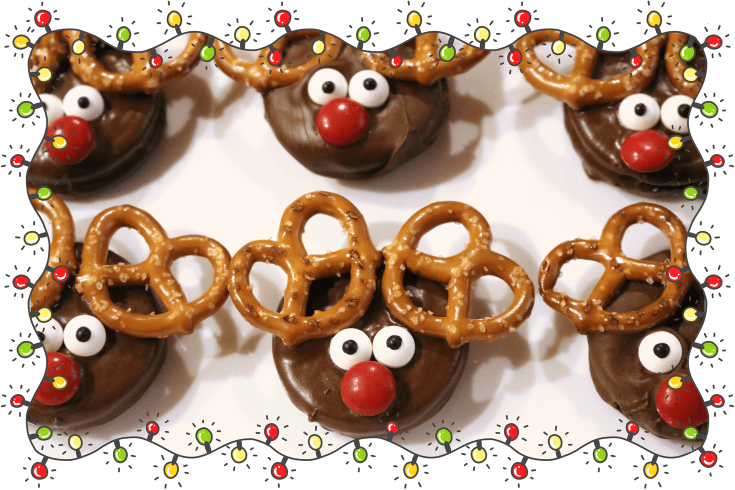 Once the chocolate has hardened, enjoy your yummy Rudolph The Reindeer Cookies!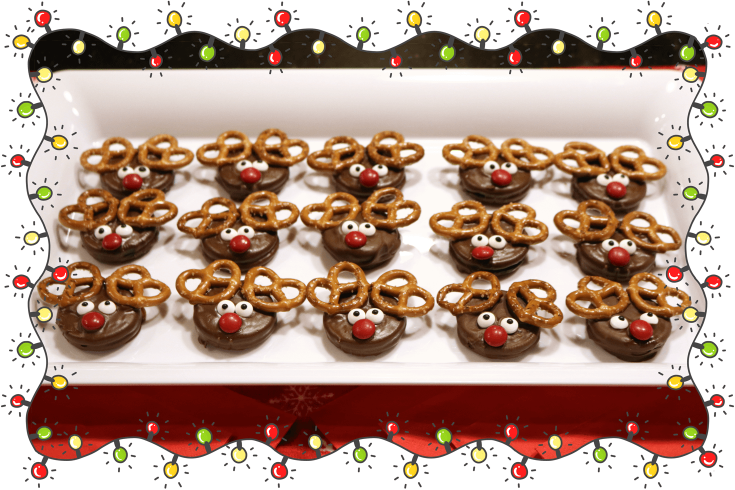 December 13, 2019
It's time for some fun!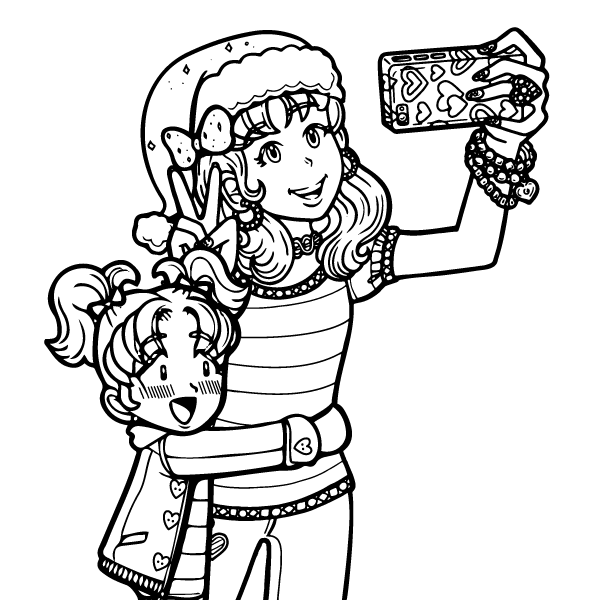 OMG! Brianna just ate a bunch of Santa cookies and now she has a major sugar rush!  She's running all over the place, giggling and singing and driving me NUTS!
Before my moms yells at me for letting Brianna eat all of those cookies, I came up with a fun activity to help calm my little sister down.  I wrote up a list of Christmas objects for her to find around the house.
I even let her use my cellphone to take selfies with all of the items she finds.
Hopefully, my little scavenger hunt will keep her busy at least until her sugar rush wears off

!
You can play too!
Download and print my Christmas scavenger hunt list.
Grab your friends, family and cellphone or tablet.
Ready, set, go HUNT!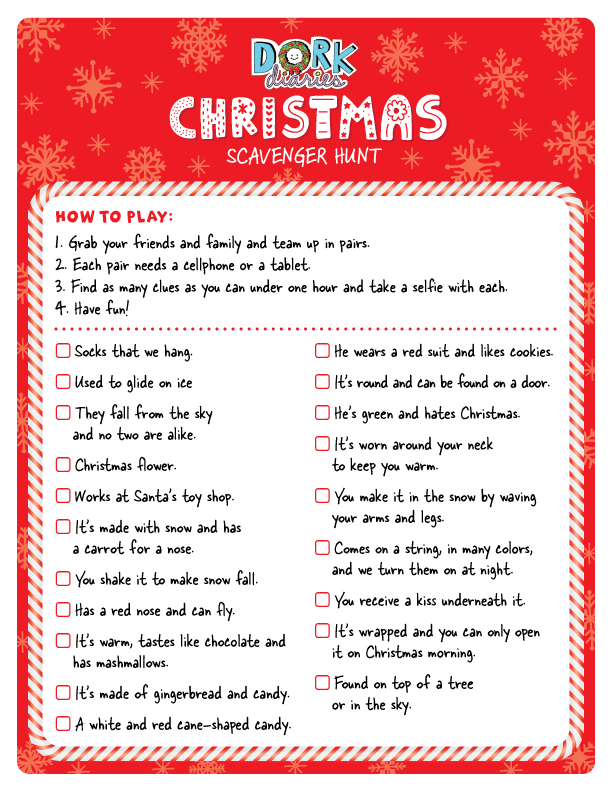 December 12, 2019
Brandon's Christmas Gift
OMG! I'm SO excited! It's finally time to give Brandon his Christmas gift!! We're meeting after school at the Cupcakeria, and I'm a nervous wreck!!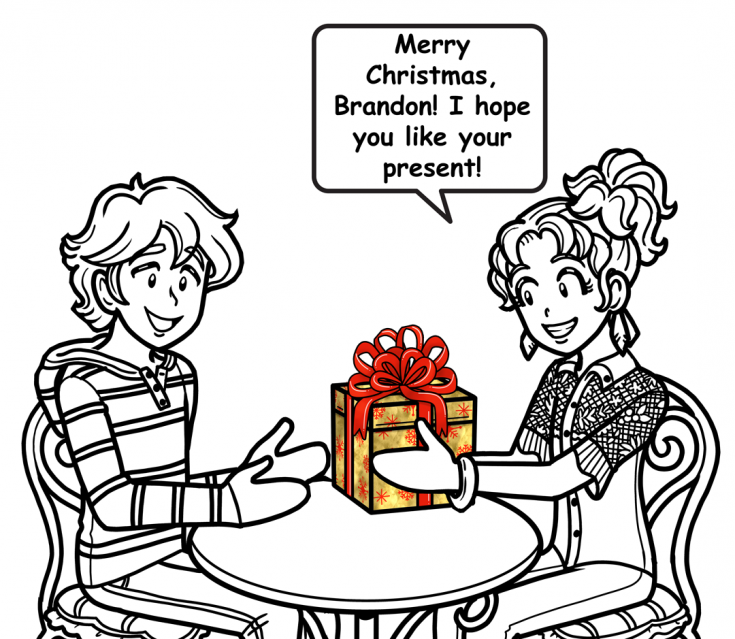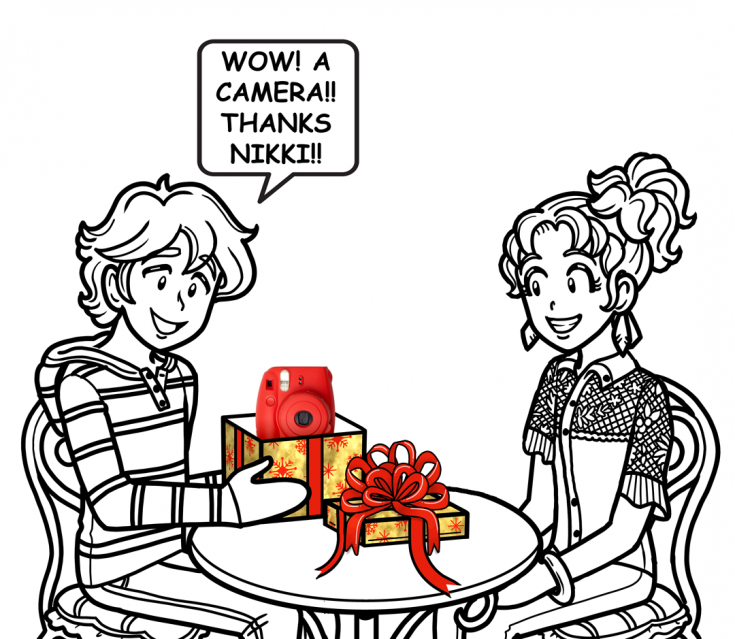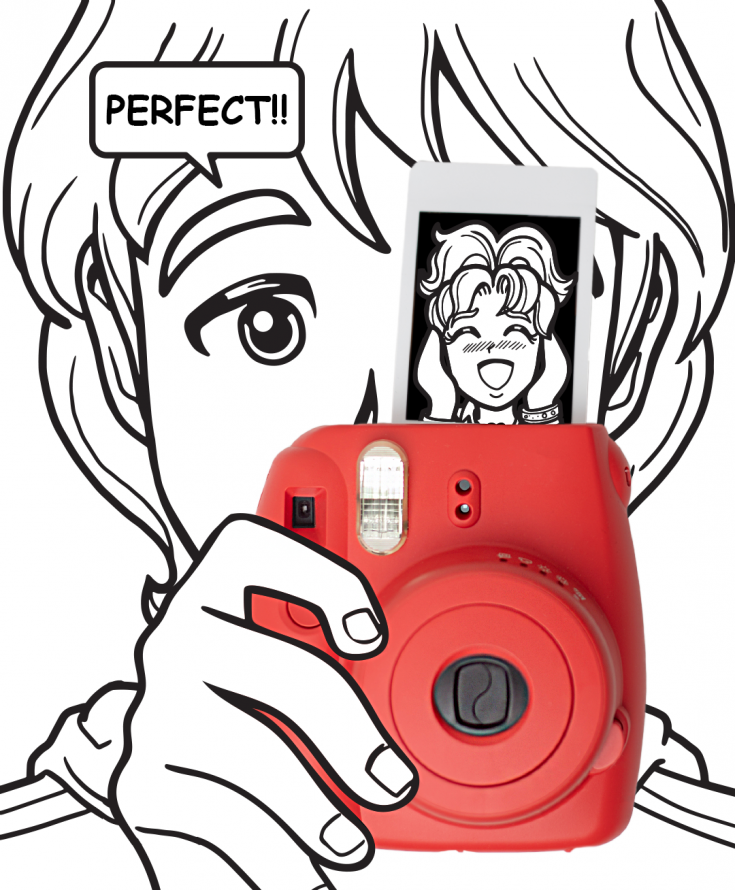 ANYONE UP FOR HOLIDAY MAD LIBS?!
Today, we're going to do something a little different for my advice column! But don't worry, it'll be loads of FUN!!
Have you ever done Mad Libs before? It's when there's a story with a bunch of blanks in it, and you have to fill in the blanks with random stuff to create your own story. No matter what, it always ends up being totally ridiculous. That's what makes it so fun!
My mom gave me a whole book of Mad Libs once during a super long road trip to keep me and Brianna occupied. It made the trip a WHOLE lot more bearable, and it finally got Brianna to stop torturing me with her constant singing "Into The Unknown" and whining "Are we there yet?!"
Any who, I decided to make my own Holiday Mad Libs to share with all of you. After you read mine, try printing this awesome Holiday Mad Libs activity out or copy and paste into a Word doc or whatever so you can try it out yourself. Enjoy, and don't forget to share yours in the comments if you want! 
First you need to make up the following words:
Verb with –ing:
A noun that's a place:
A holiday song:
Adjective:
Adjective:
Your friend:
Verb with –ed:
Verb with –ed:
Amount of time:
Verb:
Plural noun:
The place you chose from before:
A relative:
A number:
A food item:
December 11, 2019
Fun Holiday Quiz
Are you a holiday grinch or a holiday dork? Test your holiday DORKINESS which this fun quiz!
December 10, 2019
The holidays are all about family!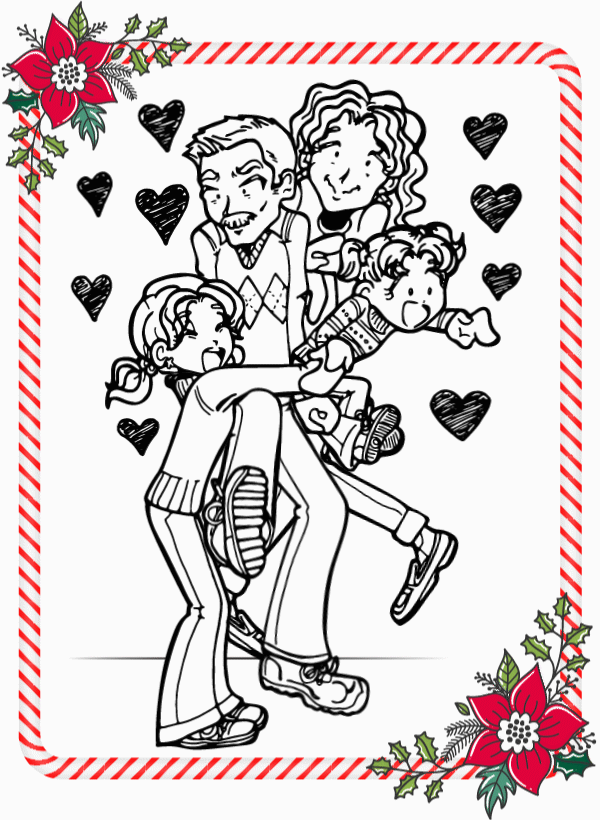 I have a confession to make.
I love my crazy family.
They drive me NUTS, and all the time. I mean ALL the time! Seriously, they're even bigger dorks than me!
But, they have their moments. Sometimes they're even pretty cool.
My Dad is pretty awesome, he always helps me out with stuff when I need it (for example, to carry heavy bags and open tight jars!) And he's generally super thoughtful.
My Mom always asks me how my day was and stuff, it's super sweet that she wants to hear all about the DRAMA!
BRIANNA… As far as bratty little sisters go, she's okay.
Why do you love your family? Tell us in the comments below!
December 9, 2019
MY STUPENDOUS STOCKING STUFFER IDEA!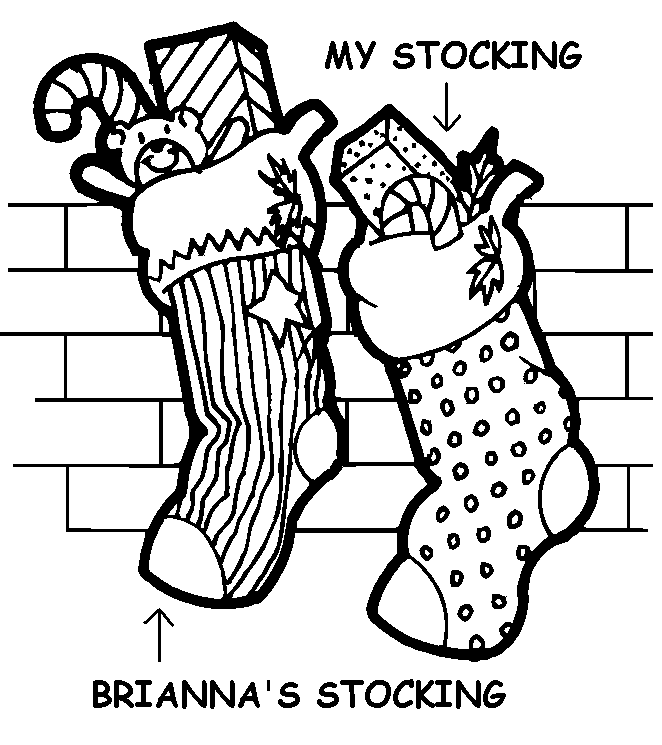 SQUEEEEEE!! That's me being TOTALLY excited about the Christmas stocking idea I got the other day!
Usually I get my stocking full of stuff on Christmas morning, and it's a mix of things I want (like art stuff!), things I don't want (like a framed picture of me as a baby…so weird!) and things I want but NOT wrapped up on Christmas morning (like socks…I mean, I know I need them, but come on!! Socks are a complete WASTE of a Christmas gift!
)
The other day I thought, wouldn't it be so cool if the person who stuffed my stocking was pretty much a clone of me…another girl my age with TOTALLY awesome taste who knows exactly what I like?
Then it hit me: Chloe, Zoey, and I should do stockings for each other!!
Here's how it's going to work: Each one of us spends $10 on the other two girls…and we also spend $10 on ourselves. So each one of us ends up with $30 of cool stuff…and we'll definitely LOVE one-third of it, because those are things we bought for ourselves!
We have to wrap everything up, then we'll get together to stuff each other's stockings, and then we'll take them home to open on Christmas morning with all our other presents.
This way, we all have TWO stockings, one from family and one from friends! Sound awesome? Ummm, yeah it is!!!
Forget for a minute that I only have $4 dollars, six dimes, a penny, a button, and a lint ball in my pocket. I'm sure I can get my Dad to give me some cash! I'll just tell him I want to buy REALLY cool gifts for him and Mom this year.
Then I'll give them both something homemade and write a holiday poem for each of them. They'll be SO busy getting choked up and thinking about how super sweet I am that they'll completely forget about the money! 
I know exactly what I'm going to get for Chloe and Zoey's stockings!!
For Chloe:
A fur ball pom pom keychain. I'm sure she'll LOVE it since it's super cute and she can put it on her backpack or purse! Who wouldn't, right?

 

A teen romance novel. There's a whole table of them at this used bookstore down the street. They're wicked tiny, too, so it's the perfect size for a stocking!
A sparkly bookmark. I might actually make this myself, because we all know I have MAD art skills, and this way I have more money to spend on other stuff.
Some kind of bracelet. I could probably make this myself, too. Man, I'm going to be like a one-girl sweat shop if I do this for Zoey as well!
Candy. I think it's against the law to stuff a stocking and NOT include candy!!
For Zoey:
Hoop earrings. Hoop earrings are all the rage. In fact, I think they NEVER go out of style!
A $5 iTunes gift card. This way she can put that really cool Frozen 2 song, "Into The Unknown" on her iPod.

 

A book of quotes. I can get this at the same used bookstore as Chloe's teen romance novel. This way Zoey will never run out of super deep things to say.
Also the bookmark, bracelet, and candy. Since I plan on giving these to both Chloe and Zoe, of course they'll all be different.
I HATE it when my parents give me and Brianna something that's exactly the same, and then we either have to open it at the exact same time, or Brianna FREAKS OUT because she saw mine first.
Seriously, I've seen that girl totally FREAK OUT because I opened a lame holiday sweater three seconds before she did!
Hey readers, what's on your Christmas stocking wish list? Please list all of your fav stocking stuffers in the comments below.
It's time to decorate!!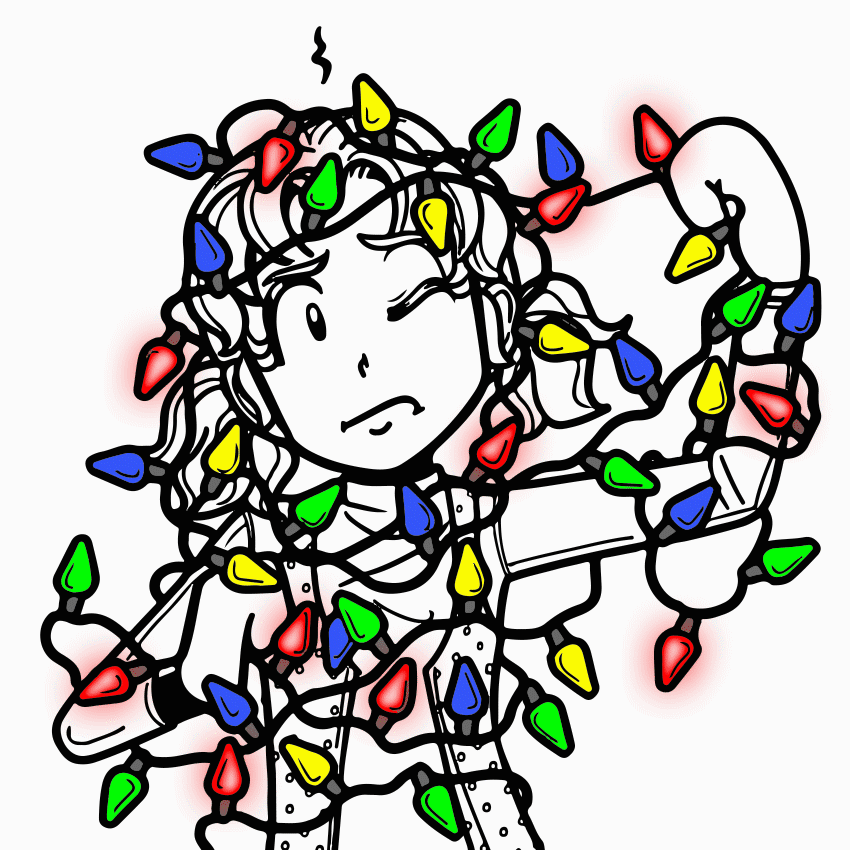 Have you decorated your Christmas tree?
I HATE putting on the Christmas lights!! They are always all clumped together in a giant wad and it takes about half an hour just to get them untangled.
Which decoration is your favorite and least favorite? Tell us why in the comments!
December 8, 2019
Rachel's Favorite Things for the Holiday …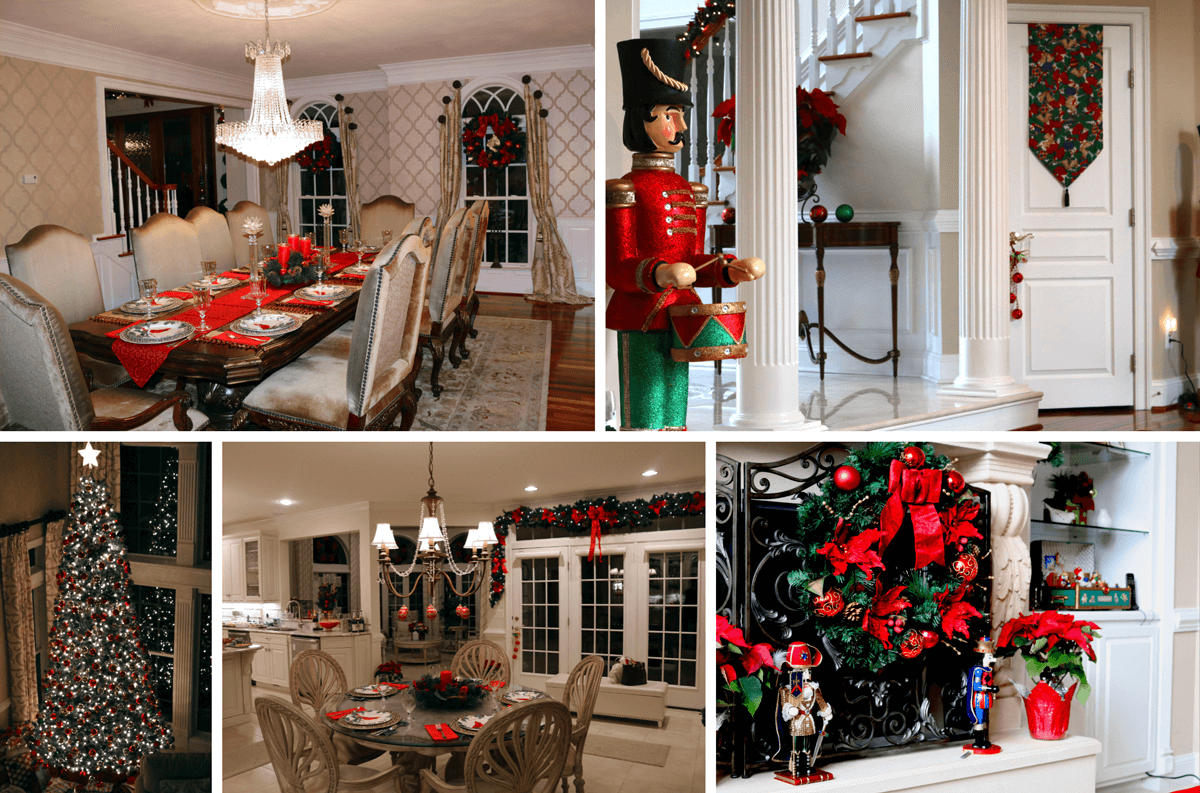 Favorite Holiday Tradition
I love to spend Christmas with my family and friends. In early December, I get into the holiday spirit by trimming my home with small white lights and hanging decorated wreaths from each window. Inside you'll find Nutcrackers, Santa Clauses, lots of poinsettias, candles, jingle bells, wreaths and other holiday decorations. Once I light the Christmas tree my holiday season has officially started!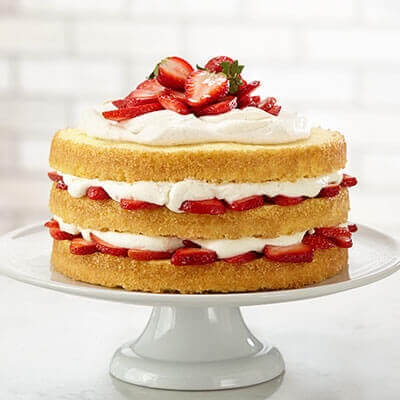 Favorite Holiday Dessert
Strawberry Shortcake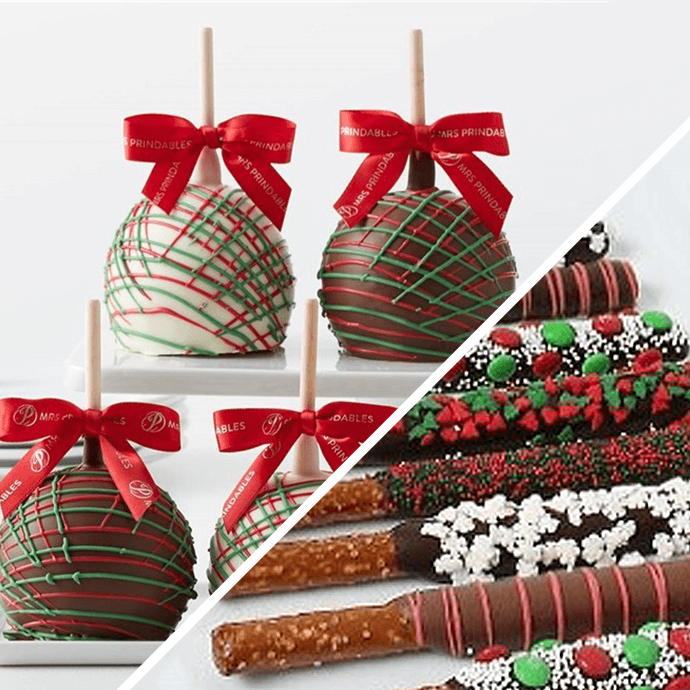 Favorite Holiday Snack
Caramel Apples and Chocolate covered pretzels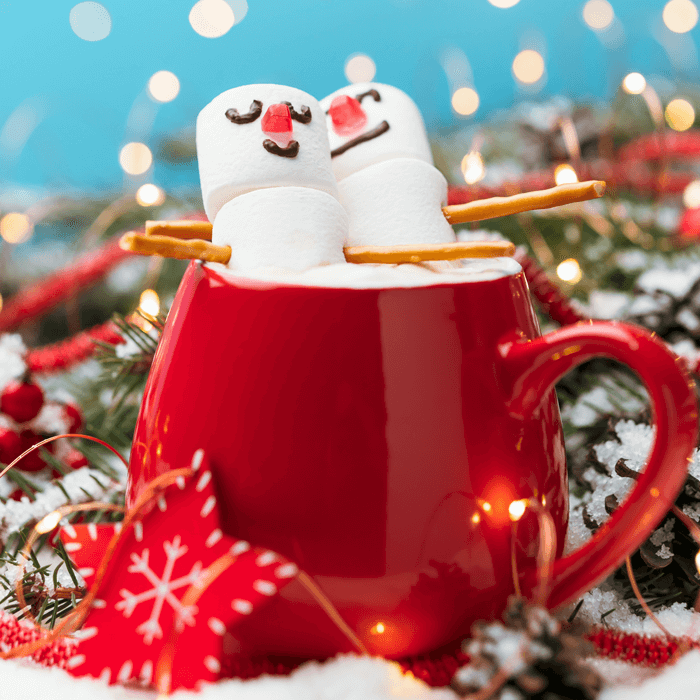 Favorite Holiday Beverage
Hot Chocolate with Marshmallows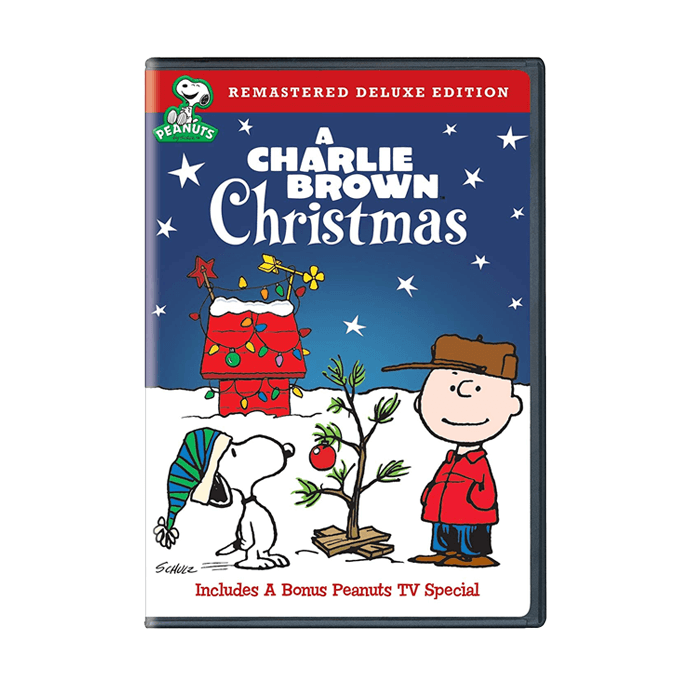 Favorite Holiday Cartoon
A Charlie Brown Christmas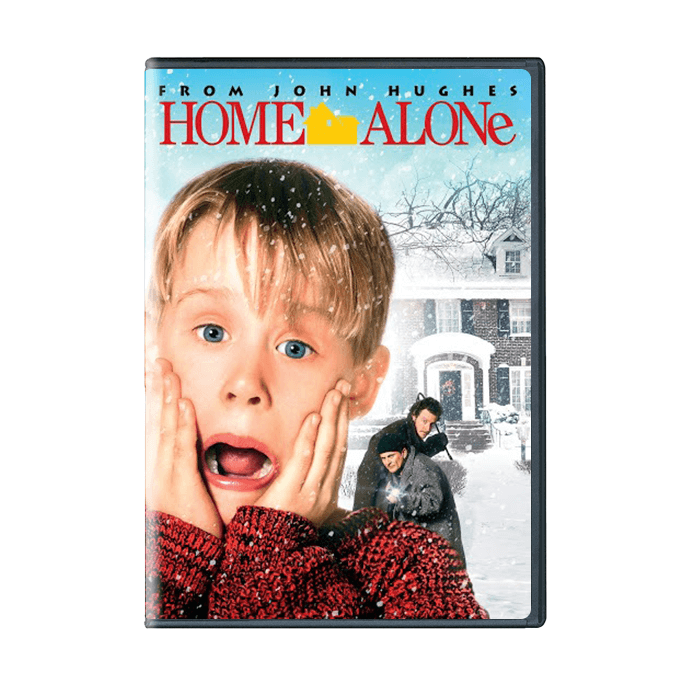 Favorite Holiday Movie
Home Alone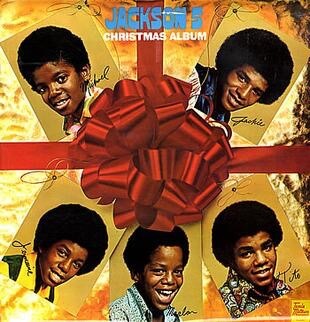 Favorite Holiday Song
Santa Claus is Comin' To Town
What are your favorite Holiday things?